The 10-Minute Trick You Can Use To Raise Happy, Grateful Kids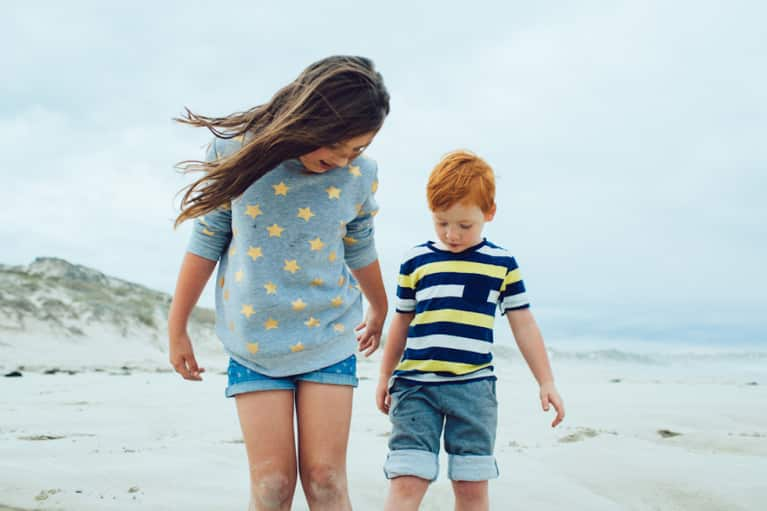 August 23, 2016 — 9:26 AM
"I just want my kids to be happy." As a parenting educator who has worked with thousands of parents, I hear that a lot. And as a mom, I get it. I want my sons to be happy too.
However, in our well-intended quest to create happy lives for our kids, we parents can slip into a habit of indulging, rescuing, pampering — even waiting on kids hand and foot. We give in to their demands, be it a treat in the checkout line or the highest tech, hot-off-the-line smartphone. We step in to clear the path with teachers and coaches. We do things for our kids that they are perfectly capable of doing for themselves. The end result is an entitled child who won't (or can't) do anything for himself and who believes the world revolves around him.
Meeting your kids' need for emotional connection is as vital as feeding them healthy food and teaching them their ABC's.
Let's face it, entitlement is not an attractive quality in anyone. The "me, me, me" attitude is irritating, exhausting, and, frankly, our kids lose out in the long run. Kids who think the world revolves around "me, me, me" will likely grow into self-absorbed adults, needy spouses, and high-maintenance employees.
It's time to put the brakes on the entitlement train. So what's a parent to do?
In my book, The "Me, Me, Me" Epidemic — A Step-by-Step Guide to Raising Capable, Grateful Kids in an Overentitled World, I share one of my favorite tools. This tool begins with the premise that before we can put an end to those exasperating entitled behaviors, we have to give our kids what they are truly entitled to, which is our unconditional love and a daily dose of our undivided time and attention.
That may sound obvious, but think about the chaos of family life. In our busy schedules of carpooling, work, laundry, and family obligations, how many times during the week (or month) do you truly give your kids undivided time and attention when you are fully present in mind, body, and soul? If we're honest, probably not as often as we'd like, right?
This tool changes all that. It's called Mind, Body, and Soul Time. It's super simple and effective for toddlers through teens. It delivers the attention and sense of belonging kids need and helps to prevent whining, tantrums, fits, sibling rivalry, and of course, entitlement.
Here's how it works: Set aside 10 to 15 minutes every day to spend one-on-one time with your child when you are fully present and doing something she loves to do. Whether it's reading a book, building Legos, coloring, playing cards, or creating a new playlist — make it all about your child.
During Mind, Body, and Soul Time, it's essential that your attention be 100 percent on the child. That means no distractions. No phones. Email on hold. Turn down the to-do list in your head and be fully present in mind, body, and soul. Give your child what she is truly entitled to: you!
Before you throw your hands up and say your day is already way too busy, know this: The 10 to 15 minutes you spend doing Mind, Body, and Soul Time will literally save you hours of power struggles, hissy fits, and family feuds. It will also create a lot more peace in your home in an incredibly powerful way.
Meeting your kids' need for emotional connection is as vital as feeding them healthy food and teaching them their ABC's. If you invest just 10 to 15 minutes per day to practice Mind, Body, and Soul Time with your kids, you'll see the entitlement trend turn and establish a much stronger relationship with your kids than you ever dreamed possible.
Within a day or two of implementing this tool, you'll notice less of the entitled behaviors and be handsomely rewarded with kids who are more cooperative, happier, and way more fun to be around. It's a tool that has worked for tens of thousands of parents. It'll work for you, too.