Why Olympic Swimmer Dana Vollmer Refuses To Count Calories
mbg Contributor
By Leigh Weingus
mbg Contributor
Leigh Weingus is a New York City based freelance journalist writing about health, wellness, feminism, entertainment, personal finance, and more. She received her bachelor's in English and Communication from the University of California, Davis.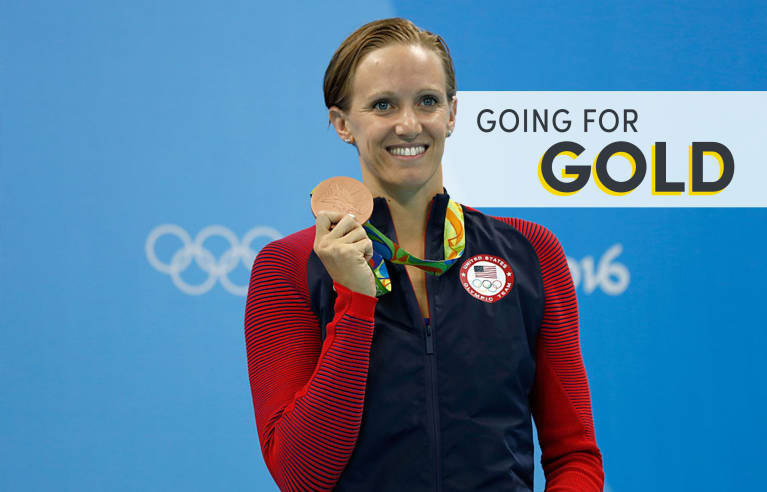 In our new series Going for Gold, athletes heading to Rio open up about the mind-body practices that keep them going and help them win.
Dana Vollmer is an Olympic swimmer who won a gold medal in Rio this year. She also had a son 15 months ago.
Did your jaw just drop? Same.
Before heading off to Rio, Vollmer opened up to mbg about the wellness routines that keep her healthy, happy, and make her an insanely good swimmer.
Here's what she had to say.
She's super serious about her sleep.
"My goal is always eight hours. I actually just started wearing a recovery bracelet called WHOOP. I've learned a lot from it. When I scheduled for eight hours I was only getting seven, so I started planning to schedule nine hours and I ended up getting eight. I track my naps with it, too. You can feel the toll that [not getting enough sleep] takes on your body. I'll feel pretty good for two or three days, and then I just crash. So it's definitely really important to have sleep.
"With my son, sleep is definitely the hardest part. I've been trying to get into an evening routine where I get myself in bed at the same time every night, but it's tough and depends on when I get my son in bed. Plus, I want to have time with my husband!"
Yep, yoga is part of her cross-training routine.
"Leading up to the trials, my team actually does yoga Monday and Friday mornings. On Mondays, Wednesdays, and Fridays we do two hours of strength training. There's so much I can do with my own body weight! I do Pilates as well."
She has an interesting approach to meditation.
"I had always heard that to meditate you had to quiet your mind and not think about anything. But one day, I decided I would just allow myself to think about things. After doing that a few times, I started to love meditation."
She also has an awesome mantra.
"'Every day is a new day.' I try to give 100 percent of myself and love every day of the journey."
Calorie-counting is not for her.
"I load up on vegetables. I try to eat healthy, but I'm not a calorie counter. I try to eat based on how my body feels and what my body wants. When it comes to snacks, I'm a huge fan of Go Raw Grow Sprouted bars. Mostly I just listen to my body — it's as simple as that."
Beauty is pretty simple for her.
"I feel beautiful when I'm feeling confident, and I feel confident when I'm working out and taking care of myself. Other than that, I use a lot of lotion, aloe vera, and sunscreen."