Sweat Style: This Is What Nutritionist Carolyn Brown Wears To Work Out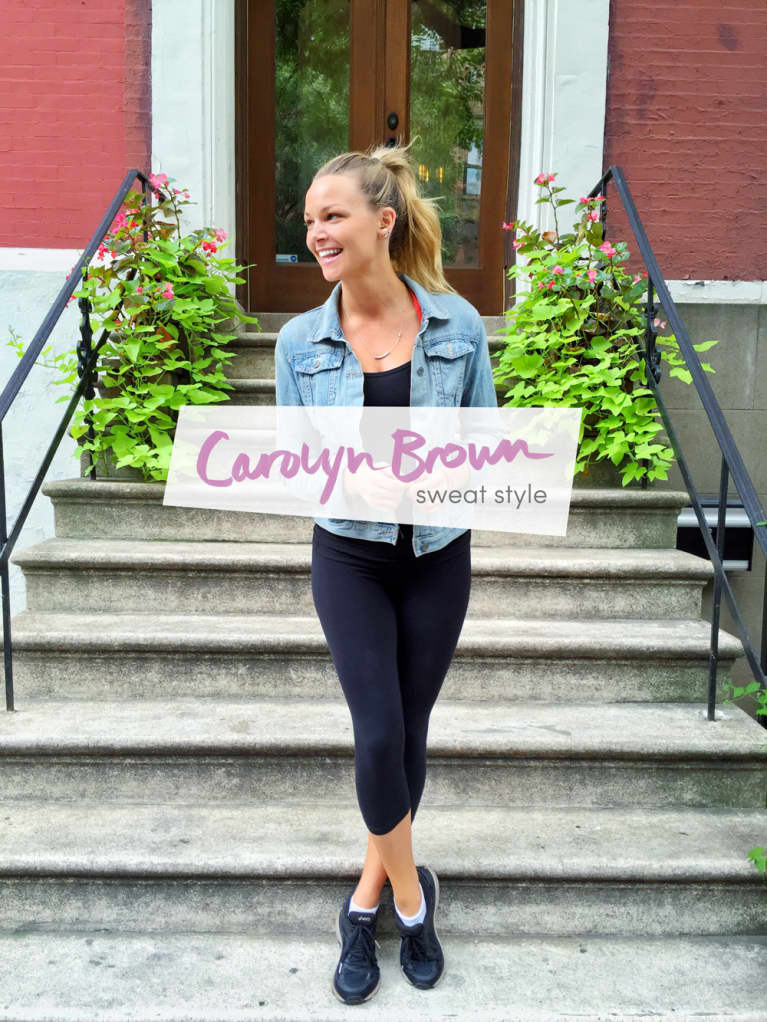 When it comes to fitness, it's clear that Carolyn Brown, a nutritionist living in New York City, has the whole workout-life balance thing down.
She has a toned physique, an infectious laugh, and a mischievous smile that suggests that when it comes to working out, she's always having a great time. And part of that good time has to do with her practical workout wardrobe.
"My sweat style is very minimalist. It's all about how I can transition into life quickly, so it's kind of brunch-friendly," she told mbg. "Just something I can throw a jean jacket over. I don't get to go to work in my workout clothes, but I definitely always go out to eat after I exercise."
As for the type of exercise she does, Carolyn likes to sample a little bit of everything, at different times of day.
"I go to SoulCycle and The Fhitting Room a few times a week, I run, and I do yoga," she told us. "I love an early morning workout; It sets my day up in a really nice way. I love doing yoga at night, though, and I find my Monday night run club is a great way to wind down. So it kind of depends on the activity."
Hey, it certainly doesn't sound like her routine ever gets boring. And when you have such an active life you need clothes that match that lifestyle, right?
Here's what Carolyn is loving right now: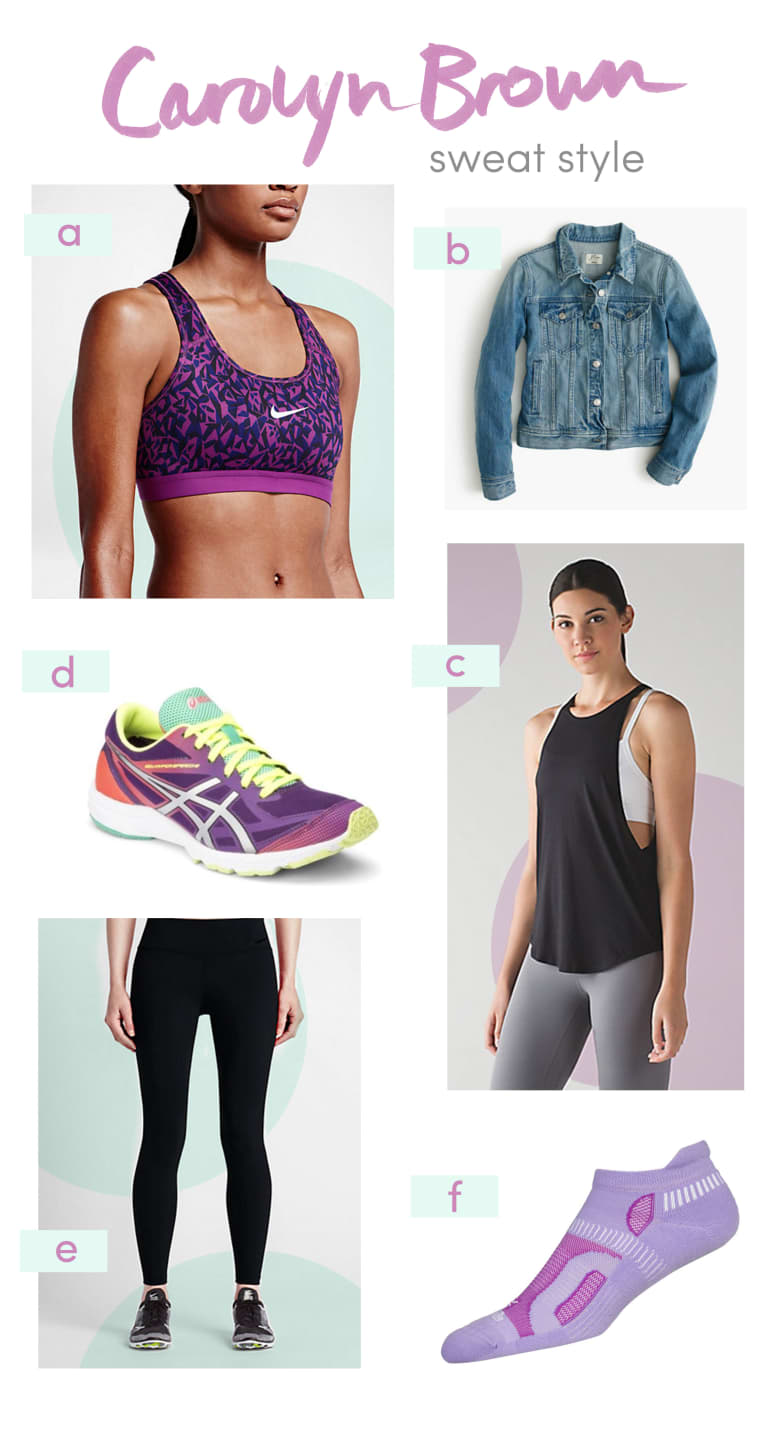 "I wear a ton of Lululemon tank tops underneath things, even dresses. Their black tank tops are great transition pieces. I won't wear them if I'm going to some super-fancy event, but I will definitely wear them underneath a sweater or something so I can go to a yoga class right after work. Black Nike leggings are great for running—they're high-waisted and high compression. I also have some Lululemon and Reebok leggings. I kind of avoid the super-printed ones because I thought that was a fad.
Black is great because you can't tell so much that you're so sweaty. You don't want to look like you're in a wet T-shirt contest!"
Featured above: Lululemon Sweat Date Tank (c) + Nike Power Legendary Women's Leggings (e)
But she's not above a little bit of color here and there.
Her accessories of choice are pretty perfect.
"I always keep my jewelry on while I work out. I usually have a necklace on, and I keep my rings on. I have tons of earrings, too. I mostly have high-quality jewelry, so a little bit of sweat isn't a big deal.
Also, I always feel like I need a manicure/pedicure if I'm going to yoga a lot. It makes me happy."
"I have my own spin shoes, and they're my favorite thing. They're called Fizik. I find that it's extra motivation to have your own spinning shoes, just like it's great to have your own yoga mat.
When it comes to running, I love Asics. I know there are cuter shoes out there, but I'm training for the marathon. Asics seem to be the best running sneaker. I also have a million pairs of the same socks; they're called Balega. They're great running socks because they're really thick and supportive."
Featured above: ASICS Women's GEL-Hyper Speed 6 Running Shoe (d) + Balega Countour Running Socks (f)