I Got Divorced At A Young Age. Here's How I Bounced Back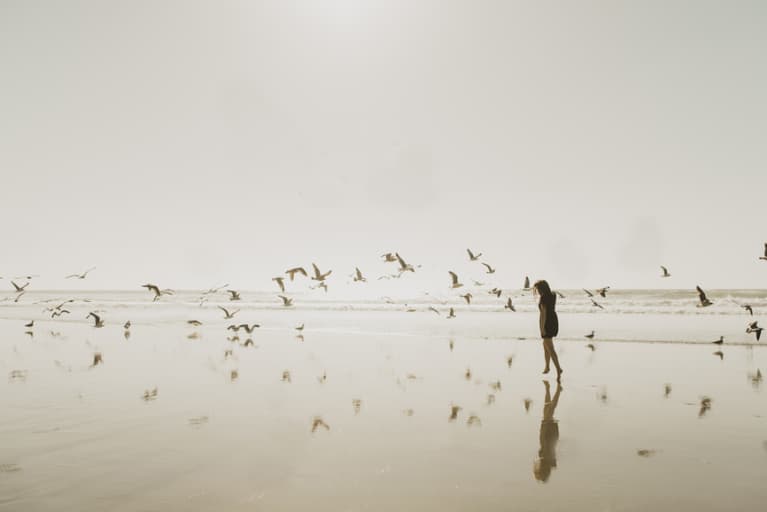 It's a hot, sunny day today with a warm breeze. I can hear the sounds of cars in the distance. I notice the intense heat as beads of sweat form each time I step outside to load my car with more boxes. The overstuffed containers are the necessary teaching supplies for my classroom. It's that time of year again. How quickly the restful summer passes.
As I place the last container in the trunk, one of the lids pops open. Quickly, I lift the lid to see if something has leaked or popped. I don't want ink or paint flowing onto my lesson plans. As I scan the container, my focus turns to the backside of a photo frame lying atop the soft black felt.
Time seemed to stand still. I could no longer hear the cars or feel the wind. A flush of heat came rushing through me as I stared at the photo frame. "Do I dare look?" I questioned myself. After what seemed like hours staring at the photo frame, the intense heat moved me to grab it.
I gazed at the photo, looking at every detail of the new bride and groom. I'm not sure what I was expecting—maybe tears or anger. The photo I was so intently inspecting was of my ex-husband and me. We had been married for a very short amount of time. We dated for over a year. Things just didn't work out. Judging from my own reaction, I was really OK with that.
The warm breeze pushed my dampened hair from my face as I placed the photo frame in a separate box. I finished loading my car and sat on a small, quaint wooden bench to enjoy a few moments outside with a glass of iced tea.
Reflection is a great thing—especially when it helps you realize how far you have come. As I sipped my tea, I wondered why I was not upset. No tears, no hurt, no anger. I was also not doing what I had done many times before—mercilessly blaming myself for everything that didn't work. Not this time. Actually, I wasn't blaming anyone. I was just accepting it.
Have I finally understood how to be in the now? In the present moment? I'm not absolutely sure, but I think so. It has been a very short time since my marriage ended, and I have already made amazing progress in my thinking and perceptions, especially of the past. The old, sad, daunting stories I would tell myself over and over are gone. How did I leave them behind? I believe it has been the following two steps—really a process and realization—that have finally allowed my past to stay in the past and allowed my present to be now.
1. I drew the line and followed through.
When I ended my marriage, I made a very conscious decision that I had had enough of relying on others to make me happy and of giving to the point of personal exhaustion.
My life experience has clearly shown me that no one person or thing can make you happy all the time. Happiness comes from within. I had also allowed myself to become exhausted emotionally and physically because I was trying to save everyone. I'm an empathetic nurturer. I give till I can give no more. I'm still learning to master this one, but I recognized that I had to make my emotional and physical health a priority. I couldn't allow others to sabotage my health. Keyword: allow. I needed to establish healthy boundaries within my intimate relationships and hold fast to them.
After decades of high stress my body was revolting. I spent years going to doctors trying to figure out what was wrong with me. I am now aware that stress weakened my body. But now, I'm taking the necessary actions to regain my health. Pay attention to those headaches, weight gains, or stomachaches. If there is no clear medical reason for them, it could be stress.
2. I found gratitude for the experience.
Divorce is not a joyous event. But without this short-lived experience, I may not have taken such a good look at my own behaviors and perceptions. I am grateful that I am happy, that I am enjoying life and all its opportunities. I am even more grateful that I am able to share my story with others so that they, too, may overcome obstacles.
We all experience highs and lows, and divorce can be enormously painful. If you're going through a divorce, a breakup, or any other kind of traumatic life experience, remember to be kind to yourself. You don't have to wallow in self-pity or continue to self-sabotage indefinitely. You have the courage and strength inside you to make the changes you want.
Related reads: