Celebrity Nutritionist Kimberly Snyder On How To Eat For Beautiful Skin (On A Budget)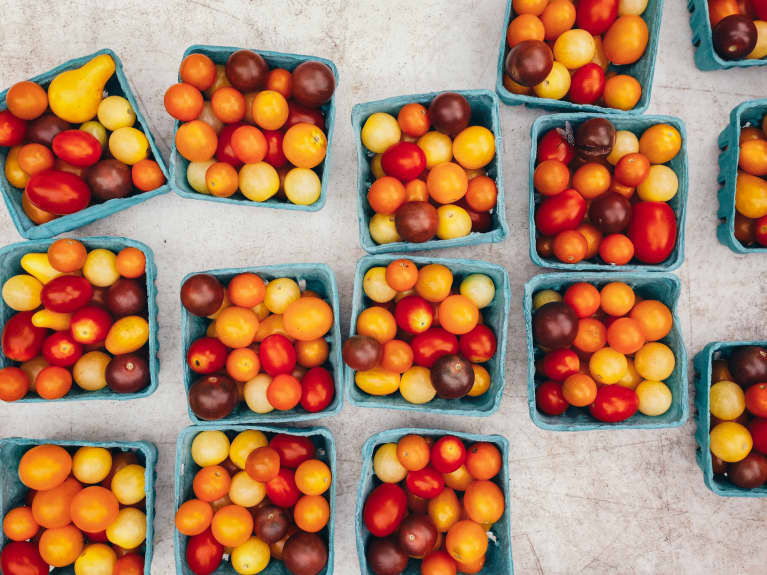 Summer is just an awesome time of year. We tend to spend more time outside, feel more open and free, and feel more connected to the earth. It's also the time for an equally awesome bounty of seasonal foods you can spot at your local farmers market. Take advantage! August is a great time to really nourish and prepare yourself — skin, hair, body, and mind — before the busier time of fall. You want to go into fall feeling your absolute best and having the maximum amount of beauty vitamins, minerals, antioxidants, and countless other micronutrients flooded through your system to come from your healthiest place before the extra stress of a new season gets thrown your way.
Maybe your skin feels dehydrated from a little too much sun time, dry from excessive salt water, or you need a little boost after too much summer barbecue fare. Don't worry, I got you! Here are some of my top beauty foods you can source pretty easily and affordably to feel and look absolutely beautiful.
Yes, weeds! Maybe you've only associated weeds with having to help Dad pull them out as a dreaded chore when you were a kid. But if look really closely at the farmers or health market, you may just be lucky enough to find bunches of harvested weeds for a few cents a serving. Purslane, dandelion greens, and lamb's quarters are hearty plants (they are weeds after all!) that cultivate large amounts of antioxidants and other nutrients to survive in the wild.
These weeds are all great sources of vitamins A, C, and K; amino acids to build protein; and omega-3 fatty acids (especially purslane) — check out my Parsley and Purslane Salad With Lemongrass Dressing. Dandelion greens are known to be a great liver-cleansing food and pack more beta-carotene than a carrot. Lamb's quarters is loaded with calcium and protein as well as vitamins A, C, and K and is commonly referred to as wild spinach. Mix these weeds in for the green portion of your daily smoothie or into your salads.
Eating these potent beauty foods is an especially great way to connect with nature in her pure form. Heirlooms come from nonhybridized seeds that have been passed down for a few generations (at least 50 years), and they are open-pollinated, which means they're pollinated by insects or wind without human intervention. And besides having incredible freshness and bright flavors, they're also loaded with vitamin A and K, minerals like potassium and calcium, powerful antioxidants like vitamin C, lycopene, beta-carotene, xanthins, and lutein. These nutrients can help protect us from aging free radicals we ALL, unfortunately, come in contact with in the modern world and excessive UV rays from summertime play.
Summer is the season to get peaches, a great high-fiber fruit to help support glowing skin and beautiful high energy. These sweet fruits are a great source of vitamin E, which helps scavenge aging free radicals, some B vitamins (to help support great hair), and vitamins A, C, and K. As an added twist, check out white peaches, which are especially bright-tasting. Peaches form the perfect creamy base to my Glowing Green Juice Popsicles, a healthy summer dessert treat that not only won't set you back but will add to your beauty.
"Mushies" are a great plant-based source of protein, and throwing portobello mushrooms on the grill in lieu of meat or chicken is a great way to lighten up your barbecue and avoid the major health concerns of grilled meat, which include heterocyclic amines (HCAs) and polycyclic aromatic hydrocarbons (PAHs), that form when meat is cooked at high temperatures (not beautifying!). Mushrooms are also one of the few food sources of vitamin D, as well as folate, fiber, and other minerals.
Berries are one of the all-time ultimate beauty foods. They are a powerful aid for helping your skin retain a healthy youthful glow and fight against premature aging with their strong arsenal of antioxidants and vitamins. They also tend to be naturally lower in sugar. Raspberries, blackberries, whatever berries you can find, grab 'em, and toss them into your morning smoothie or just have them by the (big) bowlful, which is my personal favorite way.
Related reads: