5 Ways To Stay Lean & Strong Without Spending Hours At The Gym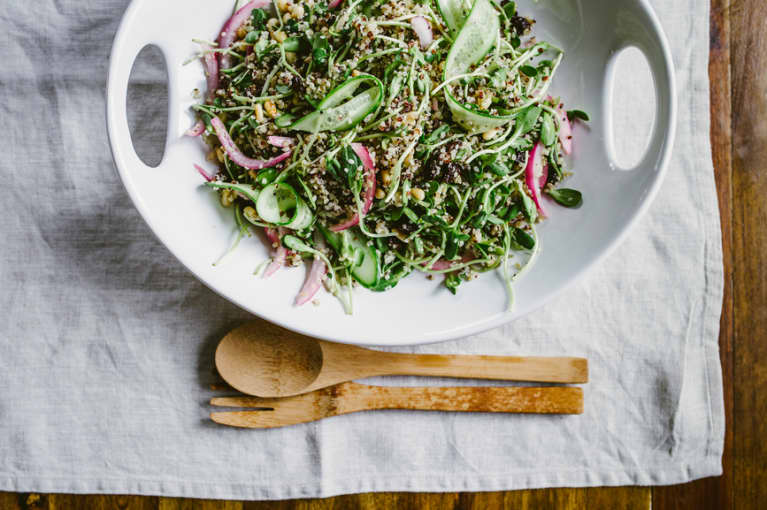 "I can't imagine how much work you put in at the gym to get those arms" someone recently commented while I waited in line for my venti green tea.
While I appreciated the compliment, I actually put in far less gym time than most people guess. Yes, you do have to lift weights and burst train if you want sculpted, strong muscles. However, your workout time should be measured in minutes, not hours.
For my arms, I like to combine about 30 minutes of resistance training twice a week with 10 to 15 minutes of high-intensity interval training on most days. It's the perfect combo to build muscle, burn fat, and prevent overtraining that can lead to muscle breakdown and weight-loss resistance.
But here's the dirty little secret: Great arms mostly happen outside the gym. In fact, you don't need to buy any fancy equipment or join an expensive club to get fit and lean.
What you do during the 23 hours outside your workout every day is just as crucial to building muscle.
Here are five steps that are absolute musts if you want to get fit and lean:
Foods high in protein, such as grass-fed beef, wild-caught salmon, lentils, and quinoa are necessary both to build muscle and prevent muscle breakdown.
They're also impressive multitaskers for your overall health. A high-quality protein shake in the morning is a great way to start your day with a healthy protein boost. (Just be sure your protein powder is soy- and dairy-free to prevent inflammation.)
When you eat is just as important as what you eat. To maximize muscle building and fat loss, start your day with a healthy breakfast within an hour of waking up. Eat every four to six hours throughout the day with a combo of lean protein, healthy fats, slow-low carbs like quinoa, and lots of nonstarchy veggies.
Close the kitchen about three hours before bed so nighttime blood sugar changes don't interfere with your sleep.
3. Make great sleep a priority.
Getting seven to nine hours of quality, uninterrupted sleep every night helps your body repair and recover. Too little sleep has also been linked to eating more and gaining weight.
Having a nightly routine is an ideal way to get amazing sleep. Yours might include prayer, deep breathing, or spiritual reading. Mine includes a hot bath followed by a cup of chamomile tea.
(OK, maybe an occasional glass of pinot noir ...) Then I head to bed with a good (but not great) novel. The important thing is to find something that works for you and make it a habit.
Among its miseries, stress cranks up cortisol, a hormone that breaks down muscle and stores fat when it stays elevated beyond its prime.
Obviously, you can't eliminate stress completely, but you can develop strategies to curb it. Make time for hobbies you love and schedule dates with loved ones who nurture you.
Whether it's yoga class, a trip to the dog park with your lab, or those painting lessons on your bucket list, find activities that calm you and renew your energy.
Heavy lifters and other athletes demand extra nourishment that's hard to get from diet alone. Studies show taking a multivitamin/mineral supplement can both replenish those nutrients and help you do a better job of getting them from your food.
Taking a quality fish oil can also help curb inflammation that frequently occurs among athletes.
Put these pieces together, and you've got the perfect formula for amazing arms. If you're focused on being your leanest, strongest self, what strategy would YOU add here?
Share yours on Facebook.