7 Things You Need To Know Today (August 15)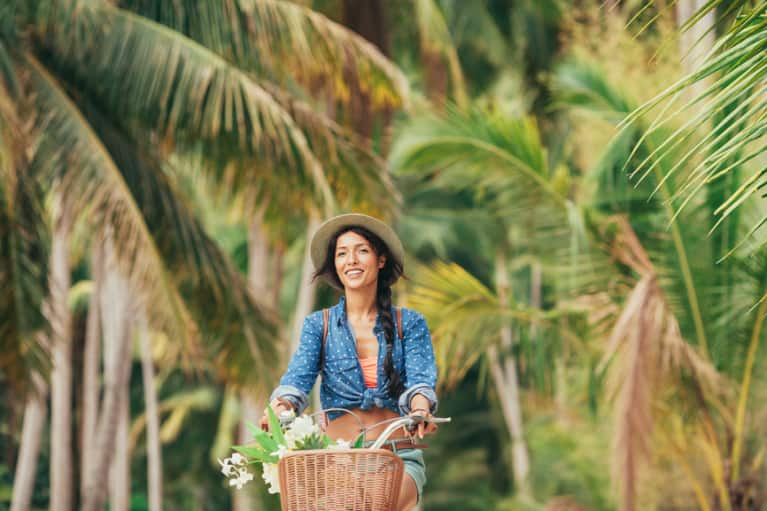 1. Want to lose weight? Get a bike.
According to a survey of 11,000 people in Europe, people who use a bike to get around weigh about 9 pounds less than people who drive. More research needs to be conducted before doctors can declare that cycling is the secret to losing those last 10 pounds, but it's certainly worth a shot. (HealthDay)
2. "Orange Is the New Black" star Vicky Jeudy is super healthy, but she still has room for pizza.
If you've tuned in to OITNB, you've probably noticed that Jeudy, who plays former track star Janae Watson on the Netflix drama, has a super-fit physique. So, what's her secret? Journaling, water, tons of sleep, kickboxing, running, and the occasional slice of thin-crust pizza. (Daily Mail)
3. Simone Manuel just made history in Rio.
On Thursday night, Olympic swimmer Simone Manuel became the first African American woman to win an individual event in Olympic swimming, completing the 100-meter freestyle in 52.7 seconds. (NYT)
4. H&M's Studio Collection ads feature Ashley Graham in plus-size clothes but won't sell them in stores.
The brand proudly proclaims their inclusion of a plus-size model and plus-size clothing in a news release about the fall launch but goes on to specify that the plus-size options will only be available online, not in stores. Featuring plus-size clothes at all is a step in the right direction, but we hope H&M Studio will bring that inclusivity to their brick-and-mortar stores as well. (Racked)
5. Olympic swimmer Allison Schmitt opened up about her struggle with depression.
The Olympian just won a silver medal, proving she's on top of her game. Making a clear statement, she chose to share the difficult time she's faced over the past few years. She recovered with the support of a psychologist and of fellow Olympian Michael Phelps, who's had his own mental health battle. When asked if she feels she has anything to prove, Schmitt said, "[I care about] myself and ... my close circle of friends and family. So if I can make them proud ... that is what will make me happy." (Today)
6. A grad student just made an important discovery in cancer research.
Di Liu, a chemistry graduate student at the University of Chicago, co-authored a study describing how to create chemical structures that could help screen hundreds of anti-cancer compounds. (Science and Technology Research News)
7. Americans actually buy most of their junk food at grocery stores.
A new University of Illinois study challenges the "food desert" theory, since it found that most of the junk food products that Americans buy are actually purchased at supermarkets. The research suggests that the presence of a grocery store may not be enough to encourage healthier eating habits or prevent obesity. (HealthDay)