Yes, This Book Will Absolutely Change Your Life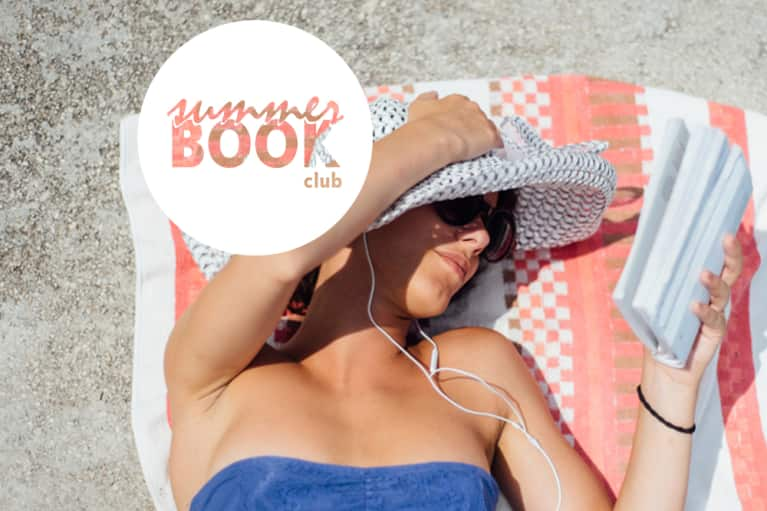 Welcome back to your summer book club with Crown Publishing! Two weeks ago, we introduced Greg McKeown's life-changing NYT bestseller, Essentialism. Now, we're digging deeper in an interview with the talented novelist himself. If that first post wasn't enough to convince you of the power and freedom that comes from the disciplined pursuit of less, this interview with McKeown will. And if you devoured it like we did and you're ready for your next read, check out our full summer book list here.
1. How did you come to understand and define essentialism?
Essentialism's core argument is actually found in it's opposite: Nonessentialism, which says the key to life is doing everything, cramming more and more into your life. This way of thinking leads us to conclude that we never have enough time. As one investor told me recently, "When I read Essentialism, I realized I had a problem because I could suddenly see that even if I had 300 hours in a day I would not have enough time." That is the effect of Nonessentialism. But if we focus on the essentials, we have enough time for our work.
I think everyone could read Seneca's treatise, On The Shortness Of Life: Life Is Long If You Know How To Use It.
The whole premise of this piece is complementary to the logic of Essentialism. He writes, "It is not that we have so little time but that we lose so much. ... The life we receive is not short but we make it so; we are not ill provided but use what we have wastefully."
Life is long, if you know how to use it.
2. You talk about regretting going to a client meeting when your wife had just given birth to your child. What is the significance of that experience?
Years ago, the day after our precious daughter was born (what should have been one of most serene days of my life) was filled with tension. Even as my beautiful new baby lay in my wife's tired arms, I was on the phone and on email with work, and I was feeling pressure to go to a client meeting.
My colleague had written, "Friday between 1-2 would be a bad time to have a baby because I need you to come be at this meeting with X." It was now Friday and though I was pretty certain (or at least I hoped) the email had been written jest, I still felt pressure to attend.
Instinctively, I knew what to do. It was clearly a time to be there for my wife and newborn child. So when asked whether I planned to attend the meeting, I said with all the conviction I could muster... "Yes."
To my shame, while my wife lay in the hospital with our hours-old baby, I went to the meeting. Afterward, my colleague said, "The client will respect you for making the decision to be here." But the look on the clients' faces did not evince respect. Instead, they mirrored how I felt. What was I doing there?! I had said "yes" simply to please, and in doing so hurt my family, my integrity, and even the client relationship.
As it turned out, exactly nothing came of the client meeting. But even if it had, surely I would have made a fool's bargain. In trying to keep everyone happy I had pleased no one and sacrificed what mattered most. On reflection I discovered this important lesson: If you don't prioritize your life, someone else will.
The short of it is that I left and started a business to understand why people and organizations get pulled into so many nonessential activities—and what can be done about it. It's been humbling to watch so many people and organizations be impacted positively by what was such a personal mistake.
3. What other experiences have shaped Essentialism?
I noticed a problem while working with executive teams in Silicon Valley. When they were focused on what was essential it led to success. But success came with so many options and opportunities that it often undermined the very focus that led to success in the first place. I found success can become a catalyst for failure. It can lead to what Jim Collins called "the undisciplined pursuit of more."
The antidote is the disciplined pursuit of less, but better. So the book Essentialism is about the relentless, continual pursuit of what is essential, the elimination of the nonessential and the building of a system that makes execution as effortless as possible.
4. How did living an Essentialist lifestyle impact the research and writing process of the book? In other words, in what ways was Essentialism externalized?
A few years ago I sat in bed late at night, wide awake. I was tired but unable to sleep. I sighed out loud, "I am never going to get this done in time!" I was hyperventilating. The good news? Crown Business had just agreed to publish my book. The bad news? Now I needed to write it. As someone once said to me, "Nobody likes to write. Everyone likes to have written."
Even without a book to write I had a full life. To add irony to the situation, the book was about the disciplined pursuit of less. So the idea of being stressed out for a year while I did it simply wasn't an option.
The antidote is the disciplined pursuit of less, but better.
I talked it over with my wife (the wisest person I know). Together we came up with a plan: I would go into "monk mode." It was a relatively extreme approach to take. I would write from 5 a.m. to 1 p.m. every day in a small office in our backyard. It is a small room—tiny really—but in it I found space ... and creative freedom.
Writing the book was neither stressful nor forced. It flowed. Not because the nature of the task is easy. But with a routine that acknowledged this difficulty what would have been unnatural and, therefore, hard became a relatively frictionless experience.
I have been in mourning since monk mode came to an end. So much so that after a few weeks of the old schedule, I went back to it this morning. I am writing this in my 5 a.m. window. Writing is hard work for me—read brutal. It's not the words. It's the thinking. And for me anyway, I just can't think clearly with constant distractions. I read an article once which bemoaned open office syndrome and I felt loads of empathy for the interrupted masses.
5. The dictionary defines religion as "a pursuit or interest to which someone ascribes supreme importance." Does Essentialism have roots in religious traditions?
I don't think of Essentialism as a religion at all. But the thoughtful observer will find deeper roots to what I write about in spiritual and religious literature and practices.
Gautama Buddha left his life as a prince to seek the ascetic life. This led him to his enlightenment and the birth of Buddhism. Likewise, Judaism grew out of the story of Moses leaving his opulent life as an adopted prince in Egypt to live in the wilderness as a sheepherder. It was there he encountered the burning bush and discovered his essential mission to bring the Israelites out of bondage.
The Prophet Muhammad lived an essential life that included mending his own shoes and clothes and milking his own goat and taught his followers in Islam to do the same. John the Baptist, too, had the epitome of a simple lifestyle—living in the desert, wearing camel hair clothes, and eating off the land.
Christian groups such as Quakers also maintained a staunchly Essentialist element to their faith: for example, they practiced The Testimony Of Simplicity, in which they committed to a life of only what was essential. And of course Jesus lived as carpenter and then in his ministry lived without wealth, political position, or material belongings.
6. What do you think the world would look like if everyone in it decided to practice Essentialism?
Let's look at where we are first. Drucker said,
"In a few hundred years, when the history of our time will be written from a long-term perspective, it is likely that the most important event historians will see is not technology, not the Internet, not e-commerce. It is an unprecedented change in the human condition. For the first time—literally—substantial and rapidly growing numbers of people have choices. For the first time, they will have to manage themselves. And society is totally unprepared for it."
If everyone in the world decided to practice Essentialism then society would be prepared for the change Drucker is describing here. That raises a lot of "What if?" questions.
What if schools eliminated busywork and replaced it with important projects that made a difference to the whole community? What if all students had time to think about their highest contribution to their future so that when they left high school they were not just starting on the race to nowhere?
What if businesses eliminated meaningless meetings and replaced them with space for people to think and work on their most important projects? What if employees pushed back against time-wasting e-mail chains, purposeless projects, and unproductive meetings so they could be utilized at their highest level of contribution to their companies and in their careers?
What if society stopped telling us to buy more stuff and instead allowed us to create more space to breathe and think? What if society encouraged us to reject what has been accurately described as doing things we detest, to buy things we don't need, with money we don't have, to impress people we don't like?
What if we stopped being oversold the value of having more and being undersold the value of having less?
What if we stopped celebrating being busy as a measurement of importance? What if instead we celebrated how much time we had spent listening, pondering, meditating, and enjoying time with the most important people in our lives?
What if the whole world shifted from the undisciplined pursuit of more to the disciplined pursuit of less . . . only better?
I have a vision of people everywhere having the courage to live a life true to themselves instead of the life others expect of them.
I have a vision of everyone—children, students, mothers, fathers, employees, managers, executives, world leaders—learning to better tap into more of their intelligence, capability, resourcefulness, and initiative to live more meaningful lives. I have a vision of all these people courageously doing what they came here on this earth to do. I have a vision of starting a conversation that becomes a movement.
To harness the courage we need to get on the right path, it pays to reflect on how short life really is and what we want to accomplish in the little time we have left. As poet Mary Oliver wrote: "Tell me, what is it you plan to do / with your one wild and precious life?"
7. What books have had the strongest impact on your perspective/most powerfully shaped your approach to life?
Can I cheat and point to an essay rather than a book? It was written by Tennessee Williams and was first published in The New York Times and tells the story of his experience following the release of his widely acclaimed play, The Glass Menagerie. The piece is called, and contains his thesis in the title, "The Catastrophe of Success." He describes how his life changed after the success of the play and how he became distracted from the essentials that led to his success in the first place. It's well worth reading.
8. What is the single most positive life change you've experienced since crystalizing the idea and fully committing to the practice of Essentialism?
My relationship with my wife, Anna, is now the undisputed priority relationship in my life. One reason for this is that I have made deliberate tradeoffs with other competing activities. It's not enough to say, "My wife is the most important person in my life." It only counts if I eliminate other things and, even, other relationships in some cases.
We have always had a special, unique relationship: I have always found her to be wise, beautiful and lovely. But it is now something untouchable and exquisite. It's so special, sacred, I rarely even speak of it. She epitomizes what is essential to me—and ensuring this remains true is the disciplined pursuit of my life.
9. What question had you hoped to be asked during this interview—but weren't?
What is one thing you would never do?