A Superfood-Packed Raspberry + Rose Tart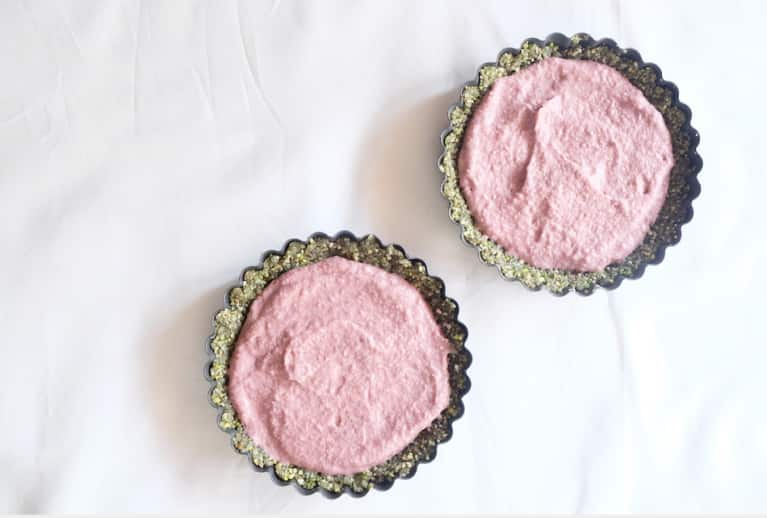 I saw these beautiful, outlandishly colored rhubarb stalks the other day and thought to myself, Summer is coming to an end, why not take advantage of fresh rhubarb while the season lasts?
Next thing I know, I'm in the kitchen trying to create a perfect raw and light dessert. The first dessert that came to my mind? Raw raspberry and rhubarb tart. It was honestly too pretty to be eaten; I just wanted to look at it!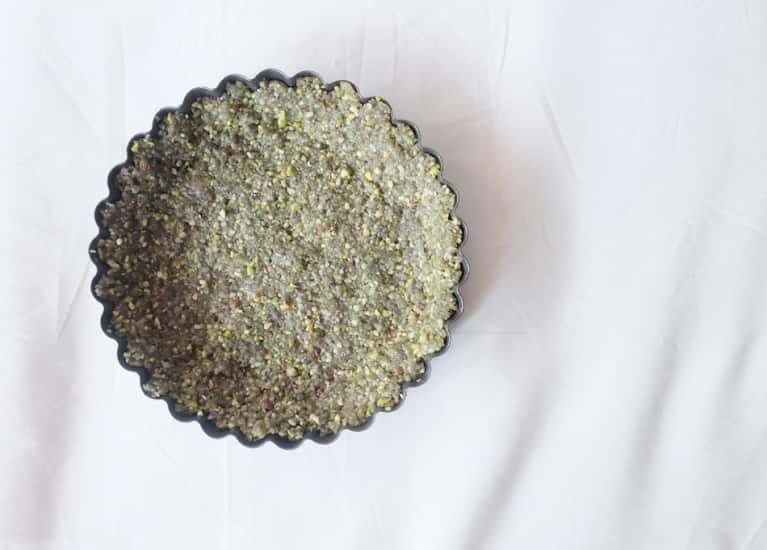 What made this tart taste even better was the crust; I added rose water to the mixture, which gave it its distinctive flavor.
Now … let's get down to business, shall we?
Rose Raspberry + Rhubarb Tart
Serves 2
Ingredients for the crust
½ cup pistachios
¼ cup walnuts
¼ cup almond meal
¼ cup shredded coconut
1 teaspoon spirulina powder
1½ tablespoons coconut oil, melted
½ teaspoon vanilla powder
1½ tablespoons maple or rice malt syrup
Ingredients for the filling
¼ cup cashews, soaked for at least 2 hours
¼ cup dates, pitted
½ cup diced rhubarb
½ cup raspberries
1 tablespoon lemon juice
1 tablespoon rose water
1½ tablespoons coconut cream
pinch of salt
Preparation
1. For the crust: In a food processor, process pistachios and walnuts until the nuts resemble a small crumble.
2. Then add the rest of the crust ingredients and process until it all comes together. Mixture should stick together.
3. Divide mixture evenly in 2 and press into 2 mini-tart tins. Freeze for 45 minutes.
4. Meanwhile, start preparing the raspberry and rhubarb filling: Drain cashews and process with lemon juice, dates, rhubarb, raspberries, rose water, coconut cream, and salt. Keep processing until the mixture is silky-smooth.
5. Remove the bases from the freezer and top tarts with raspberry and rhubarb mixture. You will find yourself with approximately ¼ cup left of the mixture; you can either enjoy it as is, or leave it for a delicious dessert or breakfast and top it with granola and/or crushed nuts.
6. You might want to decorate the tarts with crushed pistachios, raspberries, blueberries, rose petals ... whatever your heart desires.
7. Place mini tarts in freezer to set for 30 minutes or place them in the fridge for 2 hours.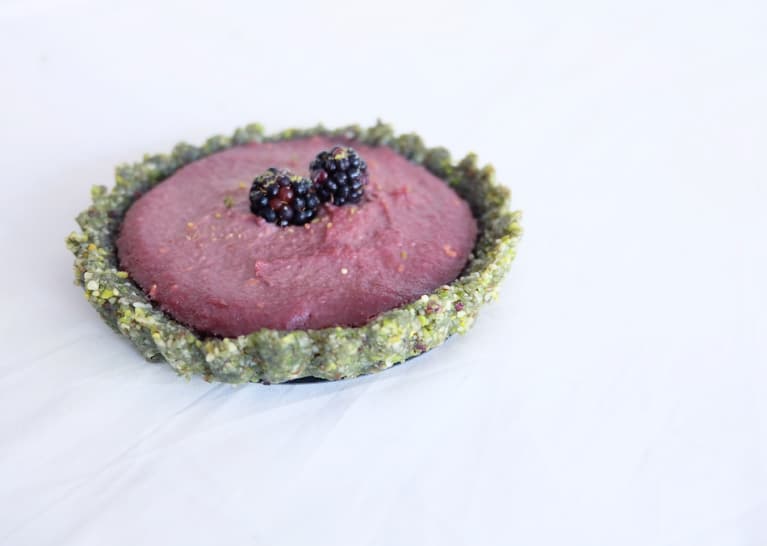 What are the fruits you enjoyed this summer? Feel free to replace raspberries with strawberries or blueberries.
If you make it at home, be sure to tag #fitnutleb and on Instagram so I can see!