Here's What Really Goes On Inside The Olympic Village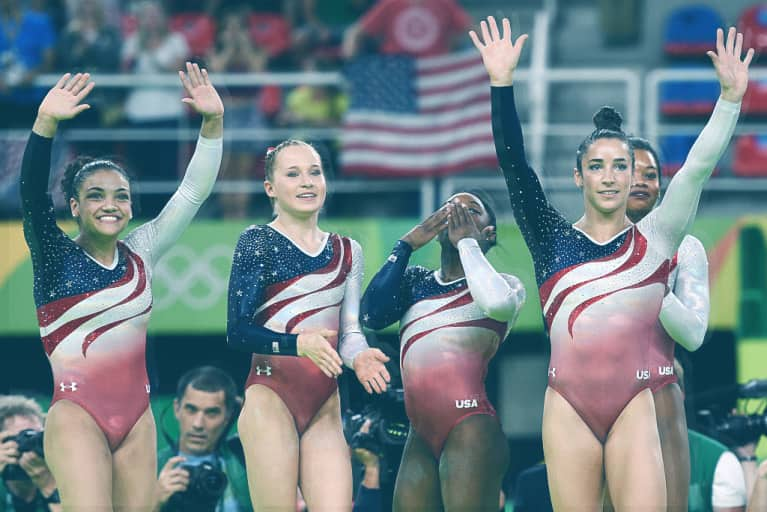 Only a week into the 2016 Summer Olympics, we've heard quite a bit about what's going on in Rio de Janeiro this week as Olympians swim, balance, and sprint their way to gold medals.
The USA men's basketball team is staying on a luxury cruise ship because the accommodations in Rio were a little iffy, athletes are swiping left and right, and the Olympic Village is stocked with a record-breaking number of condoms — 450,000, to be exact.
So as we closely follow the events of the Olympics, village drama and cupping trends included, we decided to get in touch with some Olympians to find out what the village is actually like.
While we don't have any crazy scoop about what's going on in the village this year (we're on that, we promise!) we do have some inside information about what's gone on in years past.
Here's what you should know about what really goes on in the Olympic Village:
Yep, pranks definitely happen.
"Everyone is pretty nervous and wound up because this is the final dance. So it's always fun to keep ourselves smiling!" Maggie Steffens, an Olympic water polo player competing in Rio this year, told mbg. "Even in the USA house medical/treatment room, you'll have athletes who just met joking with one another and playing little tricks to remind them that Olympics are fun and to enjoy the journey."
But reading and journaling also happen.
"We were always the nerds of the group because all the other girls liked to go out and have a good time," former Olympic gymnast Shawn Johnson confessed, referring to her teammate Nastia Liukin. "We were always so focused! We'd write in our journals every night, we read the Twilight series, we decorated our walls, we read our psychology books. It paid off, though!"
This year, the former gymnasts are commentators in Rio — and they're all about taking it easy. "We got to spend the day at the Grand Hyatt today relaxing. I got a massage," Liukin told mbg. "It's the perfect time and place to relax a little bit before the craziness of the next two weeks. It's been a fun day to catch up on life and spend time together."
The food and people-watching experience are top-notch.
"It's like an all-inclusive health and wellness mecca," Olympic bronze medalist Caroline Burckle told mbg. "Weight room, body care and maintenance, giant cafeteria, massage and injury buildings, and so much shopping."
As for the best part about the village? You guessed it. "I would bank to say the best part about the village is that endless cafeteria of food. It's open 24/7! It is awesome. Food from every country really makes you realize the different cultures and the ways that every athlete fuels their body for competition," Burckle continued. "I personally loved scoping the various routines, habits, lifestyles, outfits, cultural body language, haircuts, smiles, the whole nine yards. It is the best people-watching experience possible. At the end of the day, every athlete wants to walk around feeling that they represent their country with pride, so it's like a festival about standing out."
"I loved meeting athletes from other countries while we were all in the Olympic Village," former Olympic swimmer Kim Vandenberg added. "I recommend meeting new people and swapping Olympic gear. The Olympic Village cafeteria is always the best place to people-watch as well; with the tall basketball players and short gymnasts and everyone speaking different languages, it is absolutely incredible!"
No, but seriously, food is a huge deal.
"The main thing that happens in the Olympic Village is ... eating food," Clark Burckle, a swimmer who competed in the 2012 Summer Olympics, told mbg. "Imagine how hungry thousands of top-level athletes training and competing over a two-week span can get! The dining hall is always crowded, so I'd say that is what really goes down in the village."
The check-in process is pretty intense (and funny).
"In London, before the Games actually began we were already moved into our little apartment in the village when they starting doing these welcome ceremonies for each team that came and checked in," swimmer Rebecca Soni, a six-time medalist, explained. "Literally for about three days straight, outside our window we could hear Queen's "Bicycle," the song of choice they choreographed their welcome ceremony to, playing over and over. And it was an elaborate performance. Those dancers much have been exhausted!"