The Ultimate Potluck Appetizer: 7-Layer Quinoa Salad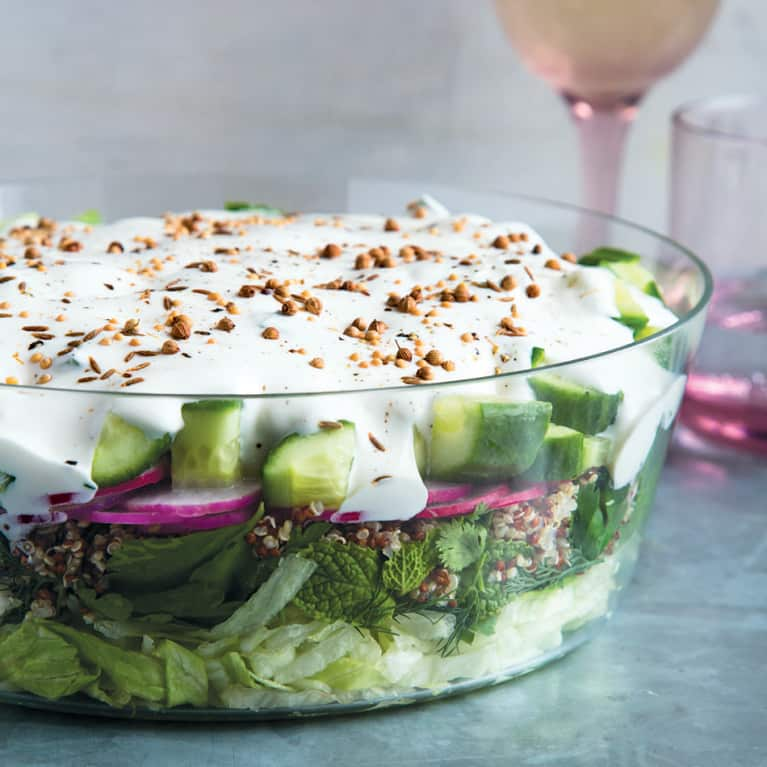 August 19, 2016 — 9:00 AM
Going to a barbecue or feeding a big group but want something refreshing, filling, and healthy? We've got you covered with this salad that's full of flavor and crunch.
Middle Eastern 7-Layer Salad With Quinoa
Serves at least 10
Ingredients for the salad
2 cups quinoa (any color, but black is especially stunning), rinsed
5 cups water
kosher salt and freshly ground black pepper
1 medium head iceberg lettuce, cored and cut into bite-size pieces
4 cups fresh herb leaves, such as mint, parsley, cilantro, tarragon, and dill, roughly chopped (the more variety you use, the better)
1 bunch red radishes (about 10), halved and thinly sliced (about 4 cups)
1 pound seedless cucumbers, cut into ½-inch pieces (about 4 cups)
Ingredients for the dressing
½ teaspoon each cumin seeds, coriander seeds, and yellow mustard seeds
2 cups plain Greek yogurt (preferably full-fat or 2 percent)
1 cup mayonnaise
2 tablespoons fresh lemon juice
2 tablespoons white wine vinegar
kosher salt
Preparation
1. Assemble the salad: In a large, heavy pot, cover the quinoa with the water, add 1 teaspoon salt, and bring to a boil. Cover and simmer over medium-low heat until the quinoa is tender and the water is absorbed, 18 to 20 minutes.
2. Uncover the pot, top with a clean kitchen towel or a layer of paper towels, and close the pot again; let stand 5 minutes. (This will help ensure the quinoa is dry and fluffy.)
3. Spread the hot quinoa out on a platter or baking sheet and let cool to room temperature. (This sounds like a fussy step, but it helps the quinoa cool without overcooking and getting mushy.)
4. In a very large glass or clear plastic serving bowl, spread the iceberg lettuce in a single layer and season lightly with salt and pepper. Arrange the herbs on top, followed by the quinoa. Spread the radishes on top, followed by the cucumbers, pushing them toward the edge of the bowl if you don't have enough of each vegetable to form a complete layer.
5. Make the dressing: In a dry skillet, toast the spices over moderate heat until fragrant, about 1 minute.
6. Transfer to a mortar or a bowl and let cool. Use a pestle or the bottom of an ice cream scoop to lightly crush the spices. In a medium bowl, whisk the yogurt with the mayonnaise, lemon juice, and vinegar.
7. Season with salt. Spread the dressing over the salad, sprinkle with the spices, and refrigerate for at least 1 hour before serving.
Reprinted from Modern Potluck. Copyright © 2016 by Kristin Donnelly. Photographs copyright © 2016 by Yossy Arefi. Published by Clarkson Potter/Publishers, an imprint of Penguin Random House, LLC.