How I'm Teaching My Daughters To Love Their Bodies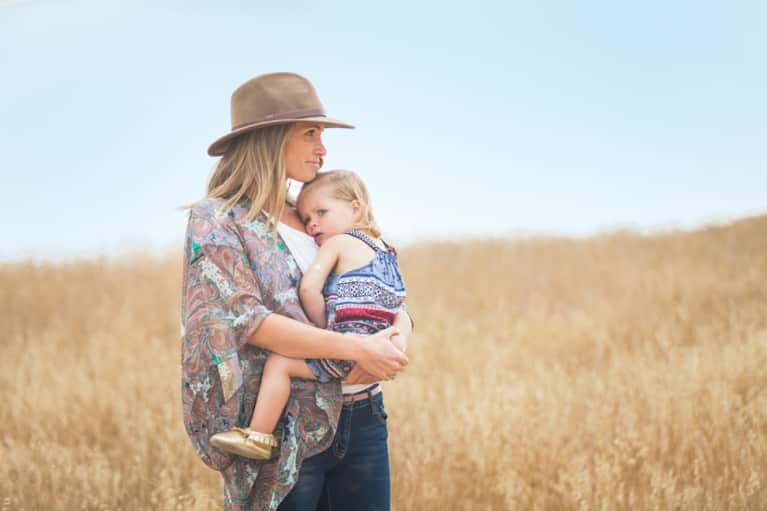 I remember it vividly. I was 19, home from college, and in a store dressing room with my mom. I was trying on clothes and nothing was fitting. It was then I realized: I had gained the notorious freshman 15. "Don't worry, you'll lose it," my mom said. At the time, I remember feeling hurt and pain. I also remember feeling angry at my mom for telling me what I didn't want to hear.
What I didn't know then, but I what I do know now, is that developing positive body image, regardless of your size, is really hard.
As the mother of three daughters, I've always felt compelled to make sure that they develop a healthy relationship with food and their bodies. While I knew I would make my own share of mistakes as a mother, I didn't want poor body image or an eating disorder to be one of them. Kids and teens today are constantly bombarded with messages on how to improve their bodies, ways to "look better" and the need to be perfect. Social media has become a parent's nightmare. When I talk with my friends or colleagues, we often commiserate on how challenging it is to parent today. We have to partner with each other and our spouses to make sure the messages our kids are receiving are the right ones.
Here are five ways I hope to encourage healthy body image in my girls:
People often ask me, "What kinds of foods do you keep in your house?" My answer is "a little bit of everything." As a kid, my mom kept only healthy food in the house. No sugar cereals, no white bread, and no junk food of any kind. She didn't restrict what we ate per se—she just wouldn't stock it in the house.
I remember going to some of my friends' houses and being mesmerized by their pantries full of Pop-Tarts, sugar cereals, and mini doughnuts. You name it, they had it. And I ate it!
Consequently, I knew that I wanted to do some things differently with my kids. Do I have junk in my pantry? Yes. But I also have a plethora of more nutrient-dense foods. I want my kids to learn that no food is forbidden. I also want them to learn to listen to their bodies. If I restricted what I keep in the house, I would be sending them the indirect message that certain foods are off-limits. However, what I really want them to learn is that they have control over what they choose.
2. I teach them to listen to their bodies.
In my house, we don't have set mealtimes. I try to teach my kids to eat when they're hungry and stop when they're full. While this may sound simple, it's not. But in order to have a healthy relationship with food, this is essential.
For example, when my kids come home from school, they are typically very hungry and ask for a meal rather than just a snack. They have learned that real food is more satisfying than snack foods. Furthermore, they are attuned to their hunger levels and what their bodies are asking for. I also never tell my kids when they're finished or ask them to eat more when they say they're full. I want them to be in touch with their own unique sense of fullness.
Teaching your kids to listen to their bodies from an early age is a skill that will stay with them forever.
When it comes to body image, how we perceive ourselves plays a critical role in how our children will see themselves. This is especially important today given all the negative images kids face in the media.
So I am extremely cognizant of what I say about my own body. I do my best to avoid using any words associated with weight or shape. Instead, I focus on what my body allows me to do, such as exercise. My kids know that exercise is a key part of who I am. I talk with them all the time about how it helps manage my stress, allows me to sleep better, and gives me energy. As my girls have gotten older, I have watched them one by one take on this same belief.
4. I avoid negative language.
Words are powerful. The language we use is vital to developing a healthy relationship with food and our bodies. For example, if we categorize foods as "good" or "bad" it can result in a child or teen feeling "bad" when they eat a "bad" food. Instead, we want to teach our children that food is fuel and that it provides us with the energy we need to be active, play sports, concentrate in school, and so on.
I also think it's imperative to avoid using the word "diet." I don't want my kids to struggle with dieting and all the negative things that come with it. I want them to develop a healthy identity whereby they eat well and exercise because it's a natural outgrowth of what they have seen growing up and who they want to be.
5. We embrace our imperfections.
We live in a society where overachieving and perfection are highly valued. But perfection doesn't exist and isn't something to strive for. In order for kids to develop a positive body image, it's essential that they learn to appreciate their whole body. Less focus should be on the outside and more focus should be on developing them as a whole person and what lies beneath the surface.
I always tell my kids the greatest compliment I can get as a parent is that they are kind and considerate of others. This has nothing to do with their size, shape, or weight.
These are just a few of the messages that we need to deliver to our daughters to help them develop a healthy relationship with food and their bodies. Most importantly, though, keep the lines of communication open and foster a sense of self in your child or teen. Find what they love and help them embrace it. By building their self-esteem, you're helping them develop a positive self-image—and there is no greater gift than seeing your child flourish.