3 Foolproof Ways To Jump-Start Your Fitness Goals This August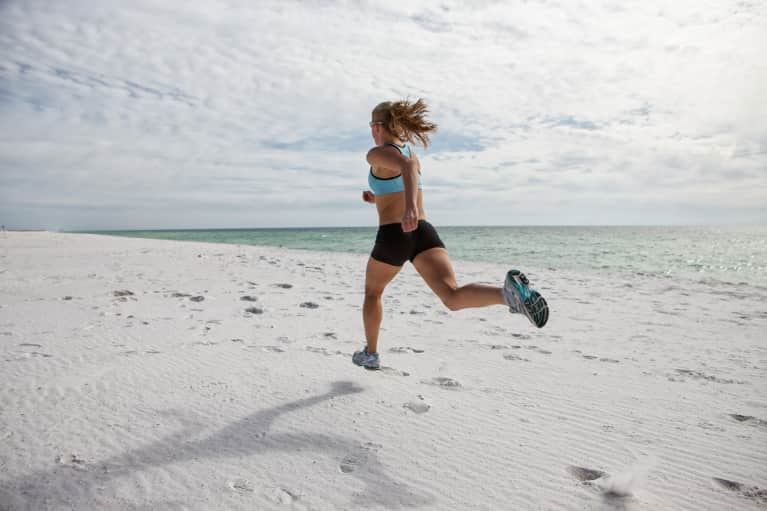 It's August, which means we're more than halfway done with either failing or succeeding with those New Year's resolutions we set eight months ago.
Whether your running shoes are still in the back of your closet or your subscription to the gym is about to expire, summer is the perfect time to get your fitness goals back on track before the end of the year. Here are three tips to jump-start your fitness goals this summer:
1. Reconnect with your "why."
Fitness goals are shaped around "whys." We want to fit into a smaller pair of pants, improve our chances of living a long life, or finally be able to climb that hill without getting winded. We want to improve health, build confidence, or simply have more fun every day.
If you're struggling to see progress with your fitness goals, ask yourself if you are connecting with the right "why." Do you still care about fitting into those pants, or are you now more concerned about lowering your cholesterol? Both of these reasons may cause the same result — losing weight — but they are driven by different motivating factors. While you may have been motivated by the thought of smaller pants six months ago, a lot can change in six months, and your motivations may now be different.
Eight months later, are the dreams, desires, and outcomes you decided on in January still motivating? If you throw your alarm clock across the room every time you need to wake up for your morning swim, ask yourself if there are tweaks you can make to your activity or routine to re-spark your excitement for your goal and reconnect with your desires to be healthy.
Don't be afraid to make shifts in your goals to reflect your current needs. Constantly ask yourself "why," and be sure that your goals are aligned with the answer.
Take out a piece of paper and write down your current fitness goal. Underneath, list your "why" in as much detail as possible. If your "why" doesn't come to your mind instantly, it's a sign that you need to reconnect with your motivations and consider whether your desires have changed since the time you originally set the goal.
2. Start thinking about your next New Year's resolution.
One of the best ways to ensure success with a goal is having another, related goal waiting in the wings. If you decide in the summer that your next New Year's resolution will be to take an intermediate yoga class at the gym, you will need to follow through on your current resolution to complete the beginning class you're currently enrolled in.
Decide now on a goal that will piggyback on the goal you are currently pursuing. This will help you stay motivated, as the stakes are raised when the success of one affects the pursuit of the other. The thought of signing up for the intermediate class may be motivation enough to get yourself to the studio and refocused on your success in your current beginning class.
Setting related and complementary goals will also help you integrate your fitness goals into a healthy lifestyle, as opposed to them becoming onetime fads. If you consistently pursue yoga goals, eventually yoga will become a normal and natural part of your life. By being intentional about setting goals that are related to one another, not only are you kick-starting your motivation, you are also ensuring that your goals last beyond the end of the year. Look forward to how your current fitness goal fits into the overall story of your life. This will give you perspective on how your current motivation will lead to your future success.
Take out a piece of paper and write down a potential future New Year's resolution you would like to pursue. It's OK if this changes as the end of the year draws near. The point of putting this future goal on paper is to motivate you to continue pursuing your current one. This is why it's important for these two goals to be related. If you write down "learn to speak Spanish" as your future goal, it will do little to motivate you in your current goal to complete 50 push-ups a day. When your goals are related to each other, and the success of one is contingent on the success of the other, you will see bigger jumps in your motivation.
3. Re-evaluate your fitness plan.
You may have designed a perfect plan in January, but a lot of time has passed since then. When our lives are constantly changing, we often set ourselves up for failure by not adjusting our plans to reflect that. If I decided in January that I would wake up at 4 a.m. to go to the gym four days a week, that may have been a perfect plan before I took on more hours at work and began going to bed later.
What would have led you to success six months ago may not be what will lead you to success now. Don't be afraid to re-evaluate your current routine and make changes as needed.
The benefit of a midyear check-in is that you now have months under your belt to use as evidence of what works and what doesn't. While you thought that waking up at 4 a.m. would be a good idea, you didn't know what that would feel like in reality until you tried it. Using your past experiences to adjust and design a routine that makes sense for your current needs and lifestyle will help you realize success when the end of the year comes.
Take out a piece of paper and write down your weekly fitness plan. Looking at each day, be critical of areas that aren't working for you. Maybe a certain class makes you uncomfortable, isn't challenging enough anymore, or doesn't make you happy. Maybe you would prefer to work out in the evenings instead of the mornings, do meal preparation on Saturdays instead of Sundays, or try a new hike in your area. Mixing up your routine can be a great way to re-energize your fitness goals and better adapt them to serve your needs.
If you're worried it's too late to see success with your New Year's resolutions, take time to reconsider your goals and give them a motivational jump-start. There's nothing wrong with changing your plans to suit your current needs. Allow your goals to change as your life and circumstances change. As far as health is concerned, there are many paths to success, and it's important to find the path that makes the most sense for you.