Travel Diaries: Take In The Beachside Hikes, Spas & Açaí Bowls Of Kauai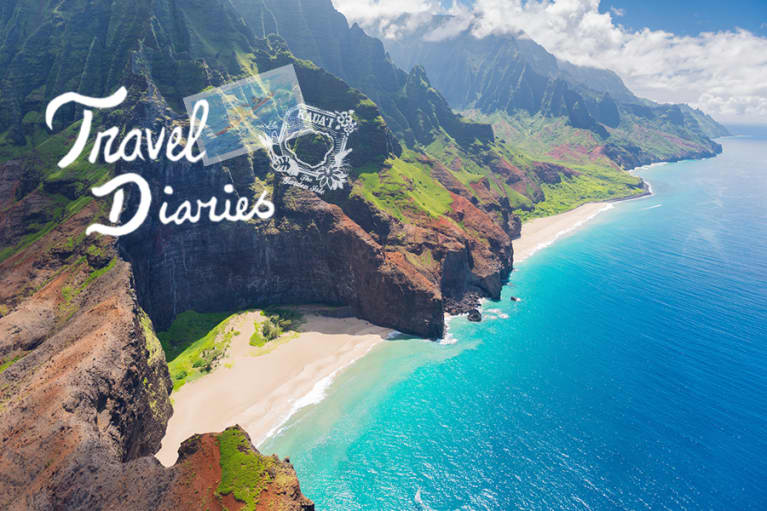 Consider our Travel Diaries series your digital passport this summer. Follow along as we give you a sneak peek into where our wellness-centric contributors are headed for some R&R. This week, we're tagging along with lifestyle blogger Jordan Younger on her Hawaiian getaway.
Hey guys, it's Jordan here from The Balanced Blonde! I recently traveled to Princeville on the island of Kauai, and, me oh my, did I fall in love.
Kauai is very "old school" Hawaii, and it couldn't be more different from the modern developments in places like Maui.
Kauai is all about the outdoors, the scenic views, the adventures and excursions, and the small-town vibes. It was definitely such a treat for a nature freak like me.
Here are a few of my must-sees and must-dos if you're planning on going to Kauai anytime soon. And if you don't have a trip on the books just yet, let's just say you might want to plan one soon! The island is magical.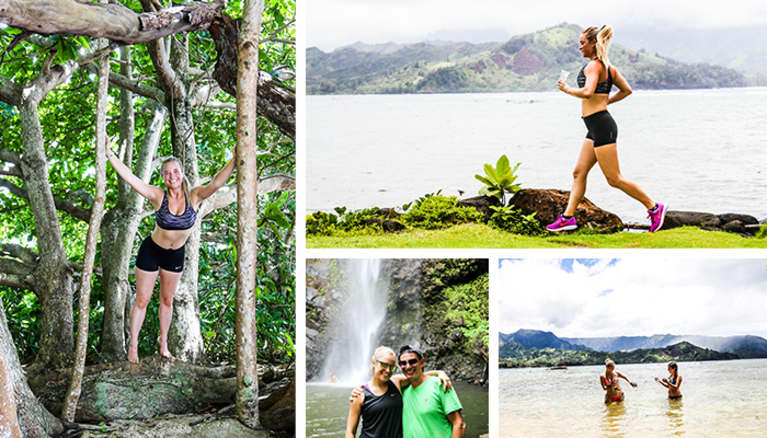 Queen's Bath is a gorgeous hike that ends in a scenic sinkhole. If you set out to the area, be ready for a muddy journey that basically turns into a straight up slip 'n' slide at certain points. (Definitely wear water shoes or hiking boots!) Along the way, you'll see a few different rocks for jumping into the clear blue ocean. The views are beyond gorgeous. But be careful—I've heard that the area can get really dangerous during high tide.
2. Check out Wailua Falls.
Wailua Falls is a major excursion, so if you're not into seven-hour day trips, skip it! The trip includes a 2-mile kayak and a 2-mile hike to a gorgeous waterfall, and then the 2-mile hike and 2-mile kayak back. I wouldn't necessarily be into such a long day, but I definitely think this adventure was worth the time it took to get there. Oh, the photo ops. If nothing else, do it for the photo ops...
3. Explore Hanalei and Kapa'a
The town of Hanalei is super cute and worth checking out while you're on the island. There are some adorable shops and cozy hole-in-the-wall restaurants (more on those later!). It's really close to Princeville, where a lot of the resorts are, so keep that in mind when making dinner reservations.
Kapa'a is another adorable town that's closer to the airport and farther from Princeville. I wish I could have explored it more, but it looked awesome when my family and I drove through—lots of shops, restaurants, yoga studios. Definitely check it out if you're looking to kill some time before your flight.
4. Relax and make the trip your own!
When I'm on vacation, I like to relax, soak in good times with my family, do a lot of reading, have spa days, exercise, try new things, and sleep a ton. So don't feel guilty if you're someone who doesn't like to be super go-go-go the whole time you're on vaycay. Make the trip yours and do what makes you happy.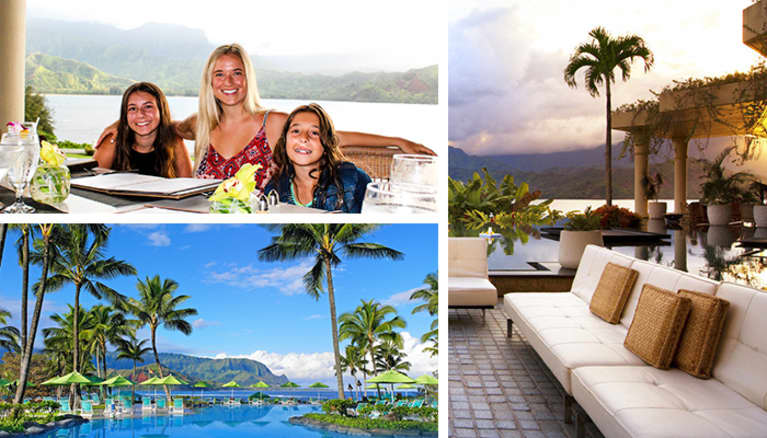 1. The St. Regis in Princeville
Princeville is a lovely community, and the St. Regis had spectacular views, gorgeous rooms, and a friendly staff. The pool is situated right on the water, and the ocean is really tame and shallow so you can swim there and cool off.
The scenic views at the resort's Kauai Grill are to die for. If you eat there, make sure to request a seat on the patio when making the reservation.
Oh, and the spa at the St. Regis is phenomenal. My day in their steam, sauna, massage room, and relaxation room was probably the best part of my trip ... I'm a sucker for some self-care!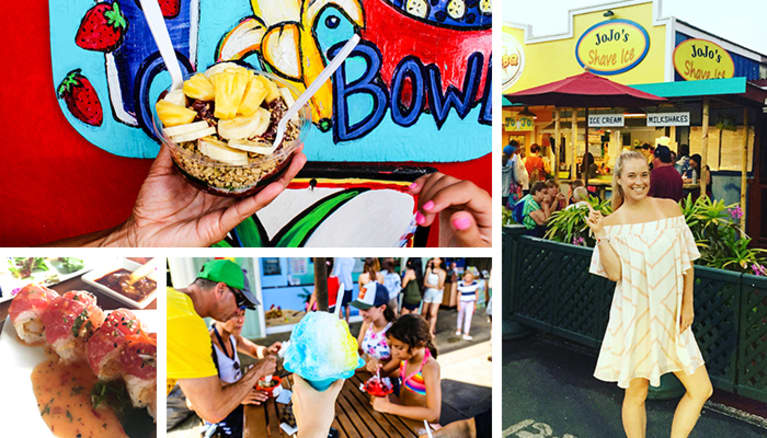 The Dolphin was home to the best sushi I have ever tasted. I ordered the lobster roll and it was delightful—seriously amaze.
Be sure to let them know if you have a gluten allergy, because a ton of menu items are fried and covered in sauce. And if you go, make sure to get there at 5:30 when their doors open for dinner so you can put your name down for a table. (They don't take reservations and can get absolutely packed.)
Postcards is a must-stop on the list. I had the baked polenta with a hemp seed sauce and organic greens salad that was simple but lovely. My parents loved their seared ahi, and we also got a Silken Tofu Chocolate Pie after dinner (all vegan and gluten-free) that was rich but also totally delicious.
If you follow me on Instagram, you already know I love Kauai Juice Co. My family and I discovered it on one of our first days on the island and kept going back for more. I fell in love with their Almond Bliss—a cold coffee drink with cold brew, almonds, cinnamon, and dates. I need to figure out how to get it shipped to me...
Be sure to try some of their heavenly shots and elixirs as well. I had the sugarcane shot upward of five times. It was full of so many minerals that are great for the joints.
I went to Kilauea Fish Market for lunch twice and got totally hooked! I could have eaten lunch here every day. It's a tiny hole in the wall right next to Kauai Juice Co., and though there's nothing special about its atmosphere, its food is amazing. I got the vegetarian plate with tofu, brown rice, cabbage, and beans and devoured it both times. It was simple but done so well. Pro tip: The food takes a while to prepare, so put your order in and then check out Kauai Juice while you wait!
Everyone in my family joked at least once (if not 10 times) that they named Jojo's after me. Needless to say, I was partial to the spot before I even tried it, but its mint chip ice cream really put me over the edge. The chocolate chips were huge and it was so delicious and creamy. I don't eat ice cream often, but when I do, it better be that good.
I thought Aloha Juice Bar had the best açaí bowls on the island. They're relatively small, so you can try other things, too, as you mosey around the town of Hanalei. (Apparently Bubba's Burgers nearby is amazing too.)
Looking for some more travel inspo? Check out the rest of our Travel Diaries here.