Host A Cleansing Dinner Party With These 4 Recipes (Your Guests Will Thank You)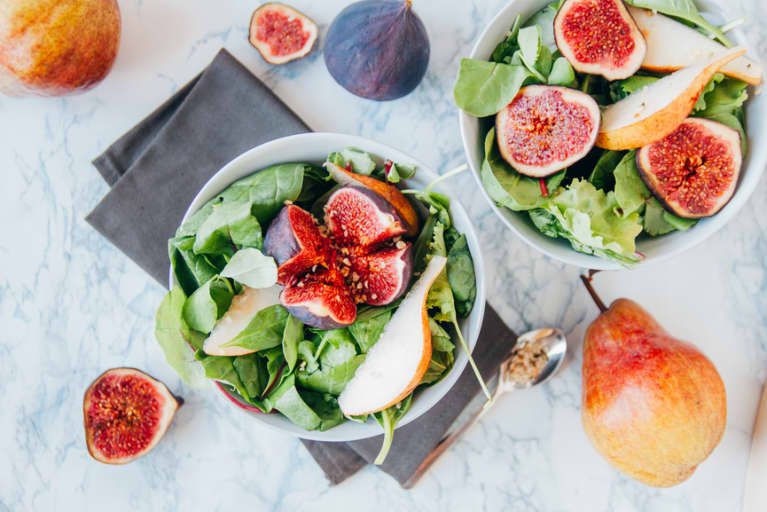 About 10 years ago, I had the opportunity to work in the kitchen at The Tree of Life Rejuvenation Center, in Patagonia, Arizona. Every day and night we prepared ridiculously delicious raw vegan feasts for our guests that inspired a new way of eating. Every meal was a detox and at the same time festive, creative, and surprisingly satisfying.
What a great reminder that a cleanse week does not have to be lonely and isolating.
If you're considering doing a cleanse, why not celebrate and share your cleanse experience with friends and family? Invite them to come early and help you in the kitchen, and give everyone a task. Add a side of grilled fish and this menu will turn into a gourmet spread.
Creative presentation with raw food is essential. Dress up your table beautifully. Try using colorful plates and glasses, flowers, hand paint a note, or lay down a tarot card on top of each plate, and light a few candles. Say a prayer or set an intention for a healthy week.
Here are a handful of recipes from my book Super Cleanse that can easily turn into a light, fresh, and spiritual dinner party.
Olive oil for sauté
1 onion, cut into small dice
1 to 2 garlic cloves, minced
1 cup fennel, cut into small dice
2 cups butternut squash, peeled and cut into small dice
1 cup zucchini, cut into small dice
1 jar of artichokes hearts in water or frozen artichoke hearts, cut into small pieces
7 cups water
½ cup red or green lentils
4 tablespoons of chickpea miso or a mix of red and white miso
Black pepper, or ground red chili pepper
Optional garnishes: chopped cilantro, lemon, and hot chili paste
Preparation
1. Add oil to cover bottom of a soup pot on high heat and then add onion and garlic and sauté for about 5 minutes.
2. Add fennel, butternut squash, zucchini, artichoke hearts, and sauté for another 5 minutes. Add water and lentils and bring to a boil. Reduce heat and simmer for about 30 minutes, until veggies are tender.
3. Stir in miso and pepper. Ladle into bowls and add optional garnishes as desired.
These tomato stacks are gorgeous and super healthy. The pine nuts give this dish a nice buttery taste and are high in protein and minerals.
It's incredibly easy to make as a snack or meal. They get rave reviews when I serve them as passed hors d'oeuvres at parties. If you can't find jicama, substitute thin slices of peeled cucumber, cut on a diagonal.
Serves 4
Ingredients
1 cup pine nuts, macadamia nuts, or cashews
2 tablespoons nutritional yeast
½ teaspoon of flaky Maldon salt or really good sea salt
4 large, heirloom or ripe tomatoes of your choice, cut crosswise into ¼-inch-thick slices
½ a jicama or cucumber, peeled and sliced thinly on a mandoline
1 avocado, pitted, peeled, and chopped into small dice
⅓ cup sprouts or sunflower sprouts
¼ cup fresh lemon juice
2 tablespoons olives of your choice, pitted and chopped
⅓ cup basil, cilantro, or marjoram, roughly chopped
Garnish: lemon wedges
Preparation
1. Process nuts and nutritional yeast in food processor until ground into fine meal. Transfer to a bowl.
2. Slice tomato on the diagonal and then lay slices flat on a baking tray and sprinkle them with nut crumble. Cut jicama or cucumbers thin on a diagonal.
3. Make towers: Start with a tomato slice, add a layer of nut filling, then place a slice of jicama over the filling, and repeat with another tomato slice, jicama, and so on. Then top with avocado pieces and sprouts. Garnish with lemon juice, olive oil, olives, and herbs.
Great Guac With Baked Yam Wedges
Serves 4
Ingredients for Guacamole
2 to 4 avocados, pitted, peeled, and mashed
1 clove garlic, minced
¼ of a small red onion, chopped
2 tablespoons cilantro, chopped
1 lime, juiced (or as much as you want)
A few pinches of salt
A few dashes of your favorite hot sauce
Ingredients for Yam Wedges
Preparation
1. To make guacamole, mash ingredients together in a bowl. Preheat oven to 400°F.
2. Cut yams into thick finger-size pieces — not too skinny or they will fall apart.
3. On a coconut-oil-greased baking sheet, place yams in a single layer leaving space between them so they get crispy on all sides (you may need to flip them.
4. Bake for 10, turn, and bake for another 5 to 10 minutes more. Serve with guacamole.
This salad is an excellent source of vitamins C and A and beta-carotene. Watermelon is refreshing and hydrating, and the pink fruit is also packed with the potent carotenoid antioxidant lycopene.
This powerful antioxidant travels through the body neutralizing free radicals. You could choose to eat the watermelon alone, but the additional ingredients add more nutrients, bulk, and contrasting flavors.
Serves 2
Ingredients
4 cups watermelon, rind removed and cut into bite-size cubes
A few dates or figs, roughly chopped
A handful of fresh mint leaves
Preparation
Toss everything together in a bowl.