The Holistic Technique The USA Men's Gymnastics Team Swears By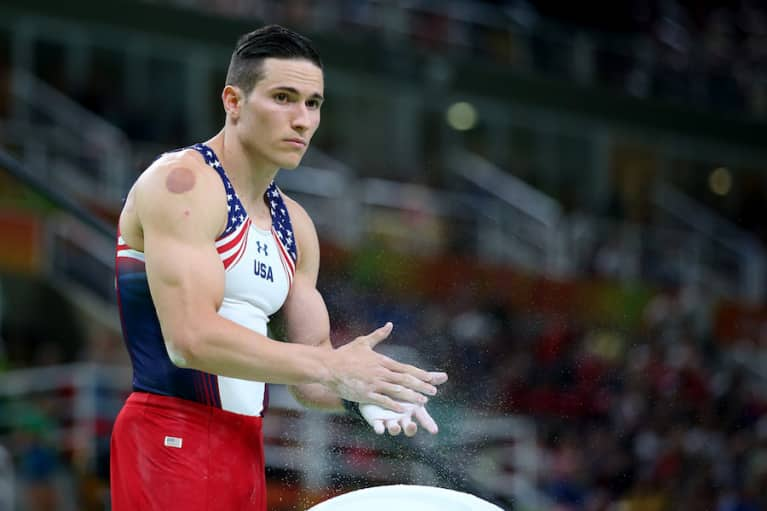 August 7, 2016 — 14:00 PM
I don't know about you, but watching competitive gymnasts land jumps, turns and triple-twist-full-layouts makes me rethink what the human body is capable of. But it also makes me cringe a little.
I mean, how can you put a body through that much wear and tear and still be able to walk the next day?
The U.S. Men's Olympic Team may have found the secret to combatting soreness—and it's not an ice bath.
Alex Naddour, Brandon Wynn and team captain Chris Brooks turn to cupping to help ease their post-competition pain. Cupping is an ancient Chinese practice that dates back 3,000 years. It uses glass, plastic or bamboo cups to apply suction to the skin, relaxing muscles and stimulating blood flow. Oftentimes, it leaves circular bruise marks on the affected area.
According to USA Today, the gymnasts travel with portable cupping sets so they have access to the therapy in a pinch.
"You're like, 'OK, I'm sore here,'" said Brooks. "Throw a cup on, and your roommate will help you or you can do it yourself."
Many members of the team say that they prefer the holistic approach over traditional massage because it pulls the tendons and muscles up rather than pressing them down. Cupping can also help relieve allergies, skin conditions and cold and flu symptoms since it enhances circulation and removes toxins.
"That's been the secret that I have had through this year that keeps me healthy," Naddour said. "It has saved me from a lot of pain."
Fellow Olympians donning the red, white and blue including Michael Phelps, Nathan Adrian and Natalie Coughlin also swear by the therapy. So at this point, it would almost be unpatriotic not to give it a try yourself.