I Was A Stressed-Out Working Mom. Here's The Simple Change That Made My Energy Skyrocket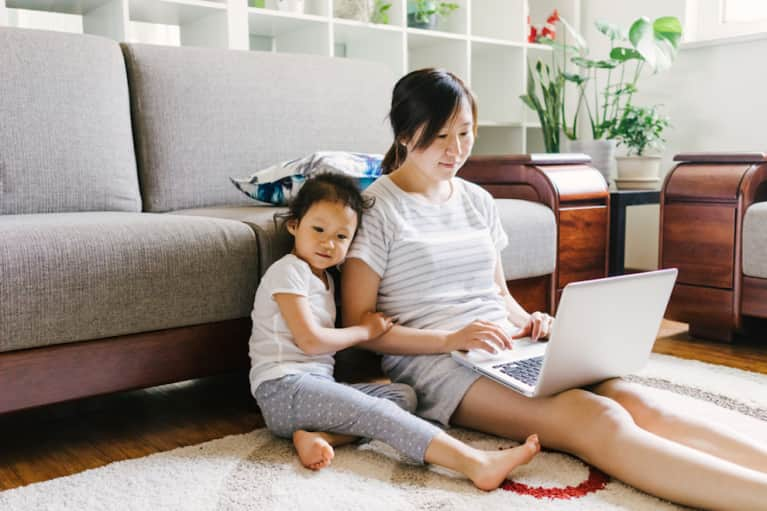 You know that wave of anxiety that sneaks up on you, almost out of nowhere, when it comes time to power down your smartphone? That nagging voice inside of you that screams, "But wait! What if I miss something!?" That's pretty much how you can sum up what life beyond my technological devices used to feel like for me.
So you can imagine how I felt when I was told I needed to power down my entire life.
As a busy "mompreneur," my time feels extremely limited. I learned the hard way that as my business started taking off, some of my best qualities would begin working against me. You see, my laptop is my life. I'm a writer after all. I'm either buried in it or on the phone — all day long.
When I'm not, I'm wearing my mom hat. And when the sun sets, and my family is comfortably tucked away in bed, I'm likely powering through what little energy I have left, to respond to each and every client request, giving up my relaxation time and often crawling into bed long after my energy tank has been depleted.
The second I started shutting off my phone at night and charging it outside of my bedroom, my life changed.
My knee-jerk reaction of putting everyone else first, my people-pleasing ways, and that part of my soul that loves to coddle and nurture, began taking control of my business practices — leaving me little time to enjoy life.
So about two months ago, stressed from the inside out, I walked into my chiropractor's office desperate for relief. My body hurt. My head hurt. My brain hurt, to the point where I knew my run-myself-into-the-ground ways were starting to affect my business, and even worse, my health.
"Dr. Gena, help me," I muttered in between sobs.
"When was the last time you made it a point to power down and put yourself first?" she asked me, almost horrified by my panicked state of exhaustion.
That was it: powering down. I knew instantly that this is what my body so desperately needed. Not another cup of coffee, or overcrowded networking event, or late night in front of the computer. I needed to find time each and every day to simply shut my brain off.
I'm not saying that powering down was the easiest thing I did, but with practice, it became a habit. Here are the top three tips I used to power down and take back control of my life:
1. Find that one thing your body craves and make it a habit.
This is a two-part process. First, determine what it is that lets you fully disconnect, but that you usually don't have time for. Maybe it's a run in the park. Maybe it's a yoga class. Or maybe it's an overfilled glass of wine during some uninterrupted Netflix time.
Whatever it is, schedule it into your calendar as many times per week as possible. Set an alert to remind yourself, until you begin looking forward to these moments with yourself.
Part two: Leave your cares behind. Leave your friends behind. Gosh darnit, don't even invite the kids. Shut your phone off. This is a private party between you and your needs — and your smartphone is certainly not invited.
2. Don't leave powering down for the end of the day.
It becomes taxing to spend hour after hour sitting in my home office. So sometime between lunch and dinner, I make it a point to power down, hit the gym, and take a break for my brain. Not only does this recharge me for the rest of my day, it gives me the space I so often need from the outside world.
3. Charge your phone outside of the bedroom.
The second I started shutting off my phone at night, like all the way off and charging it outside of my bedroom, my life changed. This was the best power-down move I had ever made. I overcame my lack-of-phone phobia and started devoting those last hours of the day to uninterrupted relaxation time with my husband.
And for those times I wake up in the middle of the night, I'm no longer tempted to check my phone and start responding to emails—because it's not there. It's powered down, and so am I.
Related reads: