5 Ways To Steal A Moment Of Relaxation — Even When You Think You Have No Time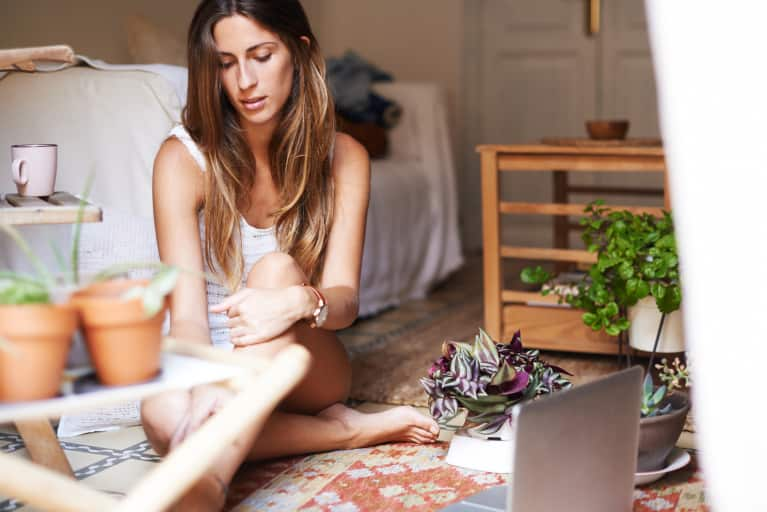 Most people nervously smile when they hear the word "retreat." Ah, great for you, they think, but there is no chance in hell I'm ever going to be able to find the time or have the money to go on a retreat.
The good news is that mini-retreats are available to us every day. They can appear as pockets of unscheduled time or transitions. Best of all, mini-retreats are free and we don't need to find that open weekend to head to the mountains (which rarely happens) or book a flight to some remote spot where everyone wears white (which might be hard to justify).
Retreat time is right in front of your nose, and once you start experiencing the sheer relief of the space, stillness, and silence it brings, you're going to want more.
Last week I faced a few hours with a clear calendar — no one to talk to and nowhere to be. Since that rarely happens, I jumped on the chance to seize the moment. I turned off, shut down, and settled in for some delicious time of no to-dos and no agenda. Those precious hours alone during my mini-retreat allowed me to face myself below the static of my busy life. Deep rest provoked powerful insights and answers to some gut-wrenching decisions I had to make. A few hours "away," I decided, just might be worth a few years of therapy.
So, how do you create your own mini-retreat? The first order of business is to acknowledge the importance of rest and recovery in your life. From there, commit to taking full advantage of pockets of unscheduled time that pop up during the day.
While we know that rest and recovery are essential to our well-being, most of us don't recognize the importance they have in our performance at work, capacity to deeply connect with others, and even in our willingness to be playful. We'd rather push through fatigue and get more things done than to pause to allow our systems to reset. Just as recovery time is an essential part of interval training, it's equally essential in our lives. If we want to live big and make an impact on the world, we'll need to make the time to rest and recover.
2. Take advantage of pockets of free time:
There's time throughout the day when you can sneak in a little R&R. Whether you take the time to renew or not may make or break your performance at work and affect your health and the quality of your relationships.
Here are a few ways to take advantage of unscheduled time:
1. Find the white space.
On Sunday night or Monday morning, glance at your calendar for the week. Look for unscheduled time, even if that means the hour on the train home from work. This white space represents potential mini-retreat time. Place a big "X" in that time slot. Commit to using this time to help you rest and recover. Listen to calming music or an inspiring podcast or be OK with sitting in silence.
2. Go for a long walk — alone.
Walk to walk, not to work out or get in more steps. Pace doesn't matter; neither does the scenery, although being in nature is a bonus. Walk to be alone, to feel your body, and to allow your mind and nervous system to shift from the fast-paced and stressed state of fight or flight to the more relaxed state of rest and digest.
3. Lock yourself in your bedroom.
Make a cup of tea, grab your journal or an inspiring book, and give yourself some well-deserved alone time. Even if you never crack open the book or lift your pen to paper, rejoice in the alone time to just be you. Naps come in handy too!
4. Put the devices away.
Have you ever forgotten to bring your phone with you somewhere and realized that being "offline" was a relief? Why not leave your phone elsewhere on purpose (really, you can!)? If you feel anxious when you are out of reach, then start by putting your devices away at times when you don't need to be available, like in the early morning or the last few hours before bed. Whew!
5. Shut down, shut up, and meditate.
This list wouldn't be complete without the suggestion to meditate. You don't need to light incense, have Buddha statues, or cross your legs. Simply close your eyes and notice your breath. Spend a few minutes (better yet, make it 10) alone in a quiet space. Then start counting your breath from 1 to 10. If you lose count, just start again. Allow the counting of breath to be a relaxed, enjoyable experience.
Whether you spend a few hours or a few minutes alone, mini-retreats are always worth their weight in gold. Rest and recover and you may find yourself setting the world on fire, and who knows? You may just sign up for a weekend in mountains after all!
Related reads: