Why Doing This ONE Thing Can Dramatically Change Your Relationship With Your Body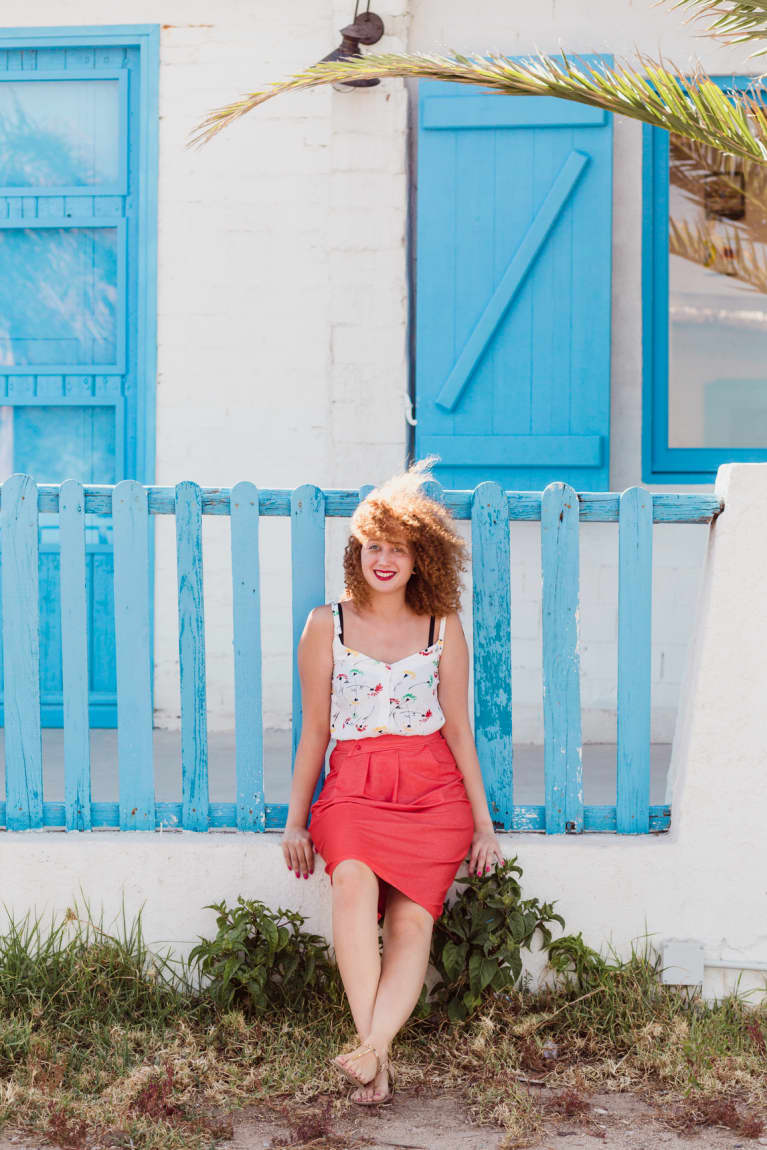 When I was in the throes of all-over-the-place eating, I had a closet full of different-size clothes. There were two sections in my closet: my skinny wardrobe and my heavier wardrobe.
On one side there was an itty-bitty black dress that I could squeeze into when I was dieting, the jeans that were the smallest size I'd ever bought, and the romper that looked good only if I was thin (in my mind, anyway).
On the other side of my closet were the clothes I wore when I gained weight. I had baggier shirts, jeans that were a few sizes bigger than my usual, and outfits that hid my heavier frame.
When my eating began to normalize, I stopped bingeing/restricting, and my weight balanced out; I still kept my "skinny" clothes in my closet in the hopes that I would someday fit into them.
Although I was at a very normal size for my frame, I didn't stop fantasizing about fitting into those jeans, that dress, and the romper. Every time I went into my closet, the critical, disapproving thoughts would start:
You COULD be skinnier if you tried!
You know, if you just worked harder, you could fit into these clothes again.
You aren't going to look good unless you fit back into these shorts.
I kept trying the clothes on, wondering if they would ever fit me again.
They served as a painful reminder that I wasn't at my skinniest. (And for so many years, being skinny meant being enough, so it essentially reminded me of my "not-enough-ness" every time I got dressed.)
Even though I had come so far on my road to "normal" eating, the clothes kept pulling me back to my failures and a path I didn't want to go back down.
I was sick and tired of letting clothes have power over me! So I decided to take ALL of my "skinny" clothes, put them in a bag, and donate them to Goodwill.
This was not an easy thing to do. I felt like I was admitting failure; that I wasn't ever going to be as thin as that ever again. This was a difficult lesson for me, as I was so attached to those clothes as being my "best" size.
But you know what it DID do for me?
It gave me my sanity back. It allowed me to focus on my progress, my achievements, and how far I've come. It reminded me that I CAN wear clothes where I am now and feel confident in the body I have.
So, how can you feel more comfortable in your body without dieting, without doing 101 affirmations a day, and without really doing any work at all?
You MUST revamp your wardrobe and make sure you do these two things:
1. Get rid of your "when I'm thinner" clothes.
Do an inventory of your closet. Pull out all of your clothes that you're promising to wear when you lose weight. Those jeans you wore in college/high school, that bathing suit from six years ago, the shorts you will only wear when your legs are smaller … take ALL of it out of your closet.
Be honest with yourself. The first time I did this, I still kept a pair of jeans shorts because I "almost" fit into them. But after a while, I realized they still did the same thing: They made me feel bad about myself because I couldn't fit into them.
After you inventory your closet, do it a second time to make sure you didn't miss anything. Any clothing article that doesn't make you feel good when you wear it or try it on goes in the pile.
Take your heap of clothes and give them to a friend or donate them. Your aim is to get rid of any clothing that makes you feel horrible about yourself when you see it or try it on.
2. Find outfits to wear at your current size.
When you don't have clothes that fit you, you feel awful about yourself. If every piece of clothing you own is too tight, too constricting, or doesn't fit now, you feel horrible about your body every time you get dressed.
Keeping clothes that don't fit only perpetuates this fantasy that being thinner is somehow our ticket to a new life. Waiting until you lose weight is delaying what you deserve right now — to have clothes that you feel good in. No matter what your size.
Buying something that fits you now sends a message to the world: YOU are good enough now, not 10 pounds from now. If you aren't super confident about your body, buy an outfit that flatters a part you do like, brings out your eye color, or shows off your awesome hair.
This doesn't have to be a crazy, expensive project. You can find clothes already in your closet, check out secondhand or vintage stores, and mix and match with clearance or on-sale items at discounted department stores.
The most important component is to dress yourself where you are. It doesn't mean you can't change. It doesn't mean you have to accept your body forever. It just means that you are ENOUGH to put on clothes every day that barely zipper because you're trying to squeeze into them or are so big you're hiding every inch of skin. It means you're enough to wear clothes at the size you are right now.
Getting rid of those "when I'm thinner" clothes was the best thing I've ever done. It helped me shift my mindset to see how far I HAVE come and focus on feeling confident, positive, and beautiful in the body I have now.