13 Things You Need To Know Today (August 5)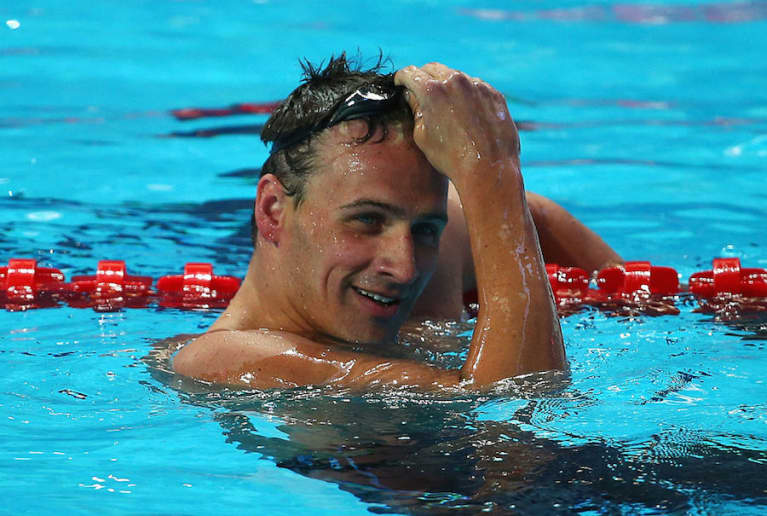 1. Yeah, Ryan Lochte loves avocado toast too.
The Olympic swimmer dished about his high-calorie training diet, cooked by his personal chef. Lochte starts the day with basically an entire diner breakfast menu and includes lots of pasta, protein, and (universal favorite) avocado toast. (Bon Appétit)
2. Kids need exercise — but not that much exercise.
According to a new study, small 20-minute bursts of exercise three times a week is enough to do your kids' health a world of good. These bursts have to be pretty intense, but they're enough to lower triglycerides and reduce body fat. (TIME)
3. The record for out LGBTI athletes has been broken, with 34 heading to Rio this year.
At least 34 athletes have qualified, along with three coaches. Several athletes have also qualified for the Paralympics. The 2012 games in London included 23 athletes who were out at the time, though more have been revealed as LGBTI since then. (Huffington Post)
4. Obama wrote an impassioned essay on the changing face of feminism.
In it, he describes the role of men in promoting the equality of women and described 21st-century feminism as, "the idea that when everybody is equal, we are all more free." (Glamour)
5. Farm animals might be the answer to preventing asthma.
A new study in the New England Journal of Medicine found that exposure to microbes from farm animals helps stimulate the immune system, protecting children from developing asthma later. The researchers say that the finding could lead to developing a spray for children who don't live on farms or have regular contact with animals. (NYT)
6. This crazy-cool device creates fuel out of thin air.
Researchers at the University of Illinois at Chicago have created a solar-powered "leaf" that mimics photosynthesis to use sunlight to transform carbon dioxide in the atmosphere into syngas — a fuel source with 50 percent of the energy density of natural gas. (TreeHugger)
7. The beans are one thing, but what about the other 98 percent of coffee?
A startup out of Louisiana has set out to create the perfect water for coffee. Its H20 is fortified with "selected essential minerals" that are supposed to enhance a brew's flavor. (Grub Street)
8. Stop saying "I work too hard" when you're asked what your weakness is in your job interview.
When a potential employer asks you about areas where you can improve, you should probably just tell the truth. According to research, applicants get higher ratings when they're more concerned with being seen in an accurate light rather than a positive one in a job interview. So, stop lying about your qualifications and admit you have a procrastination problem. Or something like that. (Medium)
9. The hip-hop world is all over crystals these days.
Hip-hop radio personality Devi Brown believes in the power of crystals, and she's not the only one. She loves to give crystals as gifts, and the last person she gave a pouch to was hip-hop artist Schoolboy Q, and photos of him clutching them surfaced a few days later. (The Cut)
10. Here's a meal kit delivery service without the waste.
A company called FreshRealm is trying to eliminate all the extra plastic bags and containers that are found in most meal delivery kits. Their solution is insulated reusable boxes (that don't require refrigerator trucks) that are sent back to the company to be sterilized and used again. Sounds just simple and smart enough to work. (NYT)
11. What's the definition of "natural" and "healthy"? It's complicated.
The Food and Drug Administration is still figuring out what "natural" and "healthy" legally mean for food labels by reviewing hundreds of public comments on the matter. They don't have an estimate of how long it will take to come up with a clear answer, but in the meantime, companies continue to use the term with abandon while trying to influence the final ruling by the FDA. (Fast Company)
12. Looking for incredible plant-based food? Track down a Hare Krishna restaurant.
Hare Krishna is a religion formed to encourage the spread of bhakti yoga, a Hindu spiritual practice. Followers of Hare Krishna are encouraged to adhere to a vegetarian diet that is rich in foods that promote "strength, purity, and clearness of the mind" like fresh fruits, vegetables, rice, legumes, and dairy products. Now, Hare Krishna restaurants are offering this healthful, flavorful food to the masses. (Eater)
13. Do breastfed babies live longer?
A new study suggests that babies who were exclusively breastfed for the first few weeks of their lives had longer telomeres at age 4 and 5 than children who were given formula or other liquids. That's significant because studies suggest that longer telomeres — caps on the ends of chromosomes — are linked to longevity while shorter telomeres are associated with chronic disease. (NYT)