Why Sober Flirting Is The Secret To Meeting Your Soul Mate + Having Better Sex
mbg Class Instructor & Meditation Teacher
By Biet Simkin
mbg Class Instructor & Meditation Teacher
Biet Simkin is the founder of Center of the Cyclone, an immersive experience that weaves meditation, self-inquiry, art, music, and fashion, offering an explosive experience. Her feeling was that the world of intellect, fashion, and art needed spirituality, and the world of spirituality was often missing the mark and needed some vanity and fire. Combining these two worlds, Simkin has created events with Lululemon, SoulCycle, Summit Series, Vice, Sundance Film Festival, the Path, the Collective, Babel, Serene Social, mindbodygreen, Wanderlust Festival, and more.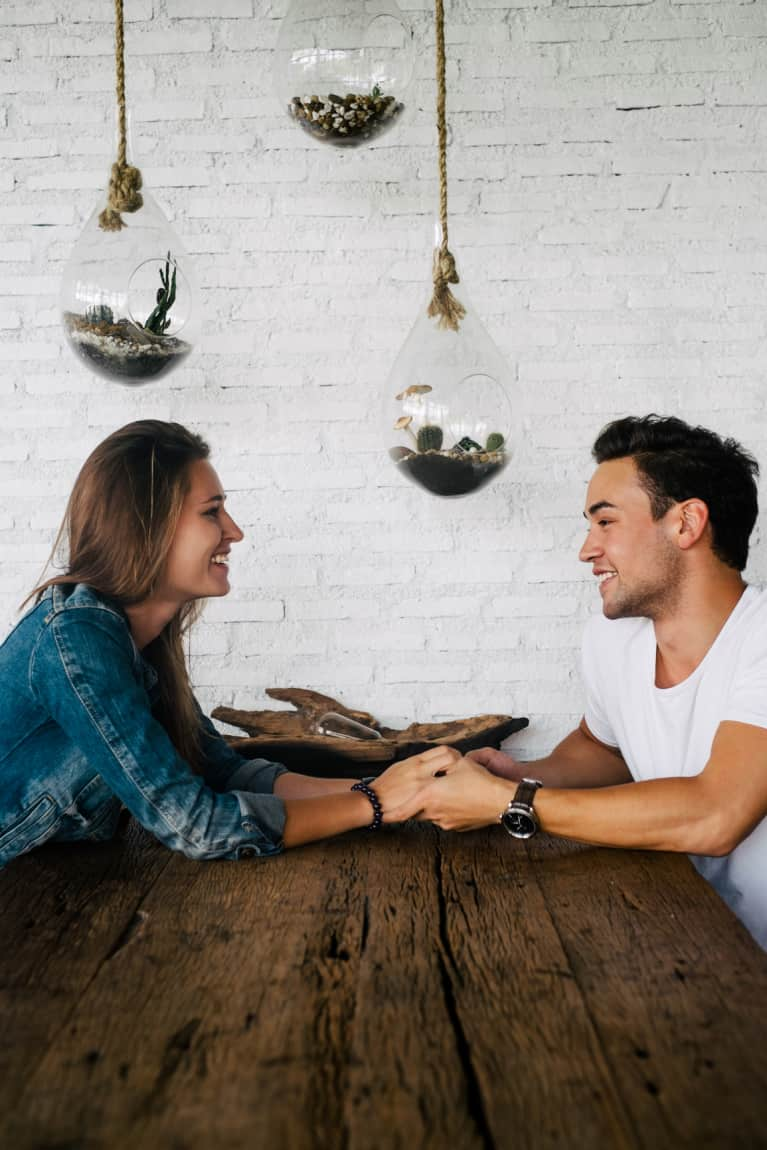 Flirting sober is the ultimate test of self-awareness and self-confidence. Once you start drinking, you typically completely forget your goal. Maybe the goal was to find the love of your life. Maybe it was to build a meaningful friendship. Get a few drinks in, and that perspective goes out the window.
Imagine going to a job interview drunk. You might've woken up that morning prepared to negotiate a six-figure salary, but four mimosas later, $30,000 starts to sound like a great deal.
Confidence is an awareness of your value. Initially, because it lowers inhibitions, alcohol allows you to focus on those positive sensations. It makes you feel like the king of the hill, the queen of the world! It helps you forget that anything is ever difficult.
On the other hand, it impairs your judgment. The same way alcohol makes you forget all of your nagging insecurities (your haircut is unflattering, you need to lose 10 pounds), it dulls your perception of other people's flaws. So, when Jo Shmo wants to take you home and bang you, it seems like your lucky night. Then you wake up the next morning and can't imagine how you ever decided that was a good idea. That regret makes you question your judgment even more, creating additional insecurities and bolstering the temptation to drink your way out of them next time.
Sober flirting equals discernment.
That might seem scary. You might be thinking, How the hell am I going to have the guts to chat up a stranger without a drink in me? Great question. The simple answer is meditation. When I began meditating, I slowly started to see the truth of who I was. It came in flashes and led to inspired action, but over time, a real, whole person was revealed.
The tool of meditation opened me up to the work of self-inquiry. That's what leads you to real confidence.
You might not realize it, but when you flirt, you're doing two things: You're making a proposition for what you want and a case for why you deserve it. Confidence is the most crucial tool for doing this successfully. Alcohol allows you to do only one of those two things. It allows you to argue convincingly that you deserve someone's attention and interest.
If they agree with you, then maybe you go home together. Drunk flirting can result in you propositioning the person most wrong for you in the room. The only way to avoid this is to replace your drunk flirting habits with meditation and sober flirting.
Sober flirting allows you to accurately discern someone's potential to meet your needs (whatever those are) and to gauge their level of interest while subtly communicating your own.
Confidence has a cost. It isn't in our nature to be confident. It is our spiritual side that has power and discernment. If you want an extraordinary life (and sex life), you have to tend to the intangible you. The best way to do that is through meditation and communication with your spirit. When we commune with it, we become it, and becoming it means becoming sheer confidence. By tapping into your spiritual side, you can shed your insecurities and triumph in the present.