8 Secrets To Vacationing Like A French Woman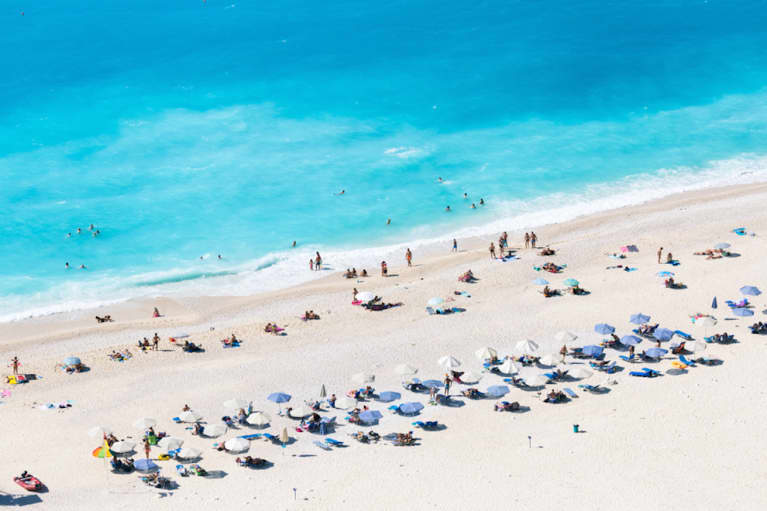 If you've ever visited Paris during the month of August, you might notice something peculiar: There are very few French people left in the capital city. Mostly, you'll see tourists from every corner of the world. The mass exodus out of cities in France is a yearly summer event as typical as croissants and café au lait in the morning.
With five weeks of paid vacation every year, the French don't horse around with their time off work. Their life philosophy of "pleasure" and "moderation" extends to the work/life balance. Like with food, fitness, and well-being, the French believe there is a time and place for everything: for being disciplined as well as for letting loose and enjoying life's pleasures.
Not going on vacation is akin to a draconian restrictive diet to the French — they just don't get it.
There is no guilt involved in taking a vacation and being "disconnected" (just like there is no guilt having a chocolate éclair or an amazing chunk of full-fat cheese from time to time). In fact, not taking a summer holiday would be odd, maybe looked down upon and certainly not emulated. Why would you not take time out to changer les idees (literally "change your ideas"), recharge, enjoy your family without distraction, see something new, and of course, to relax? Not going on vacation is akin to a draconian restrictive diet to the French — they just don't get it.
How the French vacation in August:
Since the whole country is basically running on low productivity in August (except, of course, those serving tourists), there is much less pressure for anyone to be "on call" or available 24/7. That means a real vacation is totally possible — the kind where you don't check emails first thing and then throughout the day, answer work-related phone calls, or lug around a laptop everywhere you go. In fact, the average French family vacation during the summer is 13 days. Many go away for three weeks at a time!
Summer vacations come in all styles and budgets in France. Anything goes as long as you leave your home with the objective of disconnecting from daily life, enjoying different scenery, and spending time with loved ones. The goal of a summer holiday is to relax and to reconnect with those around you. The French believe time off — whether it is a one- to two-hour lunch or a family holiday — is not only one of life's necessary pleasures but a must for well-being and balance.
Because of France's geography, many holidays within its borders are centered around montagne (mountains) or mer (sea). From private holiday villas, to all-inclusive family vacations, to hotels, B&Bs, camping sites, or staying with extended family, there is always a destination for everyone away from home.
8 ways to have a summer vacation like the French:
Life can get busy, and spending the money on a holiday and taking time off aren't always No. 1 on our agendas. But the benefits of real downtime are numerous. Research shows that it includes increased productivity (that's right: work less, be more productive), increased creativity, more energy and satisfaction in the workday, and decreased stress, among many others.
But it's much easier said than done in the United States, right? With so many cultural, social, and economic differences — paid time off in the United States isn't obligatory like in other parts of the world — it can feel next to impossible for most of us to emulate the French example of disconnecting in the summertime. So, how can you get the same benefits, even if you live outside of France? Try these eight tips:
1. Plan your trip in the autumn.
Whether it's with your boss or colleagues, your spouse or children, plan way in advance for a summer holiday. Not only does this make it easier and cheaper — usually deals are found when booking in advance — but it gives you and your family something to look forward to, especially in dreary winter days or when work is really getting stressful!
Stick to your vacation dates and make sure everyone knows about it in advance. Do like the French and book your summer holiday as early as September or October of the year before.
2. Prioritize memorable vacations over material things.
There is a lot to be said about lower salaries in France coupled with a seemingly higher standard of living. The French earn much less than Americans, and although social benefits are numerous in France, there is one huge lifestyle difference: The French give much greater importance to their work/life balance and the pleasure principle than they do to the accumulation of material things. A majority of the French would live in a smaller home or apartment and do without other luxuries before passing up on taking a vacation.
Both budgeting and how we spend our time is a matter of priorities.
Instead of dousing your children, parents, or spouses with expensive gifts for the holidays or birthdays, why not pool the money together for a family vacation? It's about creating memories, spending quality time together, and prioritizing mental and physical well-being for every member of the family. So much money is spent on gifts at the end of the year — why not use it to get away instead?
3. Have an open discussion with colleagues.
It's a million times easier to take a REAL vacation (without any ties to the office or clients) if it's properly discussed with your colleagues at work. If possible, agree with each other that your time off is a vacation from normal life, not just a relocation of your current office.
If you make the effort when your colleagues are out of the office to not be in touch with them, they may just do the same for you. No one is truly indispensable.
No matter what your budget, job, or situation, do your best to leave your home for at least a few days. If you don't have the means for a vacation away from home, why not try swapping homes with a relative or another friend, ideally in a different town? Getting out of your normal habitat and not having the same daily routine can do wonders for your mind and relaxation.
5. Prevent the email pileup.
Worried about coming home to thousands of unread emails? There are several ways to help combat email-mania. Have a detailed "out of the office" message that lets people know who they can get in touch with while you are gone and that instructs them to send emails after your return if they are important.
Unless you are a business owner with no second-in-command, get those emails rerouted while you are on holiday. As for the pile of unread emails upon your return: Delete the majority of them. Anything important will come back to you — don't worry!
6. Look at travel as an education.
Think you don't have the money or time for a family vacation? Consider a vacation an extension of the classroom. When children travel outside of their familiar surroundings, their minds expand exponentially with each new experience and the different people they come into contact with. It's about expanding horizons together as a family with a holiday adventure.
Often parents are willing to spend a lot of money on extracurricular activities or gadgets the kids might want (plus a lot of extra time shuffling them to and from activities), but traveling is a brain-enhancing activity on its own, whether you stay in your state or country or go global!
7. Change your vacation mindset.
Worried something will go wrong at work while you're away, or that you'll be kept out of important decisions? Remember that life is more than just your work. And although it may be really important, taking care of your mental and physical well-being, as well as spending quality time with your partner, kids, or friends, is equally important (or more so).
And since a vast majority of people spend most of their time working, take this week or two to focus on something different. Americans have more than nine vacation days left over at the end of the year! Use them to spend quality time with yourself or those you love doing something other than work.
8. When all else fails, go remote.
Head somewhere so remote that getting online is fairly difficult or even impossible. Problems solved — no one can get in touch! Experience the liberty of a digital vacation in nature. You'll come back a new person.
Related reads: