5 Edible Flowers You Should Try + The Perfect Summer Salad To Use Them In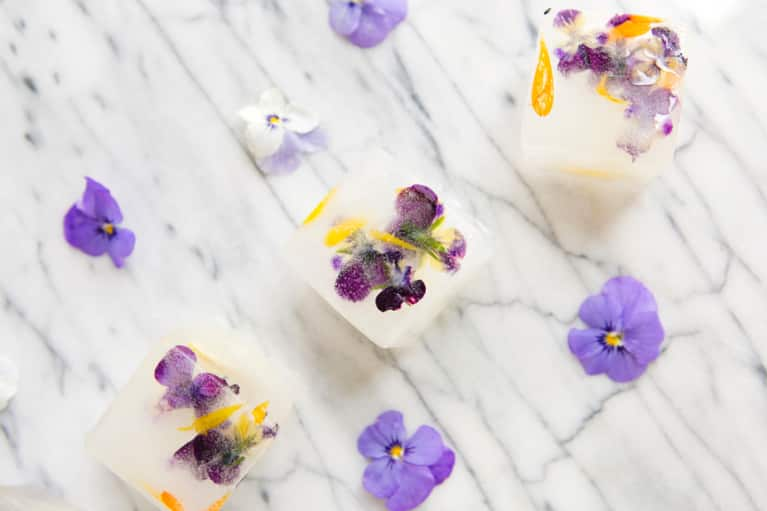 Cooking is not just about flavor, it's about creativity, beauty, and exploration. And if you're short on time but long on dinner parties, one of the best ways to enhance your food is through edible flowers.
Depending on the species, edible flowers add a mild sweetness, or soft reminiscence of onion, garlic, or a simple earthy flavor to salads, veggies, and main dishes.
One of my favorite ways to use edible flowers is in a salad. The vibrant colors pop and the gentle flavors blend beautifully with greens and fruit.
I like to separate the petals/blooms from the center and spread them out in the salad. I find that people are more willing to consume small petals compared to the whole flower, and if the petals are larger — like rose petals — I will sliver them (like I do basil) and spread them around the dish.
What about the health benefits?
There are some interesting studies starting to pop up highlighting the antioxidant content that are in certain edible flowers. Given our knowledge of high antioxidant teas, herbs, and other colorful plant-based foods, there could be some exciting nutritional benefits in edible flowers.
If you're interested in using edible flowers in your recipes, be sure to purchase them from a reputable retailer (like Melissa's) or grow your own from seed from an edible flower seed kit without using pesticides or chemicals.
Below are some of my favorite flowers that grow naturally in my yard, untouched by chemicals.
Rose: Use the petals only and chop them like other leafy herbs.
Violet: Use the entire flower to decorate salads or vegetable dishes.
Clover: Separate the individual small flowers and spread them on the dish to add a mild sweetness.
Chive: Separate the individual flowers and sprinkle them on the dish. They add a wonderful mild onion flavor.
Pansy: Use the petals only and scatter throughout the salad.
Mixed Greens + Flowers with Honey-Lemon Dressing
Here's one of my favorite recipes that incorporates fresh flowers. The blueberries add a fresh, bright element to complement the flowers.
Salad ingredients
2 cups mixed greens
Assorted edible flowers (I used 2 violets, 2 pansies, 1 rose, 2 clover flowers, and 1 chive flower)
½ cup blueberries
¼ cup olive oil
2 tablespoons fresh squeezed lemon juice
1 tablespoon honey
Salt and pepper to taste
1. Place greens in a medium bowl. Top with blueberries and edible flowers.
2. In a separate bowl, combine olive oil, lemon, juice honey, salt, and pepper. Mix well.
3. Drizzle dressing over salad and serve immediately.