How To Turn Your Child's Play Space Into A Sanctuary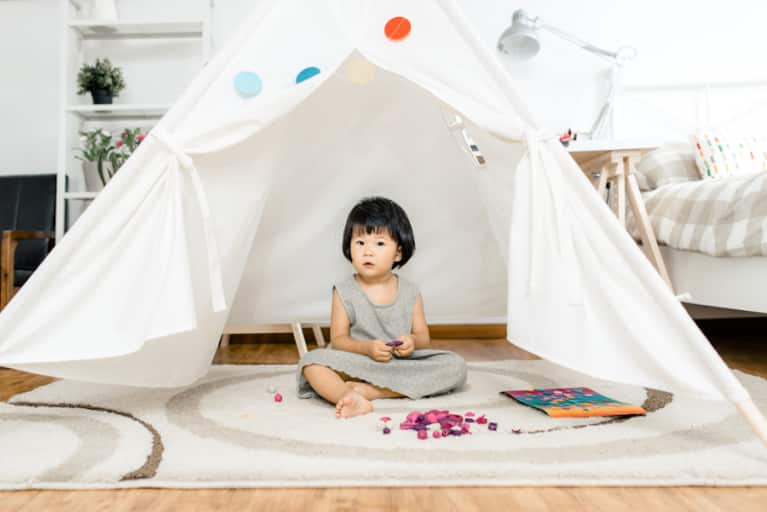 Do you leaf through the Pottery Barn Kids and Land of Nod catalogs wishing your kids' rooms looked as clean and beautiful as the magazine spreads? But do you find yourself too exhausted at the end of the day to clean up after their messes?
Here are a few tips to help you organize your children's spaces once and for all. Ready, set, declutter!
One of the biggest problems with toys is that they all get mixed together. Random parts of tracks and transformers end up jumbled with missing puzzle pieces and single doll shoes, leaving even the babysitter frustrated. And toys in chaos make cleaning up that much harder.
One of the most valuable things you can teach your kids about organization is the value of categories. If your kids have ever watched Sesame Street, they've already learned the adage "One of these things is not like the others ..." Periodically remind your kiddos that Legos go with Legos, puzzles go with puzzles, Barbies go with Barbies, and markers go with markers.
2. Containers, containers, and more containers.
Now that you've created your toy categories, you need to store each one away in an accessible, easy-to-use bin, basket, or container. Your kids should be able to access these themselves, and they should return everything to them once playtime is over. Some of my favorites for crafts and toys are here, here, and here.
3. Remember: depth over breadth.
Ever notice that even though they've got plenty to play with, your kids tend to gravitate toward the same toys over and over again? That's because kids don't need as much inspiration to get creative. I often ask my clients to think about which toys their kids play with most and expand on those rather than buy every type of toy under the sun.
If they like a certain doll, collect all of that doll's accessories before you buy a brand-new one. If they're into Legos, start a Lego collection instead of looking for other building toys. If they like art, build out your craft area. This will create fewer categories that you need to organize.
4. Establish a cleanup ritual.
"Clean up, clean up, everybody everywhere …" Come on, sing along, and get your kids involved too. They learn it in preschool, so why isn't it happening at home?
To ensure that your kids are picking up after themselves, don't just tell them how it's done — show them! Don't constantly nag them about cleaning; instead, clean up with them and show them some helpful strategies on a daily basis. Don't let the clutter build up until it becomes unmanageable. Control it as it arises. Eventually, your kids will get the hang of cleaning and hopefully even take pride in keeping their toys organized.
Now that's something to sing about.
Related reads: