A Relaxing Playlist To Inspire Picture-Perfect Dreams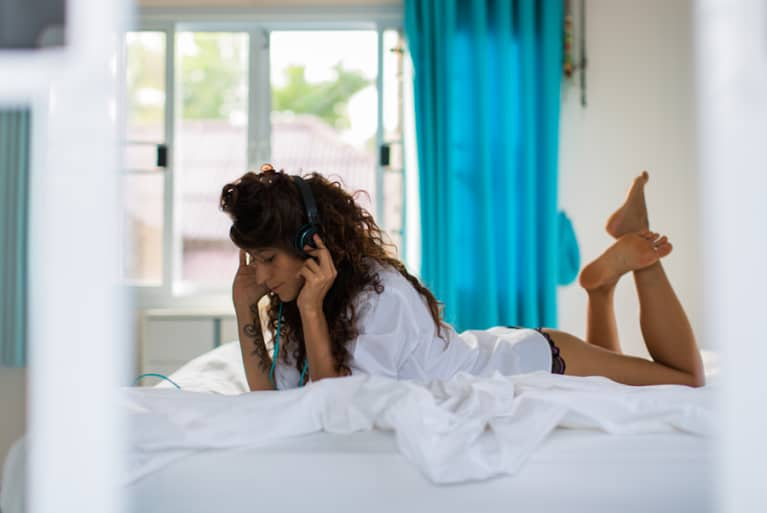 A leading voice on modern spirituality, Emma Mildon has traveled the world studying everything from auras to aromatherapy. To learn more about her approach to the mind/body connection, check out her new mindbodygreen class, The Essential Guide to Dream Interpretation.
Need to transcend into a daydream state to escape your office, a manic morning roadblock, or just the demands of life in general? Looking to fill your nighttime dreams with more flying unicorns and fewer scary monsters?
We all have those moments when we just need to hit pause and catch some quality shut-eye. Whether you're seeking a daydream or a solid night's sleep, you can use this list of tracks designed to elevate, enlighten, evoke, and awaken your subconscious. To create this 35-song playlist, I considered which instruments correspond to various energy centers in the body.
Drums are connected to the rhythm of life and represent the need for grounding and settling. They tell you to stop and take pause for a second, and they're connected to your root chakra.
2. Brass and woodwind instruments
Key instruments in soul and blues music for a reason, brass and woodwinds blow into your sacral chakra — your seat of joy and creative expression.
Piano and organ keys affect our innermost desires and help us to connect with our soul's deepest goals, visions, and dreams. These instruments connect to our solar plexus chakra, and they inspire manifestation and goal setting.
Think about Florence and The Machine's harp, or Ed Sheehan's guitar ... do they make your heart sing? These instruments can attune us with the universe and bring us closer to our true selves by vibrating through our heart chakra.
The voice and singing or humming represent our connection with our throat chakra and our choice of words. Singing makes us question how we are expressing ourselves and communicating our deepest desires.
Bells represent your connection to your spiritual, higher self, and they speak to your third-eye chakra. Allow yourself space to listen to the bells and channel your enlightened side.
You know that moment the beat stops, and you are waiting for it to drop … that's your crown chakra letting you know you are about to be filled with good beats. Take the space and silence to transcend.
Now, hit pause on life and have picture-perfect dreams with this playlist that touches on every chakra.