5 Ways To Raise Lifelong Healthy Eaters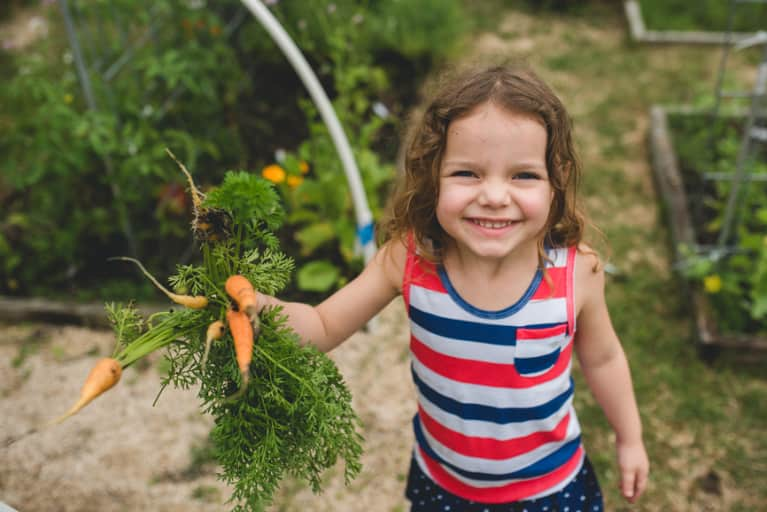 With the back-to-school season upon us, parents everywhere are thinking about how to ensure their kids are getting nutritious breakfasts to fuel their day and how to pack healthy lunches their kids will eat and enjoy.
It's no easy task but one that is incredibly important. Research has shown that healthy students are better learners. Students who eat healthy foods and get daily physical activity have fewer school absences, higher academic achievement, higher self-esteem, and fewer behavioral problems.
And what kids eat now also affects how they will eat later: Researchers at Newcastle University in England found that when it comes to eating and body weight, habits instilled in childhood persist into adulthood, regardless of later social influencers.
So, now is the time to instill a love of healthy eating in your kids that will serve them well their whole lives. Here are five ways to do it:
1. Fill them up with real food.
Kids may seem to want to snack all day, but allowing them to do so is a surefire way to have them load up on foods with little nutritional value like potato chips or cookies.
Prevent this by making sure to offer them hearty, delicious, nutrient-dense foods at meals and limit snacks to once in between meals.
Great nutrient-dense kid-friendly foods include plant-based proteins such as nuts or edamame; healthy fats like avocado or kid-friendly guacamole; and veggies with hummus.
Also, make sure meals include plenty of fiber-rich foods like whole grains and fresh fruits. These foods will keep them full and give them energy and make them less apt to snack on unhealthy treats.
Offering kids foods from each of the food groups helps to ensure they get all the nutrients they need, but it also helps to expand their palates and sets the stage for them to enjoy lots of different foods throughout their lives.
Introduce ethnic foods early on so they get a taste for different flavors and become more adventurous eaters; try Thai chicken satay with dipping sauces, or jambalaya served over kid-friendly pasta or enchiladas.
Food provides a great opportunity to learn and explore different cultures with your kids.
Kids are more likely to be interested in healthy eating and try different foods if they are active participants.
Let them pick out new foods at the grocery store or farmers market, or try out a local community-supported agriculture (CSA) box. If you have a garden, let them pick the vegetable for dinner. Have them help choose menus and prepare and cook meals from washing vegetables to serving dinner.
Kids will watch your eating habits and take note when you choose healthy foods like fruits and vegetables and whole grains and when you eat appropriate portions. You are the most important influence for your kids when it comes to healthy eating. Let them see you trying and enjoying healthy foods, and they will do the same.
5. Eat fruits and veggies at every meal.
It's no surprise that fruits and vegetables offer a wide array of important nutrients that kids need to grow and learn. Make sure they are getting enough by including at least one in every meal. Have kids "eat the rainbow" of different-colored fruits and vegetables — aim for at least one produce item of each color every week.
Try new types of produce each week: Red could be beets or radishes one week and cherries or cranberries the next, green could be sea vegetables one week and kiwi the next. You can make it fun by having a "rainbow dinner" in which you serve every color in one meal, and create rainbow fruit kebabs for lunchboxes.
Building healthy eating habits for your kids when they are young is a great way to set them up for success in school and into adulthood. And as an added benefit, by preparing and eating healthy meals together, you can spend quality family time and create lasting traditions and memories.