5 Reasons To Eat More Of This Underrated Superfood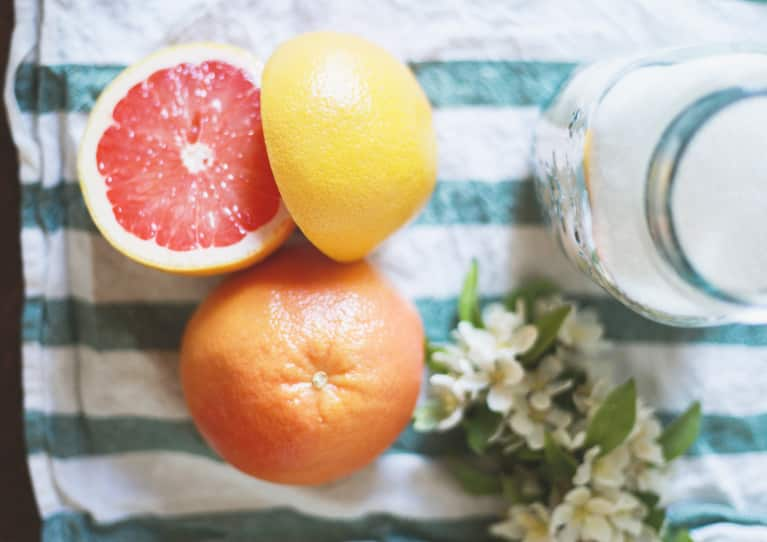 New superfoods and superfruits seem to be coming to the forefront every day — coconut, açai, goji, soursop, and pitaya are just a few recent exotic names. But my favorite is an old-timer that even people in my grandmother's generation were eating for breakfast every day: grapefruit!
In addition to being filling, hydrating, and usually large enough to satisfy your afternoon hunger pangs, grapefruit also has a slightly sour taste to it, making it less sweet than most other fruit. In fact, grapefruit ranks at the bottom end of the range for glycemic load of fruits — it has a glycemic load of 3 compared to apples (5) and bananas (11).
For me, this is a good thing since it avoids stimulating my sweet tooth, which usually then leads to more sweets.
Here are some of the nutrients that grapefruit contains that make it my favorite superfruit:
One medium-size red grapefruit contains about 20 percent more vitamin C than an orange, which is great for immunity, heart health, and fighting off those nasty free radicals.
Grapefruit contains pectin, a form of soluble fiber that has been shown to lower "bad" cholesterol and to control your blood glucose levels. Fiber also helps to prevent constipation and aid in the digestive process.
Potassium is great for heart health and muscle recovery and also reduces the risk of stroke and kidney stones.
Lycopene is a phytochemical found in red fruits and veggies, which has anti-inflammatory and antioxidant properties, and has been linked to cancer prevention.
OK, this isn't a nutrient but it's still important to your health. Grapefruit is made up of 91 percent water, making it one of the most hydrating fruits around. Post-workout snack, anyone?
In addition, studies have shown grapefruit to play a role in weight loss and insulin resistance, although more research is needed to determine the exact mechanism of this weight loss.
Not bad for a fruit that's easy to eat and that fills you up, right? If you'd like to get creative with your grapefruit intake, you can also throw it on the grill, add it to a dish (it goes great with rosemary), or blend it into a smoothie.
Just keep in mind that if you're on any medication, grapefruit can have adverse interactions, so check with your doctor or pharmacist before incorporating it into your diet.