The Best 9 Things You Can Do When The Sh*t Hits The Fan, According To A Shaman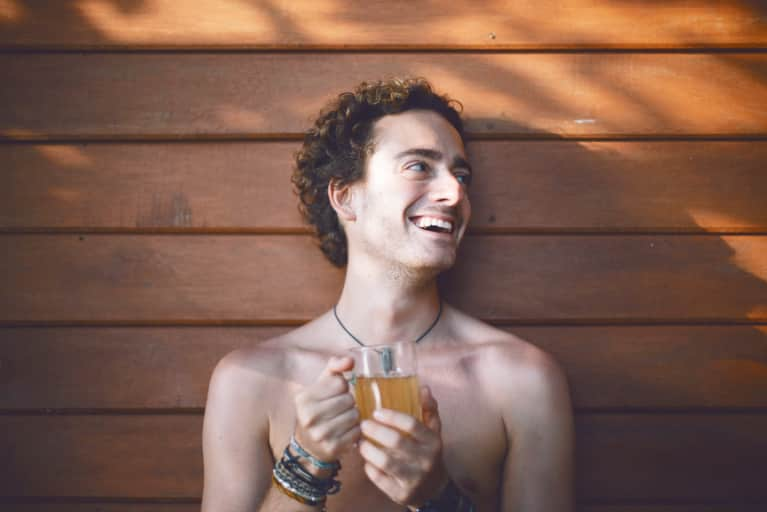 It's easy to be in a lovely, energetic space when life is handing you smooth experiences of joy.
But what about when you're blessed with the trying times — the moments of adversity when you're thrown a total curve ball that shakes you to your core? Or the gems disguised as so painful they drop you to your knees and forever mark a transformative turning point in your life?
How do you treat yourself and others, and how do you view life when the shi*t hits the fan? What practices do you call on? Do you have a toolbox that helps you tap back into your amazing divine powers so you can rise up through those wildly intense flames?
That's what the challenging times are meant for — they're instruments for your awakening. They're brilliant, beaming beacon-of-light miracles labeled as "painful," "horrifying," and "bad." But when you look back, you see that without them you wouldn't have ascended to the next level of your life or shifted more fully into your power without them.
We come to Earth School to experience the full range of emotions and all the huge depths and swirls that come with them. Plus, we are here on the planet during a time of global awakening — so we are experiencing not only human challenges but also massive internal, energetic, and spiritual transformations, as we are the ones in the ancestral line to pivot out of age-old patterns, limiting beliefs, and more.
It's big stuff and all designed to help us remember and reconnect to our truth and wholeness, but the key is finding comfort in the discomfort — doing what I call the "shift and lift," incorporating practices that allow us to healthily, fully feel all the feels and then rise up rather than have suffering become a story or slide into victim mentality.
Please know that shamans, healers, and mystics are not exempt from adversity. There is no top-secret way to turn the "hard times" switch to off. It was a "drop to your knees from sheer anguish and shock" moment that provided my massive spiritual awakening and lifted the veil.
I feel deeply, live deeply, care deeply and am committed to my mission. Rising through all the feels is a process — a wild, fully alive, fire-filled process that can be handled with a beauty, powerful center, and grace.
Here are nine Rockstar Shaman processes that allow you to feel while rising up through the pain:
Presence holds within it truth. And the truth is, right now you are OK. You are breathing. Keep bringing your breath back to right here, right NOW. Every time you practice shifting back to "here" and your center, your deep soul remembrance that all is truly well gets activated more and more.
2. Being truthful and easy with yourself
Going through challenging times doesn't mean you're doing anything "wrong." It can mean the Universe is communicating to you that you're ready for a more conscious way of experiencing life, relationships, and yourself.
Painful moments are instruments for our awakening. They serve us. Don't beat yourself up if you're going through a trying phase; instead; ask yourself, "What do I need to know here? I'm experiencing this because it's for my highest, greatest good, but what clarity should I have?"
The answer that instantly responds is your higher self. It's consciousness working through you.
Utilizing sacred wood from the Amazon is a shamanistic ritual dating back thousands of years. Lighting the wood for clearing purposes is something I do on a daily basis.
The scent released is so relaxing and activates the ancient sacred knowledge stored within you — all while gently dissolving away anything negative. It can be a quick smudge of your aura/energetic field or going around your entire home space with it. Then feel the shift, let your body move around with new energy, and meditate with it.
4. Sound bathing and healing
Anyone who has worked with me has seen my rattles and drum in action. Musical instruments can be healing tools, and their vibrations release the old from us and further raise our frequency.
Chanting in ancient Sanskrit and singing the magical songs of the plants, Icaros, is absolutely vital for my practice as well. Each song has a purpose, so depending on what you're experiencing in life, you can cleanse yourself internally by allowing the healing mantras to activate your energy and truth more powerfully within.
Universal Divine Forces are here waiting to assist us, but we do have free will — so it's up to us to connect.
Call upon whatever source you work with for your highest, greatest good, and totally release the challenge at hand and let it be lifted from your shoulders and energy field! Stating, "I know this is happening for a divine purpose, and I release it all over to you. Work through me now to provide the clarity and truth needed for me to positively grow; I allow in the miracles and blessings at this time."
6. A journey with a shaman
You can journey for different reasons — all with the intent to help you return to your most divinely powerful self. Pieces of our souls' wholeness might get tarnished for various reasons, from relationship trauma to childhood wounding. A shaman can return those pieces back to you in soul retrieval, or you can journey to meet your core power spirit animal so you can utilize its medicine.
Each crystal has unique properties to guide you and can be worked with by sleeping with one under your pillow, meditating or bathing with them, or wearing them as jewelry. The colors of the crystals correspond to each of the different chakras, so, for example, if you're ready to walk the path of truth and open up the miraculous gateway to your third eye, get an amethyst.
Circulate all the magic that's within. Breath is also known as pranayama, which awakens prana, or "life force." The one technique I suggest you try is nadi shodhana (alternate nostril breathing).
This process keeps the mind calm, settles emotions, and brings balance.
9. Stay open and consult with tribe.
When you're hurting, sometimes the go-to tendency is to close off or shut down. But just like the idea of rising up through the pain, the practice of keeping our hearts open when we are hurt or confused is the same. It may go against what feels easiest or what we want, but staying open in all ways — breath, heart center, and hearing what trusted tribe members who can see the blind spots you can't see have to say. These are miraculous gateways.
I honor you deeply for doing Earth School. For as we feel it all, let ourselves see the truth of it all and choose to ascend — this is the magic. This is the biggest "secret" game-changer that you can do if you're ready to activate that full power and start letting in miracles.
It's truly about becoming unafraid of ourselves and trusting ourselves to feel the depths of emotions and shadow aspects. When we allow ourselves this great courage, this is when we embody our whole selves, our greatest divine power and can be of greatest service.
To liberate and experience Rockstar Shaman for yourself visit www.alysoncharles.com to book a session or to join her Hawaii and Palm Springs retreats! Or to be a part of her Saturday rooftop series, happening exclusively this August, RSVP here.