I Was Diagnosed With Cancer At Age 32. Here's How It Changed Me
mbg Food Contributor
By Elissa Goodman
mbg Food Contributor
Elissa Goodman is a cleanse expert based in Los Angeles, California, certified in integrative nutrition through the American University of Complementary Medicine. She holds a bachelor's in advertising and marketing from Arizona State and a bachelor's in business from the University of Arizona.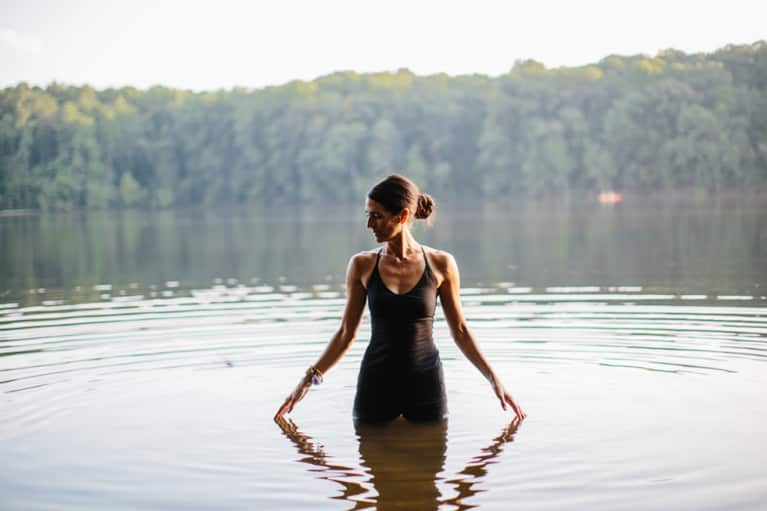 No one would ever argue that cancer is good news. So explaining how something that caused me a lot of pain and loss is also something that spurred my personal growth and happiness isn't easy. But the truth is, cancer has been both my enemy and my friend.
At 32, I went in for a massage and left with a stern warning from my masseuse to get a lump checked out. I took her advice — and the next thing I knew I was diagnosed with Hodgkin lymphoma. Hearing the diagnosis was difficult, of course. But the way I had been living my life made me miserable. It was a wake-up call and ended up being a blessing, disguised in bad news.
Hardship sometimes provides the best lessons. I've learned a lot of lessons in my life but none greater than what cancer taught me. Surviving has given me a new lease on life and I am filled with gratitude. It may sound hard to believe — when I got my diagnosis I certainly would not have — but I truly cherish the lessons cancer provided.
Telling someone that cancer is a gift is a good way to get slapped, so I've learned to explain my own journey. My hope in sharing the lessons I've learned from cancer is that others will see the potential to grow, learn, and find peace.
1. Cancer taught me to work through my issues.
Before cancer, I specialized in hiding from anything that made me uncomfortable. All my relationships were based on being passive and ignoring huge red flags. No job I took was a true test of my abilities. When a problem arose, I looked for a quick fix or a carpet to sweep it under. Cancer was the one thing that was too big not to address. As much as I wanted to stay in bed all day and not deal with this disease, I knew that I would die if I took that path.
I realized that when I waited until I was up against a wall, my anxiety and depression became worse than the original problem. I stopped letting myself get sucked into the spiral of adversity and started being proactive every day. You can't really ever get away with sweeping something under the carpet; eventually it comes for you and usually it's bigger and meaner than before.
After my diagnosis, I was determined to learn as much as I could, to make informed decisions about my health. I listened to experts and read every book I could get my hands on. I started therapy for the first time in my life, and I dealt with my emotional baggage (there was a lot, and that's why I had avoided it!). I went outside of my comfort zone and signed up for yoga classes.
Before my diagnosis, I felt crappy and tired and bloated all the time; I ignored my body's messages, telling myself that there was nothing serious going on. Then I learned how important it is to listen to your body. Cancer taught me that while I can't predict the future, I could avoid crisis if I address the warning signs early and put myself in the driver's seat.
2. Cancer taught me to let go.
In learning to be proactive and plan for the future, I've also learned to lose control. I have been type-A my entire life, and cancer really shocked me. After all, it was not a part of my five-year plan. Being type-A has its benefits (including a spotless home), but it also means that I have a really hard time rolling with the punches as they came along. If I didn't predict it, I didn't want it to happen. And when it did, I freaked.
When you get swept up in a bad moment, it's easy to feel like that's never going to end. You're in a tunnel and everything is terrible and you feel as if your life is over. Cancer was that tunnel for me, and once I felt like I was doing everything I could, I was forced to calm down. I had to make peace with the fact that I would either be OK or I would not, but it wasn't up to me anymore. Being proactive allowed me to feel secure enough to relax. Those who really know me would tell you what a big deal that is!
Cancer also taught me to trust myself. I let go of instinctively doubting every decision I made and started embracing that if it felt right, it was right. I stopped questioning whether there was a better, smarter option each time I made a choice. Before cancer, I had never lived a life in which I didn't spend days or weeks or months or years (!) obsessing over the paths I chose. Now, I've accepted that I made the choices I made because they were right for me at the time. No regrets.
3. Cancer taught me to be a better parent.
The greatest lesson I learned from cancer was how to be a better parent. I wasn't raised in a warm and fuzzy home. No ever told me that they loved me. We weren't allowed to talk about our emotions, and I went through life turning my feelings into shame. I was scared to become a parent; I certainly didn't want to pass on my negative traits to my kids.
When my husband, Marc, passed away from cancer 10 years after I survived mine, I was a wreck. We had two young girls and I felt completely overwhelmed. In co-parenting with Marc, I didn't spend too much time considering my child-rearing choices because I wasn't the only one responsible. When he died, I felt severely alone and solely responsible. I was left with two girls looking to me for answers, and I couldn't let them see how terrified I was about the future.
I allowed myself to feel like a victim for a long time, not realizing the toll it took on my daughters. When I finally came out from under that cloud I realized I had to be the best version of myself and the best parent possible because I was all they had. The first thing I did was start an open dialogue with my daughters. I had to learn how to engage with them, ask them how they were doing, and, more importantly, listen when they answered. That allowed them to teach me what they needed.
My generation grew up in a world in which parents knew best and expected their children to defer to them when it came to making decisions. That didn't work for me. My daughters are individuals with different needs; sometimes their needs are diametrically opposite each other, and they are often different from my own needs. By learning to communicate openly, our relationships are stronger than ever.
While I wouldn't wish cancer on my worst enemy, I've learned that the worst day of your life may be the first day of an inspirational adventure. I decided to have a life in which I was thriving, not just surviving.
Today I am in my 50s, and the healthiest I've ever been. I have a really special relationship with my two daughters. I'm in love with a man who encourages me to take on the world instead of hiding from it. As a successful nutritionist, I get to do what I'm passionate about and treasure making a difference in people's lives. Trust me, my life is far from perfect, but that's OK.