Black Bean + Summer Squash Tacos With Sweet Nectarine Salsa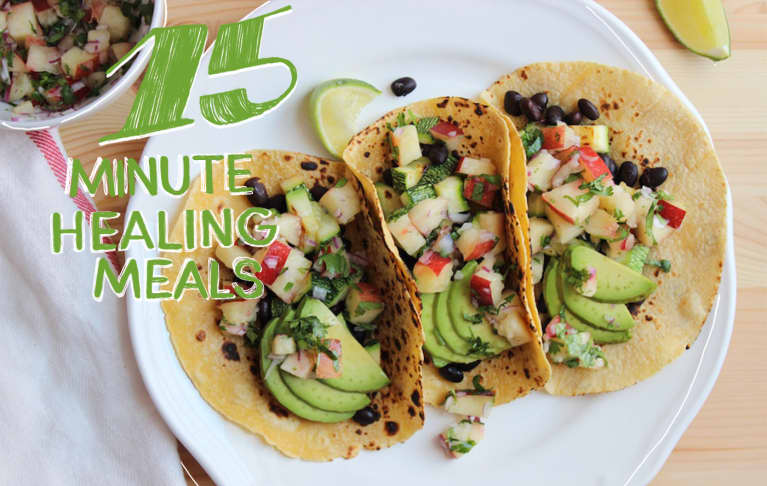 My perfect weeknight meal is packed with vegetables and whole foods, fills me up, and tastes delicious—all while being easy enough to put together quickly.
15-Minute Healing Meals are about feeding yourself well with minimal effort. These recipes are designed to inspire you to cook something wholesome without interfering with everything else you've got going on.
Note: While some meals may take a little longer to cook, we try to make sure that all hands-on time is kept to 15 minutes to make your mealtimes as relaxing, restorative, and nourishing as possible.
These plant-based tacos require minimal cooking, making them a great summertime dinner. The nectarine salsa is an easy way of adding fresh summer flavors to make simple ingredients really shine. Feel free to swap peaches for the nectarines if you've got 'em.
Black beans are full of fiber and protein and will keep you feeling full for longer. Nectarines and other stone fruit bring skin-supportive antioxidants and vitamin C while cilantro helps alkalize the body.
Black Bean + Summer Squash Tacos With Nectarine Salsa
Serves 2
Ingredients for salsa
1 medium nectarine, diced
¼ a red onion, very finely diced
1 to 2 tablespoons fresh cilantro, finely chopped
½ a lime
Sea salt
2 teaspoons avocado oil
1 medium summer squash or zucchini, diced
Salt and black pepper
Pinch of cayenne pepper
Corn or sprouted tortillas
1 cup black beans, drained and rinsed
1 avocado, sliced
Preparation
1. Combine diced nectarine, red onion, and chopped cilantro in a bowl. Spritz in a little lime juice and sprinkle with sea salt (to your desired taste) and stir to combine.
2. Heat avocado oil in a medium skillet over medium-high heat. Add summer squash and stir to coat in oil. Cook for 3 to 4 minutes, stirring occasionally, until tender. Stir in salt, pepper, and cayenne, and cook for another minute, then remove from heat.
3. Heat corn tortillas in the oven or on a grill until slightly toasted and warmed through.
4. Top tortillas with black beans, cooked squash, nectarine salsa, and slices of avocado to serve. (Hot sauce is also encouraged.)