5 Tips I Use To Balance Wellness As A Working Mom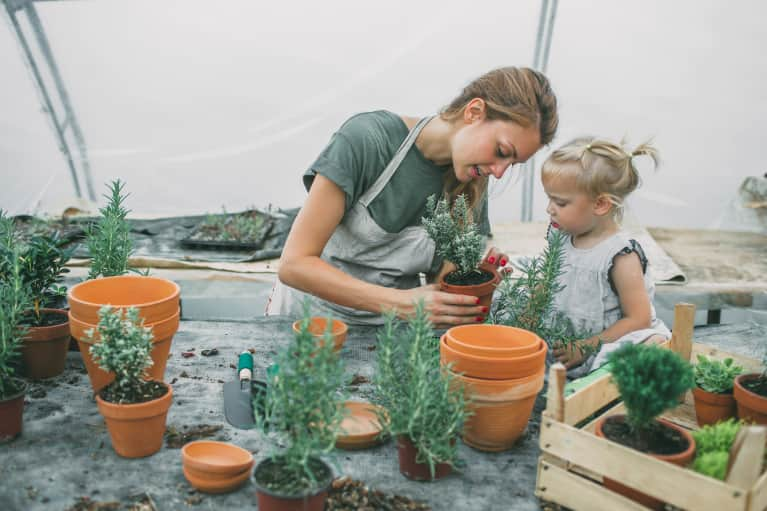 I'm pretty new to this working mom thing. I met my husband at age 38, married him at 39, and accidentally got pregnant at 40.
On my 41st birthday, I was holding a newborn in my arms. Talk about a life transformation!
On top of that, I have a hugely demanding job as co-founder of Health Coach Institute, where we train health coaches around the world in the Transformational Coaching Methodology. Before my now 8-month-old daughter, Evie, was born, my work was a full-time job. Now I have two full-time jobs.
Before giving birth to Evie, I could focus almost all of my undivided attention on my business … or anything I wanted! Looking back, that feels utterly luxurious because the single most shocking change for me as a new working mom is undoubtedly the disappearance of 98 percent of my time.
Truth be told, there is no way I could be a mom and the co-founder and primary teacher of a health coaching school without a ton of help from my community and the following tips:
Tip 1: Outsource some "mom" roles so you can reserve your own resources.
I outsource a lot. Our angel of a nanny arrives at 8:30 a.m. to care for Evie (so I can start my workday) along with our housekeeper.
My incredible husband gets on baby duty when he comes home from work at 5:30 p.m.
I also pre-order organic meals from an organic food preparation and delivery service daily so I don't have to prepare meals.
Motherhood is an ongoing exercise in radical self-acceptance.
I outsource a lot because what feels most valuable to me is being present and available for my daughter and my husband when we're together. I want them to get the best version of me when I'm with them, not the burnt-out, exhausted, miserable version of me.
I joke with my girlfriends that I should get a T-shirt that says, "All I needed to know about motherhood, I learned from my business." To give my best in business over the years, I learned to delegate the things I'm not good at and focus on the things I am good at. So I decided to try a similar strategy at home, and it works.
Tip 2: Hire holistic healers so you can stay sane under pressure.
As a business owner, I am constantly under a lot of pressure. As a mom, I'm constantly under a lot of pressure too. So, I've also hired a therapist, psychiatrist, personal trainer, intuitive coach, and my very own health coach — all of whom help keep me sane while I try to keep my home, my relationships, and my business running at "top-ish" performance.
With enough support and efficient scheduling, I can actually "do it all." Because I'm not actually doing it all.
Emotionally, there are times when I still struggle with guilt about this. ("I should be able to do it all myself.") But logically, I know that's impossible.
I realize not everyone is able to hire all of these outside resources, but one practice I've found helpful for keeping me on my wellness path that my coaches emphasize is daily automatic writing (which is my form of meditation) for at least 15 minutes.
Something I've discovered about motherhood is that it's an ongoing exercise in radical self-acceptance. Accepting who I am and what I need, and creating my life around that, makes me a better mother, a better wife, a better coach, a better teacher, and a better business owner.
Tip 3: Make time in the day, every day, for self-care and nourishment
Self-care is much broader than time at the spa or a bubble bath. For me, self-care is taking an extra 10 minutes out of my workday to take Evie out into our backyard to feed the fish in our pond while I kiss on her like crazy.
My coaches also strongly stress making time for consistent meals and setting up a system for having good food in the house.
So self-care also means making time for our family's Morning Breakfast Dance Party, where my husband, Evie, and I jam to the "Choo-Choo Soul" station on Pandora while we prep breakfast.
For a high dose of self-care, I work out with my personal trainer on Skype for 30 minutes, three times a week. She takes me through core work, body resistance training, light intensity interval training, and weight training that re-energize and strengthen my body and mind.
Self-care, to me, includes nourishment, which means not only eating three healthy, organic meals a day but having extra nutritional focus on fortifying my body (especially since having Evie), so I can fully recover my energy and maybe even feel better than ever.
So I start my days with a combination of bone broth, collagen, and unsalted, grass-fed butter. I drink it from a mug just as I would a cup of coffee.
Tip 4: Don't let business take over your personal life completely.
Even though I'm a business owner, I am human first. This means that I still make time in my day to take care of "business" in my personal life such as family dramas that need addressing, which I often do over the phone.
At night, while a lot of business owners never disengage from their work, I make it a point to not think about work for a couple of hours, at least. To get my mind off work, I roll around on a tennis ball on our living room floor to release muscle tension while my husband puts on our favorite TV show — The Blacklist — on our DVR.
Then we snuggle up all cozy on the sofa, under a fuzzy blanket, and enjoy the show. Time out is essential to my sanity, and I make the most of it by making sure I do it every day.
Tip 5: Use quiet and uninterrupted YOU time to begin the day and laughter to end it.
Again, I'm not talking here about a warm bath (where oftentimes your mind can still be preoccupied with business), but I'm referring to a type of productive solo time that helps me begin my day.
I start the day on the couch in my office where I do an automatic writing meditation for half an hour. It's like a brain-dump where I just write whatever comes to mind without stopping to clear the space for creativity and ideas to follow. It helps me tune into my intuition and my creativity, and it connects me to the feeling of inner calm.
I notice I work much more efficiently and produce higher quality work when my day starts this way. At the end of each day I enjoy hanging out with my husband and listening to stand-up comedy on Pandora so we can complete each day with laughter.