Dessert For Breakfast: Blueberry, Yogurt + Granola Tarts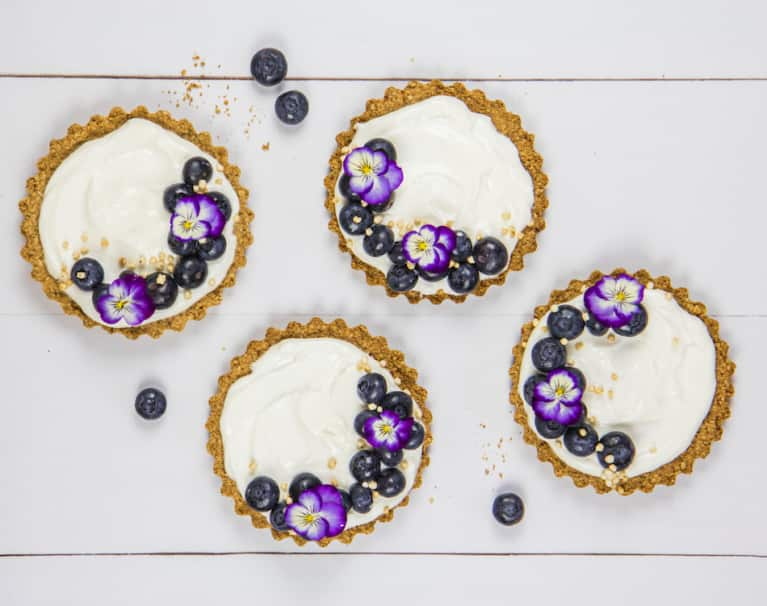 These blueberry granola tarts are a twist on a blueberry granola parfait. Instead of a granola topping, the granola is made into a delicious tart and then topped with yogurt and fresh blueberries!
Blueberry + Granola Breakfast Tarts
Granola crust ingredients
2 cups oats
1 cup sliced almonds
¼ cup coconut oil, melted
3 tablespoons maple syrup
1 teaspoon vanilla extract
pinch of salt
1 cup your favorite plain yogurt (I recommend Greek yogurt or coconut yogurt)
½ teaspoon vanilla extract
1 tablespoon maple syrup
½ cup fresh blueberries
Preparation
1. Preheat oven to 375°F. In a food processor, add your oats and almonds, and pulse until crumbly.
2. Next, add coconut oil, maple syrup, vanilla extract, and salt, and pulse again for about 1 minute, until it forms a crumbly dough. The dough should feel moist in your fingers but not too wet.
3. Press dough into mini-tart pans (or a large tart pan) with your hands firmly, until it covers the bottom of the pans, about ½ inch thick.
4. Place tart crusts in the oven for 16 to 18 minutes or until golden brown. Remove and let cool.
5. In a small bowl, mix yogurt, vanilla, and maple syrup together.
5. Using a spatula or spoon, spread the yogurt evenly on top of the tarts. Top with fresh blueberries, and serve immediately.