Grilled Tofu Skewers With Green Goddess Sauce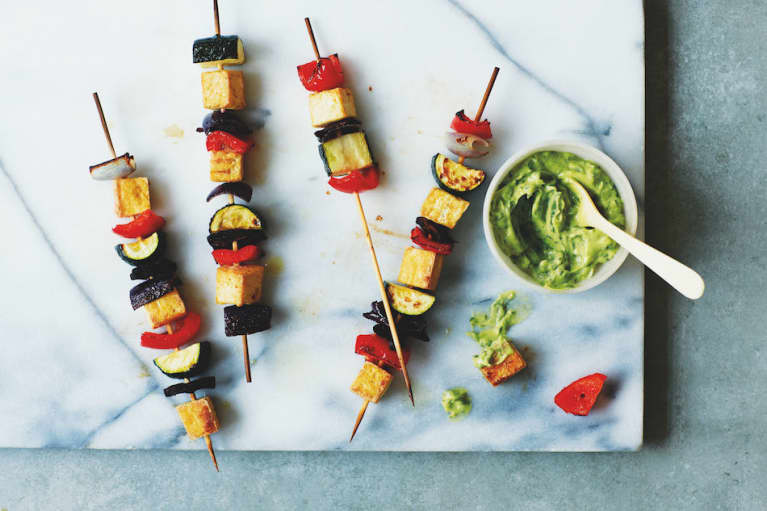 Perfect for a summer barbecue or easy enough to cook under the grill (broiler), especially if you're taking it "to go." The sauce is just super. And you can use this sauce on so much more — roasted veg, salads, fish — it's the perfect accompaniment to any meal, in my view.
Tofu Skewers With Green Goddess Sauce
3 tablespoons coconut oil
150 grams (5½ ounces) extra-firm tofu, drained and patted dry with paper towels
1 red onion, cut into chunks
1 zucchini, cut into chunks
30 grams (½ cup) dried porcini mushrooms, cut into chunks and rehydrated according to manufacturer's instructions
1 red bell pepper, seeds removed and cut into chunks
sea salt and freshly ground black pepper
½ large avocado, peeled
small handful of coriander (cilantro)
3 tablespoons olive oil
juice of 1 lemon
sea salt and freshly ground black pepper
skewers, soaked for 10 minutes in water if wooden
Preparation
1. Blend all the sauce ingredients together in a food processor or blender, tasting to make sure the seasoning and lemon are to your taste. Pop in the fridge while you make the skewers.
2. Heat a barbecue or grill (broiler) to medium. Put the coconut oil in a medium frying pan and heat until hot but not overly spitting. Fry the tofu for a few minutes until it is nearly golden brown, then remove it with a slotted spoon. Pour the melted coconut oil from the pan over the veggies in a bowl, tossing to coat.
3. Carefully skewer the veggies and tofu, season with salt and pepper, and barbecue or grill for about 10 minutes, turning every 5 minutes so that they don't burn. When they're ready, serve with spoonfuls of sauce on top.
Utterly delicious!