Non-Toxic Swaps For Every Product In Your Beach Bag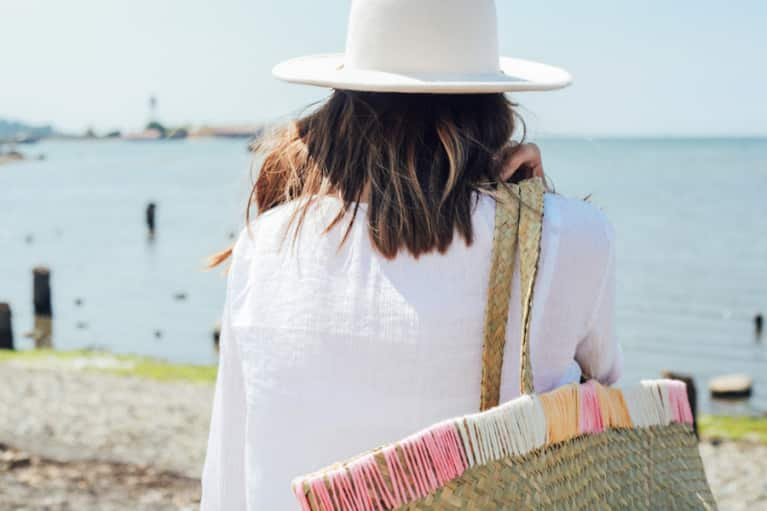 Summer is in full force, which means beach days, picnics, hikes, and all the other warm-weather activities you can imagine.
Naturally, summer is also the time of year when we bust out all the stops to get that sun-kissed complexion. Think about it. When we're at the beach or the pool, we'll lather on tanning lotion or apply layers of sunscreen. Then, we'll add some protective lip balm, use a refreshing mister throughout the day, and apply a post-sun cream or lotion when we get home.
But what are these summertime products actually doing to our bodies?
Toxic products don't have to put a damper on your fun in the sun. Here are five quick and easy product swaps that will help keep your skin happy and healthy all summer long:
Now that we know that prolonged periods lying in the sun with nothing but baby oil slathered on isn't the safest choice, we have become more savvy about protecting ourselves. Self-tanners may seem like a practical option since they offer the sun-kissed look without the harmful rays, but they can actually hide some pretty nasty ingredients.
They often contain dihydroxyacetone, or DHA, and although the FDA says this compound is fine for topical application, it should not be inhaled. Many tanners are also made with several potentially dangerous parabens, fragrances, and mineral oils.
There are some great self-tanning options that skip these ingredients and stick with nontoxic bases such as glycerin, organic oils, and aloe vera, so look for these next time you want to get your glow on.
You saw this one coming, didn't you? Sunscreens have one job: to protect our skin. But some can actually do more harm than good.
For example, vitamin A is great for many situations, but when used in sunscreen it can speed up the growth of skin tumors. When it comes to sunscreen, say no to ones that contain oxybenzone (a known allergen) and fragrance; avoid spray sunscreens that release nanoparticles in the air; and ditch anything that has an SPF higher than 50. Say yes to zinc oxide, avobenzone, natural butters and oils, and topical application sunscreens under SPF 50.
Dry heat can make for dry lips. But did you know that some ingredients in lip balm make your lips drier? Yes, you read that right.
Some use ingredients that appear to moisturize but actually seal pores and prevent moisture from making its way in. Many contain parabens, synthetic dyes that are derived from heavy metals, flavors that contain hidden ingredients, and damaging mineral oils.
Choose balms made with organic oils, butters, and waxes, like coconut oil, shea butter, olive oil, and plant wax. All of these options naturally soothe lips and let your pores breathe. If you want extra protection, look for nontoxic lip balms that are packed with zinc oxide for sun protection.
The gel's name may sound straightforward, but the personal care industry has a knack for adding unnecessary ingredients to products and this is no exception. Some aloe vera gels are even known to cause skin reactions. Next time you pick up a bottle to soothe inflamed skin, avoid triethanolamine (TEA), DMDM hydantoin, Diazolidinyl urea, and you guessed it, fragrance! All of these are known irritants. Look for pure aloe vera gel instead.
Sometimes nothing feels better than a little mist from your favorite smell-good body spray on a hot day. But when you spray these mists all over, chances are your skin isn't the only thing absorbing their ingredients. You're probably inhaling some of them, too. I generally advise against sprays for this very reason, especially since most contain several synthetic fragrances, parabens, and skin-irritating coumarin. Your best bet is to use a pure rosewater spray or make your own using essential oils!