How Finding Your "Happy Place" Will Help You Achieve Your Health Goals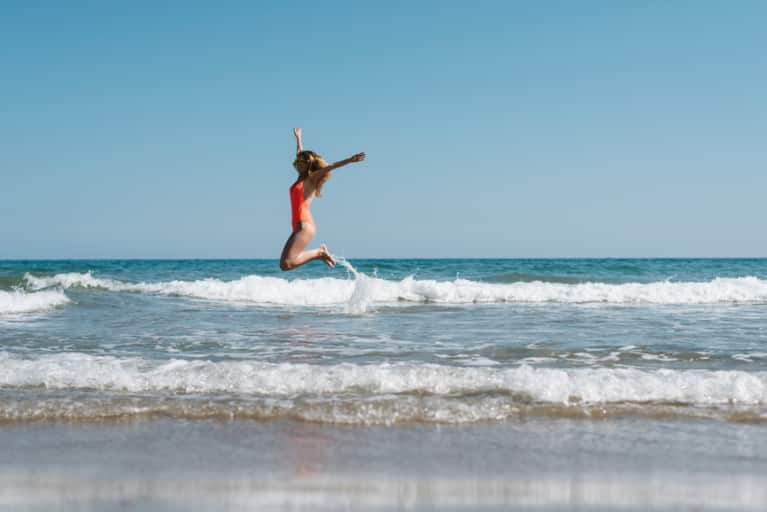 Whenever I go to a public event with a large crowd of people, I have a tendency to feel drained pretty quickly. I enjoy it to an extent, but it just isn't my thing.
When that used to happen, I'd go home and shut myself in my room and wonder what was wrong with me. I couldn't understand why I felt like the life had just gotten sucked out of me. I'd dwell on how I felt sorry for myself, and I'd eventually find myself in bed with a quart of ice cream.
The negative behavior and feelings would spiral. I hated my body. I had big feet (still do), cellulite on my hips (still have that, too), and my jaw was crooked (some things never change).
Let me be clear about one thing here, my bedroom was not my happy place. It was a deep dark hole that sucked me in deeper and deeper. Whenever I was there, my thoughts would spiral from what had just happened to everything bad I wanted to change about myself.
For those of us who are introverts, we rejuvenate when we're alone or with one or two close friends. While I do enjoy going to larger-scale events from time to time, it doesn't take long before I start to feel like I'm putting on a facade and I begin to shut down.
Sometimes the negativity in our lives can be overwhelming. When that happens, we need a place to go to, both for our bodies and our minds, where we can conjure feelings of positivity and peace.
It doesn't seem like a personal "happy place" would have anything to do with feeling sexy in one's body — but it has everything to do with it.
Thankfully, I've grown up since my black hole bedroom days, so I recognize when I'm feeling drained and know it's time for me to go to my happy place before I sabotage myself with food or negative thoughts.
A happy place can be a physical space that you go to or create within your home, or a mental "place" that you get in touch with.
So how do you go about finding your happy place? Start by asking yourself a simple question:
For me, it's long walks on the beach, picnics on the beach, drinking wine on the beach (Yes, I'm currently unattached and the romantic type, for all you single men out there.)
Ask yourself, what is it that makes you super excited? What gives you goosebumps and makes your eyes go wide with awe? What makes you feel damn good in that dress?
These aren't life-changing things I'm talking about. These are things you do simply because you want to. You do them because you enjoy them and they bring you feelings of peace and inspiration.
If you enjoy photography, take some pictures. If you enjoy writing, grab a pen and paper. If you enjoy art, start drawing. If going out to dinner makes you feel sexy because you like to get dolled up, then go out to eat more often.
Having a happy place isn't about running away or hiding out in your room. It's about going someplace and doing something that you associate with happy, positive thoughts.
Growing up, I was obsessed with the movie The Sound of Music. In the movie, Julie Andrews sings the classic song, "My Favorite Things."
"When the dog bites, when the bee stings, when I'm feeling sad. I simply remember my favorite things, and then I don't feel so bad."
Turns out she was right! Thinking of anything that makes you smile is bound to put you in a better mood and help you think happy thoughts.
Did you get a fun compliment on your hair the other day? Did a special someone bring your flowers recently? Do you and your bestie have an inside joke that makes you laugh till you cried? Think of those things.
Make it a point to surround yourself with pretty scenes. Think colorful flowers, stunning views, and green grass.
Or maybe it's on the beach spotting perfectly tan six-packs. (If you're up for it, we should be friends.)
It could even be a room in your home that's decorated just the way you love with an old comfortable chair for you to curl up in. The options are endless!
If your phone is continuously going off, and you're starting to feel overwhelmed by all the things going on and your ever-growing to-do list, take a break, turn off your phone, and declutter your mind.
The same thing is true for your work and home space. Take some time to declutter and get organized to help squash negative thoughts. When a mess surrounds you, it can often make you feel like space is engulfing you, and that makes it challenging to keep negative thoughts from spiraling out of control.
If you're still looking for ideas on how you can find your happy place, try something new.
Ready to meet a man? Try online dating. Want to feel good in a bikini this summer? Take a new workout class (or hire a health coach, like me). Like to go to new places? Plan a weekend trip somewhere you've never been before.
The whole point is that it gives you something to look forward to and be excited about. That means there's less room for you to be critiquing yourself about your body and giving in to bad habits.
Your happy place with your body
While I used to bury myself under my covers when life wasn't rosy and let negative thoughts spiral out of control, now I go to my happy place. And though some things never change re: my big feet, cellulite, and crooked jaw … when I go to my happy place, I know that I'm beautiful just the way I am.
Finding your happy place with your body may take time and a few failed experiments. But that's the fun of it.
Instead of hiding away and dwelling on all of your "flaws," find a happy place and go there — because your body is super sexy when you believe it is.
Related reads: