I'm A Yoga Teacher Who's Pregnant With Twins. Here's What I Eat In A Day
Registered Yoga Teacher and Personal Trainer
By Kristin McGee
Registered Yoga Teacher and Personal Trainer
Kristin McGee is a celebrity yoga + pilates instructor and ACE certified personal trainer. She has been featured in over 100 yoga and pilates videos and graduated from NYU's Tisch School of the Arts.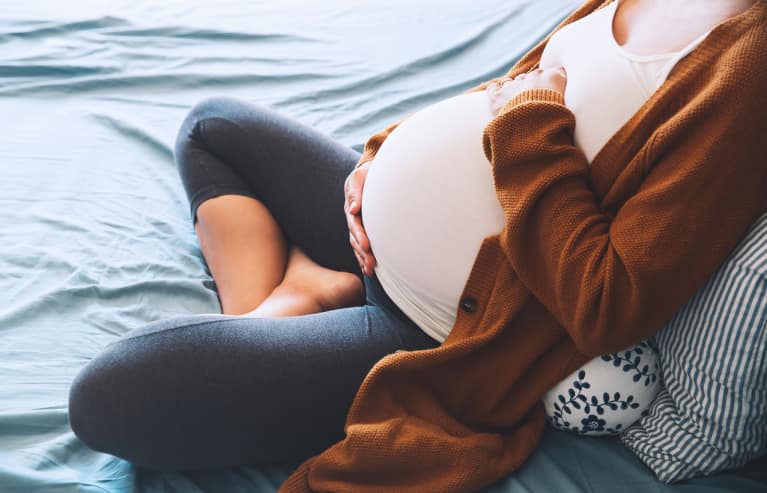 I'm currently at home in Pocatello, Idaho, where I grew up as a young girl before making my way to NYC. I love coming home a few times a year, and the summers here are magical.
Timothy, my 3-year-old son, loves spending a few weeks at his grandparents' house, and for me it's a time to connect with nature and completely unwind.
I'm pregnant with twin boys and almost five months along. I am not vegan, dairy-free, gluten-free, or anything really! I've always just listened to my body and try to eat as mindfully as I can. I'm super healthy and in great shape! I love all foods and most of them tend to be healthy. My body just feels good when it's fueled with wholesome, nutritious food.
I think every body is very different and has specific needs in various phases of their lives. Find what works best for your body and stick with that. I'm the type of person who can pretty much eat anything, and I love all meal plans.
Pocatello doesn't have all the various amazing things you can find in Manhattan, but I always think you can eat healthy wherever you are.
I woke up early and while Timothy was still sleeping, I did some breathing and stretching on my own. I like to do it first thing without much of anything in my tummy, but I do have a large glass of water upon waking.
Then I have a hearty breakfast. Today I made some eggs with kale and fresh spinach. I always have hot salsa with them (which, thankfully doesn't bother me to eat spicy foods even when pregnant!).
I served them with a whole-grain English muffin with laughing cow cheese and raspberry jam on top, as well as a side of blueberries. I have one cup of coffee in the morning (my doctor said it's OK for pregnant women to have one to two caffeinated beverages a day).
I then played all morning with Timothy, jumping on the trampoline, feeding the ducks in my parents' pond, and running around outside. All the outdoor play made me hungry, so I had a banana with Nuttzo, a delicious blend of nuts and flax and chia seeds.
For lunch I made a wrap with one side filled with organic turkey, Dijon mustard, and spinach. The other half was avocado and cherry tomatoes sprinkled with sea salt. I served it with some hummus and baby carrots. I find that I need a few extra carbs while pregnant.
I went off to take a Pilates class with my favorite teacher in Pocatello and also did some yoga stretching on the rope wall at her studio. It's amazing when grandma can watch my son and I can take a class.
I love to continue studying and always find I learn something new when I practice with my mentors.
Post workout snack is a bowl of organic cottage cheese with a fresh peach.
For dinner my dad grilled up some delicious wild-caught salmon (he makes the best ever) and my mom served it with steamed asparagus and brown rice. We all sat outside and talked and enjoyed the beautiful Idaho evening.
Timothy was playing in the sandbox below the deck, and we watched him and talked about how lucky we all are.
When I'm not pregnant, I would have enjoyed a nice glass of red wine as well.
I always have to have a little sweet to end my day, and it helps me sleep better. I definitely get hungry frequently with the twins growing inside of me, so it helps to eat at least five to six meals a day. I had some blackberry frozen yogurt topped with fresh blackberries.