The Unusual Pregame Ritual That Keeps This Olympic Basketball Player's Head In The Game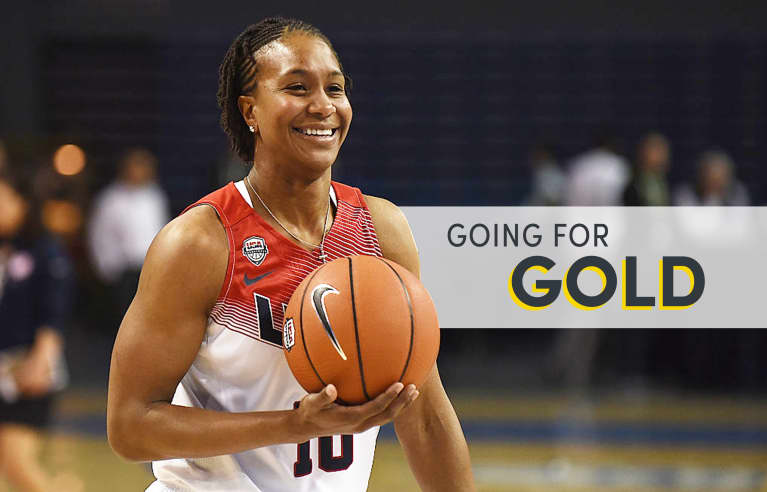 August 11, 2016 — 8:34 AM
In our new series Going for Gold, athletes heading to Rio open up about the mind-body practices that keep them going and help them win.
Tamika Catchings is an Olympic veteran. The USA Basketball and WNBA player, 37, has won three back-to-back Olympic gold medals and is hoping to win a fourth before she retires after this year's Games.
Catchings was drafted to the Indiana Fever in 2001, where she's played professionally ever since. She's also been a member of the U.S. Women's National Team since 2002 and serves as a tri-captain for this year's kick-ass squad.
Between practices and travel, Catchings caught up with mbg to give us the inside scoop on how she's preparing her body and mind for her final appearance on the world stage.
She gets her head in the game with a whole lot of silence.
"When I'm on the bus or driving to a game, I don't usually play music. I like to keep things silent so I can really think about which players I'm going to scout, which defensive plays we're going to run, and really strategize ahead of time.
"When I get to the gym, it's all about getting my body ready — firing up my glutes and my core with squats and other exercises. I also pray or go to chapel services before games. My faith is a big part of who I am, and being able to shift my focus to why I'm really playing is very important to getting in the right mindset."
Her cross-training routine involves hot yoga and rest.
"Hot yoga is hot! I love how these different workouts make my body feel, but now I do them more in the off-season. When I was younger, I'd come to the gym on days off and try to do as much as possible. But now, rest is the most important thing my body needs on my days off."
Winning a gold medal really is the best thing ever — and it's what keeps her working so hard.
"It's not an easy task. Everybody puts the U.S. as the team that can't be beaten, but we still have to work hard to keep that position. And standing on that podium and seeing your flag coming down — the whole experience is just a dream come true. Even when you've experienced it before, you're always thinking to yourself, If I could just do that one more time, it would be even better."
She's all about closing the wage gap.
"When you look at the pay scale between male and female professional athletes, we've come a long way — but we still have a long way to go; that's true for soccer and for basketball. Hopefully, the soccer players, with this lawsuit they're going through, will have the opportunity to be that team that sets the stage for young girls who will come after them in every sport."
Thinking of her late coach and mentor, Pat Summitt, keeps Catchings motivated.
"Knowing what Pat meant to me and to so many of us, it's important that I can go out there and dedicate this year on the court to her. Whether it's the WNBA season or the Olympics, that's a big thing for me.
"Plus, it's the end of my career overall. Our goal over there is always the same — to bring back the gold — but I also just want to have fun and be proud to represent my country one more time and really make the whole experience count."