An Olympic Runner Spills Her Sleep Routine + Visualization Technique
mbg Contributor
By Leigh Weingus
mbg Contributor
Leigh Weingus is a New York City based freelance journalist writing about health, wellness, feminism, entertainment, personal finance, and more. She received her bachelor's in English and Communication from the University of California, Davis.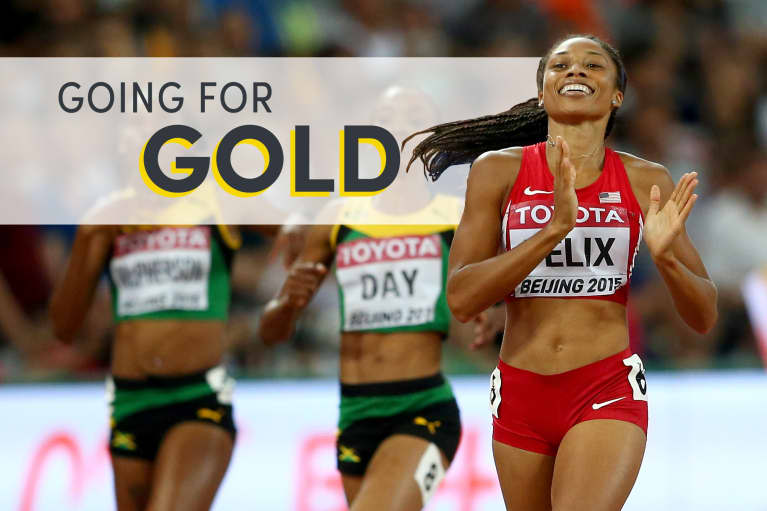 In our new series Going for Gold, athletes heading to Rio open up about the mind-body practices that keep them going and help them win.
Thirty-year-old Allyson Felix is an Olympic sprinter. In 2012, Felix won the gold medal. She's also taken home the silver medal twice—the first time she did it she was only 18—and is a three-time world champion.
One thing's for sure: This woman can run, and we're totally in awe of it. So we decided to catch up with her before she headed off to Rio to find out exactly what makes this athlete tick.
In honor of her partnership with Folgers coffee, Felix spoke with mbg about what she eats, how much she sleeps, what makes her feel beautiful, and so much more.
Here's what she had to say:
She views sleep as essential to her recovery.
"I definitely get a lot of sleep. I would say I probably get around eight hours, and I get more sleep while I'm training just because it's so important for your body to recover. If I can get a nap in I will, it re-energizes me and helps me handle the training load."
She isn't a yogi, but she's all about cross-training and stretching.
"I've done Pilates before, and I've tried different things here and there, but in the offseason I try to stay completely away from the track. I might get on a bike ride or go inline skating, but I don't do anything too intense just because I want to give my body a rest.
"I do the same stretch routine I started in high school. I do it before I train and before every competition. I go through stretching my upper body and lower body and make sure I'm stretching the hamstring and areas where runners are prone to injury."
Visualization and a solid morning routine are key for Felix.
"I do a bit of visualization, but that's probably as close as I get. With my races, I find that if I put together the perfect race in my mind it helps me when it actually gets time to that. It's part of my morning routine. While I'm drinking a cup of coffee—usually Folgers—I'll sort of do that visualization."
She has a mantra you'll probably want to adopt.
"There's a quote by Steve Prefontaine that I love: 'To give anything less than your best is to sacrifice the gift.' That centers me and just makes me grateful for the ability that I have."
And a supplement-free diet you'll probably want to adopt, for that matter.
"Everything I eat is really balanced. I started working with a nutritionist and chef about two years ago, just testing to see what my body was deficient in to help me sustain the work I've put in. I'm heavy on protein. A typical meal after training is usually salmon, broccoli, brown rice, and fruit. Nothing too crazy, I just make sure everything is in moderation and enough to replenish what I'm lacking.
"I don't take supplements. Our testing is so strict, so I'm super paranoid. That's why my nutrition and diet are so important, because I'm facing athletes who do take supplements. So I have to make sure I'm getting all those nutrients through my food."
She's all about taking care of her skin.
"Since I'm in the sun so much, skin care is important to me. I just make sure I'm putting sunscreen on. I love facial wipes and carrying those in my bag and making sure my skin is clean and moisturized. I don't wear makeup when I train. If anything, I might put on a tinted moisturizer with SPF in it, but that's as much as I get into when I'm on the track."
So, what makes her feel beautiful?
"I feel beautiful when I'm feeling strong. That gives me confidence. When I'm feeling my fittest, I feel my best. After a great workout, I have those feelings."