This Is What Happened When I Quit Social Media For A Week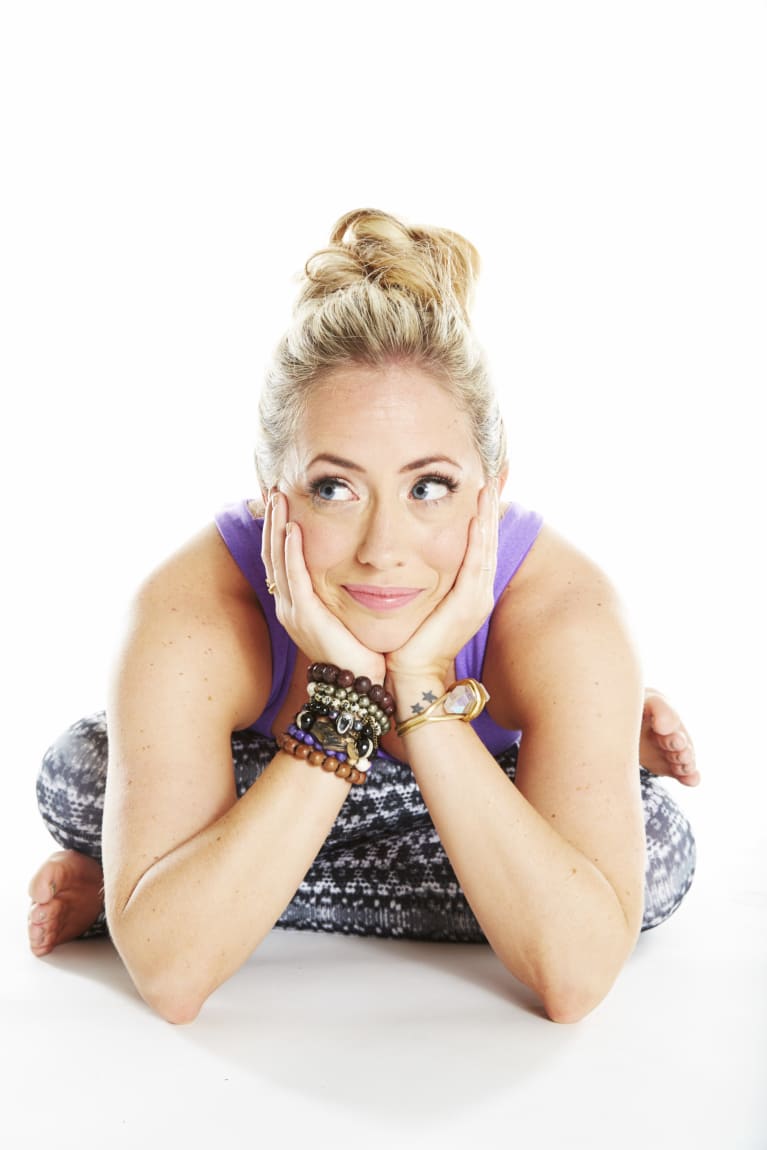 My childhood was filled with adventure.
Adventure that was created and fueled quite simply: with nothing more than the great outdoors and my childlike wonder exploring it. As I grew older, my access to vast backyards and endless playtime dwindled, but my thirst for creativity continued. And I stoked it—through my voracious appetite for fiction; through the blood, sweat, and tears I shed on my yoga mat; and through the ideas scribbled upon the yellow stick-it notes I sprinkled throughout each cookbook I opened.
Now, fast-forward to the last year. I've struggled to strike my creative match. My mind is overworked and often saturated with the endless images and notes posted on social media. I now feel unable to process my surroundings in a way that fires my (normally) artistic mind.
Years ago, the uneventful moments—waiting in line, riding in a taxi—would be filled with connecting ideas, being creative, reading, dreaming. Today, those empty moments are spent with my head down, wrapped up in the distracting world of social media, a world that has the power (and I've given it this power) to hurt me with just a single nasty comment.
Social media isn't just a hobby for me. It's my business. My followers (ugh, that term), who are often my yoga students as well, are accustomed to seeing links to my articles: me striking yoga poses from both professional shoots and my home practice, what I cook for dinner (with links to my food blog), information about my book tour, adorable photos of my pups, and the occasional glimpse into my personal life.
I'm generally happy to oblige. After all, this is the work era where sharing keeps your business alive. But I've started to notice the cost. As my healthy boundaries are crumbling, it feels as if pieces of my soul are being chipped away.
Something needed to change, I realized.
I had to win back my magic, my creativity, and my brain.
Here's what happened when I quit social media for a week.
Yep, I am so f'ing ready for this! I spent yesterday wound up, crying over two exchanges I read on social media. I've actually given the images that stream through my feed, along with the long list of comments that decorate my own, the power to ruin my day.
That, my friends, is some bullshit. And I thought exactly that, later that night, as I lay in bed. Why am I putting myself through this? Why are we trying to share raw moments, attempting to be vulnerable, when so many are quick to criticize?
I need a break. I need a social media cleanse. As I drifted off to sleep, I thought, Yes, that would be a good idea. And why not start today? Today is as good a day as tomorrow, as good a day as any.
I'm in. I move all my social apps to the back of my phone. No opening, no reading, no swiping, no posting. Nada. I'm going back to the land before social media, and I'm pretty sure I loved it there.
Within a few hours, I already feel fantastic. I find my fingers twitching a bit throughout the day, but it's just swiping withdrawal. (How is that even a thing?)
My brain is thrilled at this place of rest.
My love came into town today, and I was amazed by how present I felt. The two of us went to get coffee and when we pulled into the shop, I realized I had forgotten to bring my phone. It hadn't even crossed my mind. My phone was just chilling on the counter in the kitchen. I could feel the shackles of social media crumbling, and the liberation felt amazing.
Later that day, I checked my email and afterward felt like something was missing. I had developed quite the addiction: check my Facebook, check Twitter, check Instagram. And as soon as I'm done with all three, odds are, something has happened on the first one, so I'll usually just start the vicious cycle all over again.
But on this day, instead, I finish my emails, put down my phone, and walk away. I don't even pick it up again for hours. When I do, I have an angry text and two missed calls from my mother:
"Turn your ringer on" the text reads. She'll just have to understand.
The feeling of freedom settles on me. I sit in a local coffee shop sipping my almond milk latte with the knowledge that no one knows where I am. They don't know what city I'm in, what kind of coffee I'm drinking, what yoga pose I did, or what I'm planning on cooking for dinner.
I'm beautifully anonymous. There's no expectations on me, because I haven't created the platform for them. I can do whatever I want without checking to see if it's been "liked" or whether people have chimed in on what my life should or shouldn't be. Why can't I define moment, no peanut gallery? Must my moments be documented and artistically elaborated upon to be real or meaningful?
Nope.
Holy f*ck, I love this.
Side note: I haven't taken a single photo of humans in three days. (My pups, Ashi and Keonah, looked really cute on their walk, tongues dangling, so of course I had to capture that.) This realization was a wake-up call. We have these mind-blowing smartphones that allow us to beautifully capture any moment—presumably for ourselves and those closest to us.
But instead, these phones have become a tool that wedge themselves between us and our loved ones, preventing stimulating conversations and thwarting honest moments. Do I really need to strike a yoga pose in front of the beautiful graffiti wall?
Would I actually do that for my own photo collection, or is it a visually stimulating post to share on my "platform"? This realization shook me up, because I had prided myself on the belief that I was sharing only images and thoughts that matter, that I would have captured anyway. I had told myself: I don't post to post; I post when I want to.
But ... do I? Have I become victim to the siren of social media, singing her alluring song?
I'm by myself today. I can't lie: The temptation to check social media, just for a quick look, is strong—but only because I didn't have anyone to distract me. Instead, I fill this time with cleaning the house (it sparkles!) while listening to the radio. I read my book, cook, walk the dogs, and soak in the bath.
I can feel my brain cells and creativity slowly rebuilding.
I take my dogs for a bike ride, sans phone. The sun is still shining, even though a storm cell has brewed some ominous clouds. I let my eyes take in my surroundings, take time to breathe the air, to let my mind wander. I come home with a rough outline for a new short fiction story, plus something else: excitement. I need to research ideas for characters. I haven't felt this clear in ages.
I'm honestly dreading this week ending. Do I really need to go back? I know the answer: Yes, I do. Social media is imperative for business these days. Plus, I still love what I believe the medium was originally intended for: Connection. Visual inspiration. A way to document your memories and share your moments with those you can't necessarily see every day.
Can I find a better way to pursue this ideal? To share my articles, my recipes, the small things that inspire me (and hopefully others) without losing focus on what really matters?
Game time. I can't go back entirely. I can't use social media exactly how I was using it before—that would defeat the entire purpose of this week. I know I must continue to use my social media as a tool to inspire and share what moves me.
That being said, I refuse to be attached to the response, the likes and the comments—whether they're full of praise or judgmental. The best way to accomplish this is to post and then walk away. Isn't that the whole point? To share what matters to you?
As they have throughout human history, people will continue to say whatever they want. I refuse to crumble under the weight of unkind comments. I will share and stand by whatever I say and do. Then just let it live. Don't refresh. Don't let what anyone says penetrate your heart and beautiful brain. Don't live and die by likes and numbers.
Just share what matters, and reclaim your brain.