Why You Should Be Eating More Tahini + 4 Delicious Ways To Use It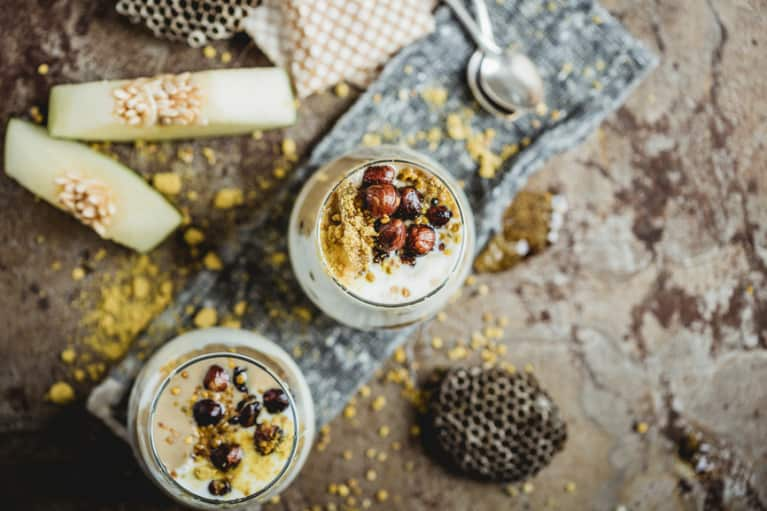 Tahini is a humble and often understated superfood. Made purely from sesame seeds, it's rich, creamy, and wholly satisfying. And, if taste wasn't enough, it's also filled with good fat, iron, potassium, and magnesium, and it's a complete protein, which is super important for those who may not eat meat.
I go through a large bottle of tahini every month or two. It's a staple for me. But, it wasn't always that way.
Until I really got comfortable using it, I would buy a container and it would sit in my fridge unused for months and months. I know a lot of you are in that boat! You may have bought it for one recipe and now you have no idea what to do with it.
Well, look no further! Keep reading for ways to incorporate tahini into your snacks, dressings, desserts, and dips.
A good snack is super important. They help us stay productive throughout the day, keep the hangry monster at bay, and keep us (our minds, bodies, and taste buds) happier.
You may have noticed that a lot of healthier snacks like energy bites and granolas use nut butters to help bind the ingredients. But, with nut allergies ever more common these days, it's great to have some alternatives.
And lucky for us tahini fans, tahini is also a great binder. If it helps, just think of tahini as sesame seed butter with a fancy name.
Even if you're not allergic to nuts, using tahini allows you to incorporate greater variety in your go-to recipes, keeping things more interesting in the kitchen and diversifying your nutrient intake.
I love this Peanut Butter Chocolate Chip Granola with tahini instead of nut butter. These delicious Almond Joy Granola Bars are also a great treat with almond butter or tahini (or mix 'em!).
If you're into energy bites, try these No-Bake Energy Bites with tahini instead of almond butter. These Chocolate Sunflower Bites would also be great with a mix of tahini and sunflower butter and these Almond Chai Bites are also divine with some tahini in the mix.
Yum! I'm getting hungry!
Tahini dressing is a godsend. Dressings made with tahini have tons of nutrients and protein (unlike most dressings), which can make all the difference in creating a salad that's delicious and keeps you full for more than an hour.
My favorite tahini dressing is very simple: I mix equal parts fresh squeezed orange juice and tahini. Add salt to taste and you have the perfect mix of salty, sweet, and creamy.
If you'd prefer something more traditional, use half water and half lemon juice instead of the orange juice. Keep in mind that all brands of tahini are different. You may need to add more water or more juice to bring yours to the desired consistency.
Tahini dressing will also thicken in the fridge, so just add more liquid as needed.
I also love to add a tablespoon of miso paste into my tahini dressing. It adds more depth (and umami) and adding new flavors to my go-to dressing is a great way to prevent boredom!
Blending leftover herbs into your tahini dressing is also a great way to add more nutrient density and flavor.
Tahini dressings are great on salads, but they're also great over grains, roasted veggies, beans, or tofu.
Tahini is a great addition to desserts because its high fat content will help slow down the sugar rush that comes with eating dessert!
I love to use tahini in cookies. Cardamom Rose Tahini Cookies are one of my favorites, and they're super easy to make. Plus, they're vegan and gluten-free.You can substitute the cardamom for cinnamon, or add some orange zest or orange blossom water instead of the rose. The tahini makes a great base.
Truffles also make a delicious dessert and you can fill them with healthful ingredients without missing the sweetness and creaminess of a traditional truffle. Try subbing tahini for half or all of the nut butter in these amazing Maca Truffles or Cacao Almond Truffles.
You were waiting for it this whole time, weren't you? Hummus! Yes, tahini is one of the main ingredients in hummus.
Traditional hummus is made with chickpeas, lemon, garlic, and tahini. But, did you know you can make nontraditional hummus with any kind of bean? Lighter colored beans like great northern or cannellini tend to work better because of the color. Just sub them one for one with chickpeas.
Think of tahini as a thickener that will also make your dip creamy. You can even use it in place of yogurt or sour cream in many dips.
You can also add all sorts of ingredients to your tahini-based dips to give them some extra color and flavor. Sun-dried tomatoes and roasted red peppers are two of my favorites, but you can add all sorts of ingredients to bring hummus to life like in this Green Hummus or Beet Hummus.
Now into the kitchen you go! Happy experimenting!