Why You Should Include Wild Edibles In Your Diet (And 3 To Try)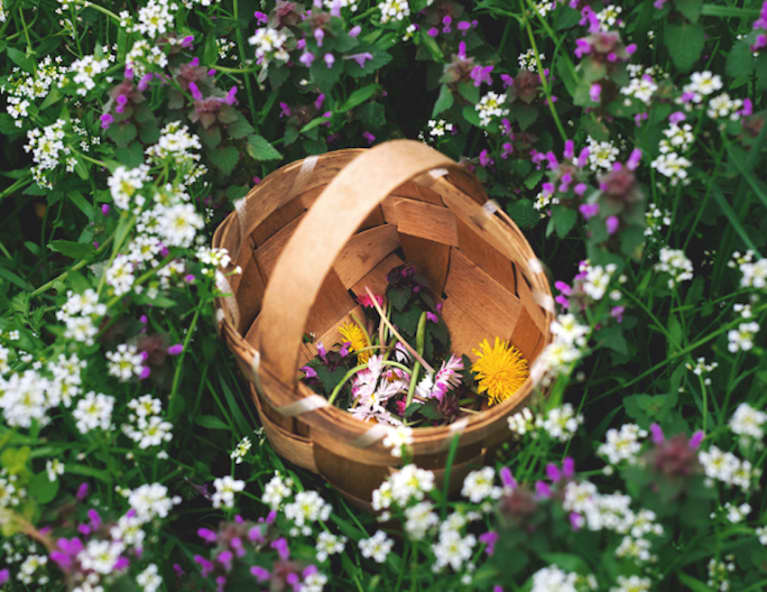 In a recent visit to The Farm Beyond in Southold, New York, farmers Melissa and Edward took me on a stroll through their crops. This is no ordinary farm.
Carefully stepping through what looked like common weeds, a bramble of nothing special, I came to realize this was not a place to be careless. I was placing my feet on gold — nutritional gold.
Not recognizing the impact of my footsteps, I carefully followed my leader. Pointing out one stalk, leaf, or flower after another, I realized these farmers were true explorers. Finding wealth others would just discard, they are true stewards of our planet. Health and visionaries in a field of seeming refuse — forgotten treasures.
One man's folly is another man's feast
With a growing interest in living off the grid, what better way to get your dinner than finding it in the environment? While foraging has recently been somewhat romanticized, most people are unaware of the potential gourmet quality, and even less aware of the nutritional benefits, of wild edibles, or weeds (the less romantic term).
Due to lack of experience or difficulties in identifying the right plants, most of us would rather just go to the farm stand or grocery store and pick the ubiquitous broccoli. But what could be more available than garnet stem chicory (aka dandelion)? There's amazing opportunity here — for our planet and our health.
Adding wild greens such as lamb's quarters (wild spinach), purslane, dandelion, wild amaranth, and mustard to your store-bought Romaine or kale can add nutrient density and variety in nutrient profile.
Diversity and quantity of greens are something sorely lacking in the American diet. Domesticated produce offers easy accessibility and convenience; however, much of it has been genetically altered for flavor and transportability rather than nutrition.
The soil that conventional produce is grown in is often depleted from poor farming practices while wild greens benefit from untouched mineral-rich soil.
Some nutrients found in abundance in wild edibles include fiber, omega-3s, beta carotene, riboflavin, folic acid, calcium, iron, zinc, copper, manganese, selenium; vitamins A, C, E; and many phytochemicals including carotenoids, phenols, flavonoids, glucosinolates, and indoles.
Diversity in your diet = improved nutrient profile = better health
But these wild greens are bitter, you say. They don't taste good. My family won't eat them.
Bitter taste gives plants their characteristic flavor as well as providing us with important phytochemicals for health promotion. But there are culinary ways to work around this issue:
Blanch greens with salted water before using.
Balance with other basic flavors such as sweet, sour, salty, umami, and fat.
Pair with milder greens in recipes to balance bitterness.
Practice! The more you include bitter greens in your diet, the more tolerance you'll develop.
Gather them at their prime. Older plants tend to intensify bitter flavors and tough texture.
Use small amounts to flavor and enhance nutritive quality of dishes. Chop into shreds or chiffonade and distribute in salads, soups, and other dishes.
Combine with fats, protein and/or carbs to balance bitterness, such as in salad dressings, sauces, condiments, in pasta or grain dishes.
A couple of caveats to keep in mind before you start foraging:
1. Get trained in identifying plants safe to eat. Work with a foraging expert or group before venturing out on your own.
2. Be aware of where you are gathering wild foods. Forage in areas not sprayed with pesticides or chemicals and also where you have permission. Or, if you're lucky, your local farmer may have some of these powerhouse greens available for you.
Here are some ideas to get you started:
Rich in calcium, riboflavin, folic acid, b-carotene, and vitamin E.
Roots: Clean well, peel if desired, toss with coconut oil, sea salt, and pepper, and roast in 400-degree oven for 10 to 20 minutes.
Leaves: Blanch in salted water for 30 seconds. Sauté in olive oil with garlic and a splash of lemon.
Rich in omega-3, vitamin E, glutathione, and iron.
Leaves and stems: Use in a smoothie with avocado, mango or pineapple, ginger, almond milk, and flax.
Toss in a salad: With other greens, veggies, and nuts or seeds with a citrus vinaigrette.
Stir-fry with peppers, onions, and garlic for a Mediterranean treat. Toss some sun-dried tomatoes and capers on for flavor.
Contain good amounts of fiber, calcium, iron, potassium, and vitamin A. Caution: Handle with gloves!
Leaves: Delicious prepared as a pesto with basil and walnuts or as a soup with potatoes and leeks.