This Entrepreneur Has A Surprising Way To Make Fashion More Ethical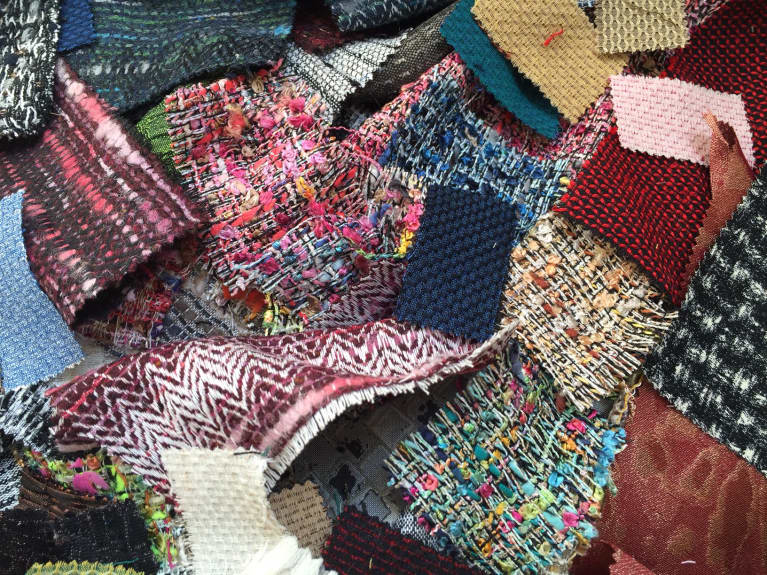 Despite New York City's overabundance of options for donating and recycling old clothing—charity thrift shops, textile recycling at farmers markets, bins right inside apartment buildings—residents throw out 200,000 tons of clothing and textiles each year. And it's a big problem—landfilled textiles can leach chemicals into the groundwater, release the potent climate change gas methane, and never fully biodegrade, especially if they are synthetic fibers, which are essentially plastic filaments made from oil. Incinerated textiles can also release toxins into the air.
Even more alarming? Businesses throw away at least 40 times more textiles than consumers. That is 8 million tons of textiles going straight from garment factories and stores in NYC to the landfill.
The scraps come from cutting textiles for garments, samples that are mutilated, and garments that are unsellable because of flaws, stains, or overstock. Technically, the city requires that businesses whose waste is more than 10 percent textiles find a recycling solution. But the law isn't enforced, and because these scraps have no value, they go straight to the landfill or incinerator.
"Every time I bring recycling requirement up, it's like I'm speaking Swahili," says Jessica Schreiber, former director of NYC's textile recycling program ReFashioNYC. "It's not super enforced, but it is city law." Rather than try to enforce it through the city, Schreiber is now providing an easy way for designers to responsibly dispose of textile waste.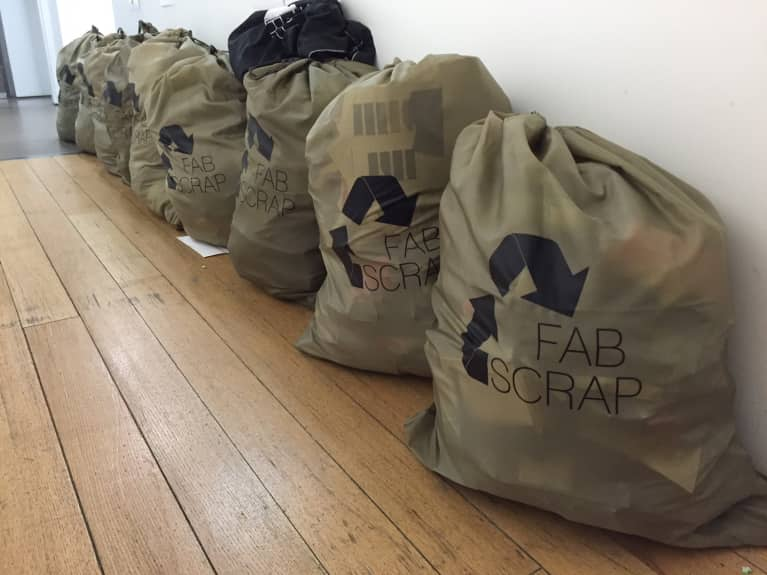 Launched in early June, her new nonprofit FabScrap picks up waste textiles from designers and labels, processes them, and disposes of them sustainably and responsibly.
Schreiber got the idea for FabScrap after working for New York City's Department of Sanitation for five years, running the city's ReFashioNYC program. The groundbreaking program provides free bins to large apartment buildings all over the city for collecting post-consumer textiles, which are then passed along to a charity thrift shop.
"Designers were contacting me wanting to join the ReFashion program so they could recycle their business waste," Schreiber says, who at first welcomed designers with excitement. "But our nonprofit partner's model is based on being able to sell full garments, and brands were giving us fabric scraps and mutilated items that they had used for research. So my nonprofit partner was saying 'no more designers!' while more and more designers were coming to us."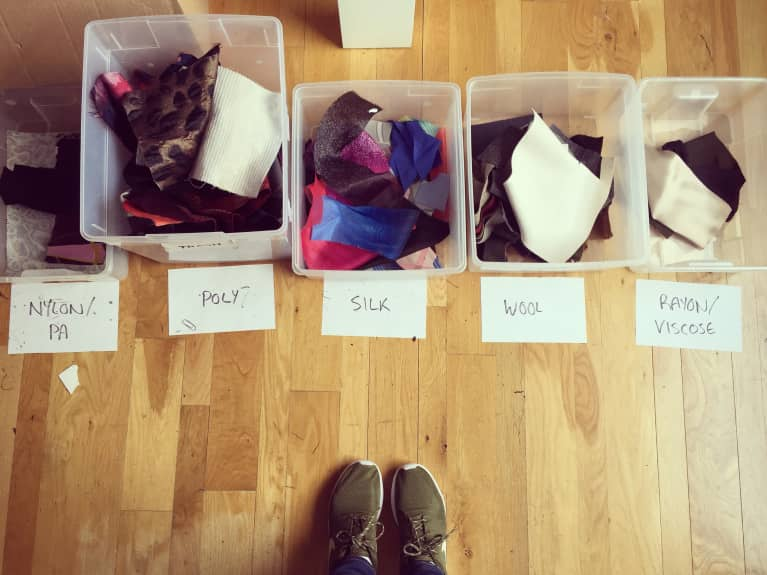 It was such an obvious need to Schreiber that she decided to quit her job and found FabScrap. "It just made sense to me. I know how to do the pickups, I know how to do the processing, and what the recycling world would entail. Then it was just learning the design side. Fashion and trash aren't usually part of the same conversation, so someone needed to connect those dots."
Here's how it works: Schreiber drops off reusable bags in two colors: one for general fabrics that can be resold, and black bags for fabrics with proprietary logos or patterns that the designer doesn't want reused by others. Those need to be destroyed. The company tells Schreiber when the bags are full, and she picks them up, charging the brands $35 per bag and leaving behind reusable bags for them to fill.
"The same way you would pay for trash or recycling, this is a recycling service that is paid for," Schreiber says. "And because I charge the designers for pickup, I can be really creative about reselling or reusing the scraps to make the most impact."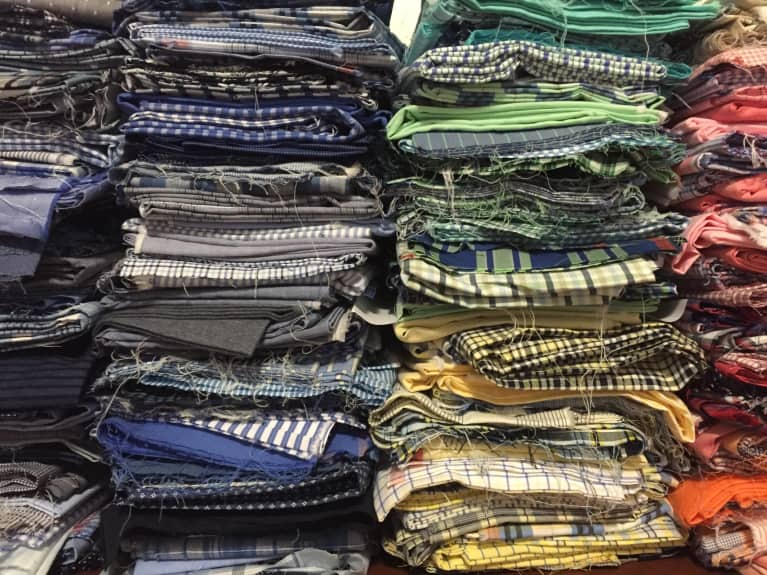 The stuff in black bags and tiny scraps will be sent to textile downcyclers, who will shred it into fibers, which are pressed with adhesive into a material called shoddy that is used for insulation inside the doors of cars or carpet padding.
Schreiber will take the scraps that are about a yard long and put them together into packs for quilters. "This is green fabric, because you're saving it from landfill, and it's all coming from designers in NYC—anonymous of course," Schreiber says. "Some scraps are really high quality; they're just small. I love to work with artists or local designers who want to incorporate a zero-waste element in their new lines."
For example, she picked up some small leather pieces from a shoe manufacturer and dropped them off with a Brooklyn designer called Crystalyn Kae, who used them for leather touches on her handbags. She's also working with the zero-waste designer Daniel Silverstein, who uses pre-consumer scraps in his collection, and up until this point was sourcing and storing everything himself. FabScrap provides him with a broader range of fabrics to choose from.
The first label to sign up for FabScrap's pickup service was Nautica. Schreiber has also dropped off bags with two other designers and is in conversations with 30 more.
"They're really excited about the potential to have a solution," Schreiber says. "They've been waiting for me to launch for a while. The next challenge is working with brands who don't have sustainability metrics on the mind and aren't thinking about recycling."
Schreiber isn't just pitching FabScrap as the altruistic choice; it also makes business and PR sense. "Businesses are already paying for waste and recycling removal," she says. "If you sign up for FabScrap and we remove a lot of waste from your other carter, you can renegotiate your recycling waste for a lower rate."
FabScrap is more expensive than simple trash pickup, but Schreiber encourages companies to think about this as a marketing opportunity. "I'm giving them all those stats after pickup: how much was downcycled and how much was upcycled through partnerships around the city. When you give stuff to your waste carter, it's just going to a landfill. You're not going to tweet and promote that. But you can tweet, 'This month we diverted two tons from the landfill!' These are things customers are starting to look for."
Related reads: