How An Olympic Soccer Star Is Prepping Her Body & Mind For The Games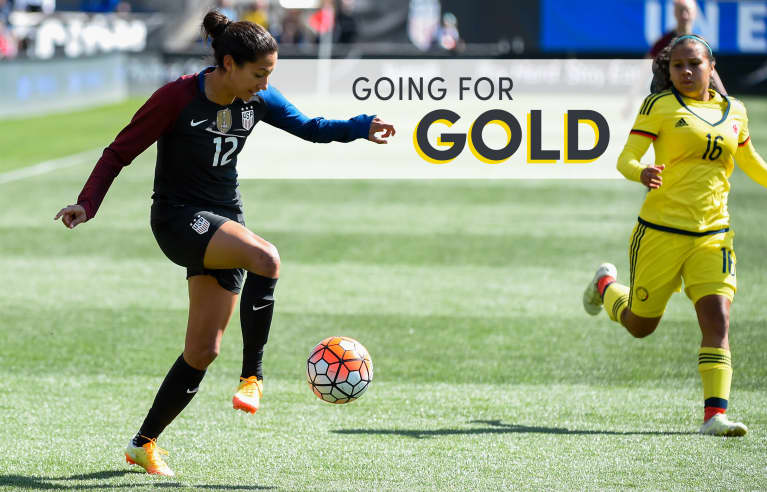 In our new series Going for Gold, athletes heading to Rio open up about the mind-body practices that keep them going and help them win.
If you've ever seen Christen Press on the soccer field, you've probably guessed that the 27-year-old World Cup champion knows a thing or two about taking care of herself.
Now, as she gets ready to head to Rio to compete in the 2016 Olympics, Press is working harder than ever.
But in Press' case, working hard doesn't just mean training hard. It also means eating right, practicing yoga, meditating, and indulging in a few of her favorite beauty rituals.
Because we were dying to know exactly how Press keeps herself in tiptop physical shape and pushes herself to such impressive limits, we decided to get in touch with her.
We had a hunch that her success isn't just natural athletic ability, and we were right. Here's what Press had to say about how she takes care of her body, skin, and soul.
1. Yoga and meditation have had a huge influence on her career.
"Yoga and meditation have tremendously influenced my career both directly and indirectly. I think understanding my mind-body connection gives me an edge, and generally improving my happiness and quality of life has numerous benefits.
"I meditate every morning upon waking up for 20 minutes, [but] because of my crazy soccer schedule I don't have that much consistency in how I practice yoga. I don't know where in the world I will be on a given day or what time my training will start. The important thing to me is the discipline in finding a time. CorePower Yoga is a great fit for me because I can find a studio close to me in every city and there are so many classes I enjoy. My favorite class is Hot Power Fusion."
2. She uses her rest days well.
"I love the beach. I love to go on nature hikes and walks, especially with my dogs. Recovery days include CorePower Yoga, swim, foam rolling, and massage, and off days I let nature take its course and try to give my brain a rest from the regimen."
3. Staying present is extremely important to her, especially on the soccer field.
"I try not to judge the quality of a game while it's going on. Evaluation is a distraction from what's currently happening. When I begin to think too much on the field, I simply go back to the present action and refocus. "
4. Her diet doesn't include any special tricks, but she's a huge fan of plants.
"I eat a normal, healthy diet year-round with a focus on protein intake and plant-based nutrients."
5. She's got a solid list of favorite beauty products.
"I use NARS tinted moisturizer and mascara, and Clé de peau face wash and moisturizer has the best texture. I also just bought Byrd Pomade and I'm excited to use it to slick back my ponytail."
6. After years of training, she's all about sunscreen.
"I love zinc. And sunscreen. And reapplying sunscreen."