Travel Diaries: Soak Up The Salt, Sand, & Sun Salutations Of Bali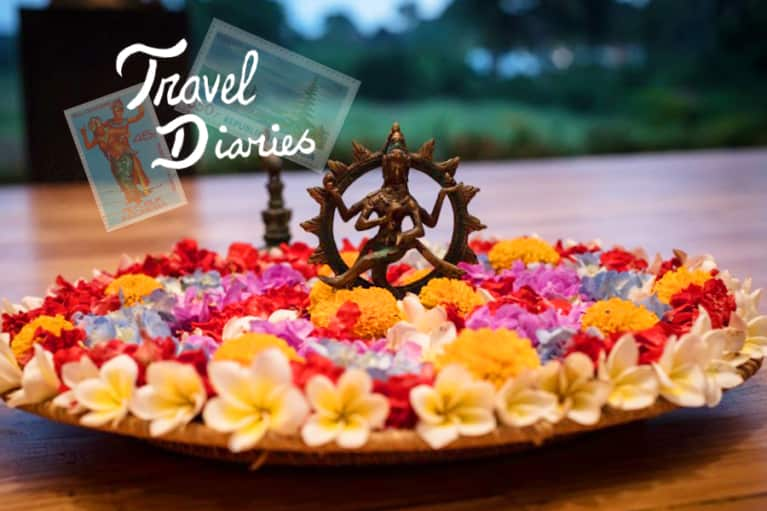 Consider our new Travel Diaries series your digital passport this summer. Follow along as we give you a sneak peek into where our wellness-centric contributors are headed for some R&R. This week, we're tagging along with author and spiritual guru Emma Mildon on her Balinese escape.
Off the beaten track, tucked away in the depths of the Indonesian wilderness and nestled along the Indian Ocean and Balinese coast, you'll find Canggu, Bali.
The perfect destination for soaking up salt, sand, and sun salutations, Canggu deserves a spot on the bucket list of every wellness junkie, yogini, and soul searcher out there — and not just because of its ties to Eat, Pray, Love.
I took in the village's smorgasbord of yoga, health food, and good vibes during my recent journey there on an H+H Lifestyle retreat. Along with a group of 15 women who started as strangers and left as soul sisters, I enjoyed a week of fitness, yoga, wisdom, and good company. Here are a few of my top attractions to check out in this magical part of the world.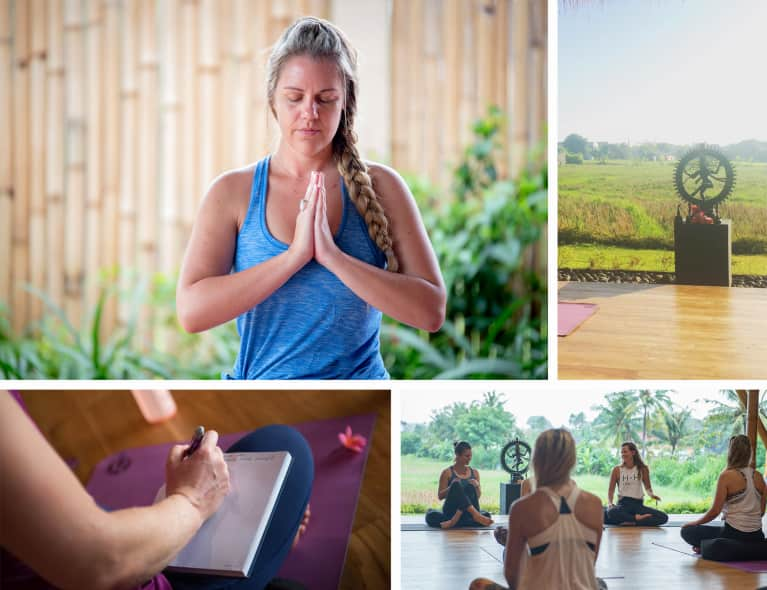 1. Take a class at The Practice.
The beautiful multipurpose yoga shala is complete with multiple studios, chill spaces, and a shop. I was lucky enough to do my morning flow every day at The Practice and checked out Octavio's Hatha class. This place is a must-visit for any yogini visiting Canggu.
Don't let "I'm on vacation" be an excuse to ditch your regular sweat session. Bali Fit has a friendly, professional staff that specializes in interval training with a variety of classes and times to suit the early-morning riser, training warrior, or CrossFitter. Their classes are extremely rewarding, especially if you have a sweat squad like I did.
Looking to indulge in a Bali experience that doesn't require you to think about anything other than what you're going to have for lunch? Then a retreat getaway is for you. The H+H Lifestyle retreat included daily yoga, two workout sessions, wellness seminars, a spa day, and a good balance of spare time to sunbathe and explore the area. H+H offers two retreats per year; Escape Haven Retreats, which operates out of nearby Echo Beach and Seminyak, is also a good option.
5. Catch an Echo Beach sunset.
Echo Beach's beautiful black sand and pristine waves make it the perfect atmosphere to take in the golden hour and sunset.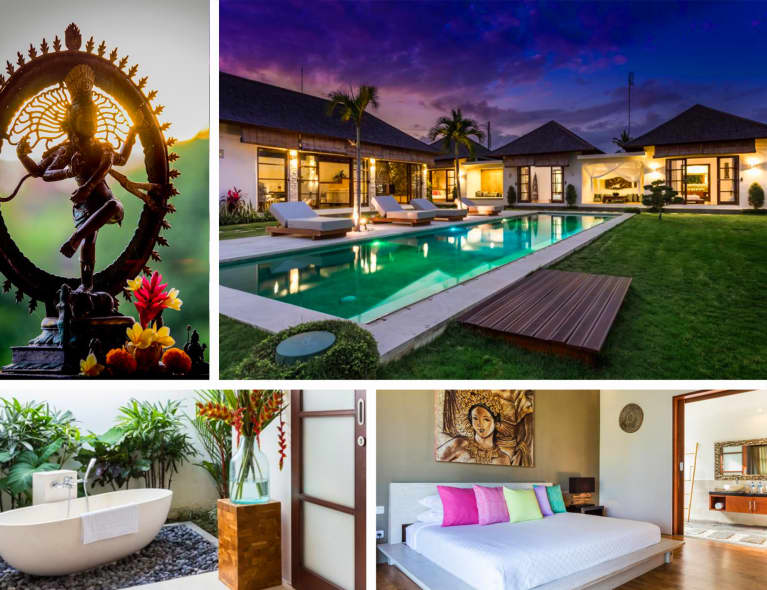 Villa Camilla's private pools, three-bedroom guesthouses, outdoor tubs, and beautifully manicured gardens will leave you feeling like you have escaped to a tropical paradise. It's an ideal spot to stay should you have a Bali squad that loves a good pampering.
2. Echoland Bed and Breakfast
Starting at $40 per night, Echoland offers boutique bathrooms, beautiful interior bedrooms, and air-conditioning. This is a great spot for anyone looking for a relaxed retreat experience on a more modest budget.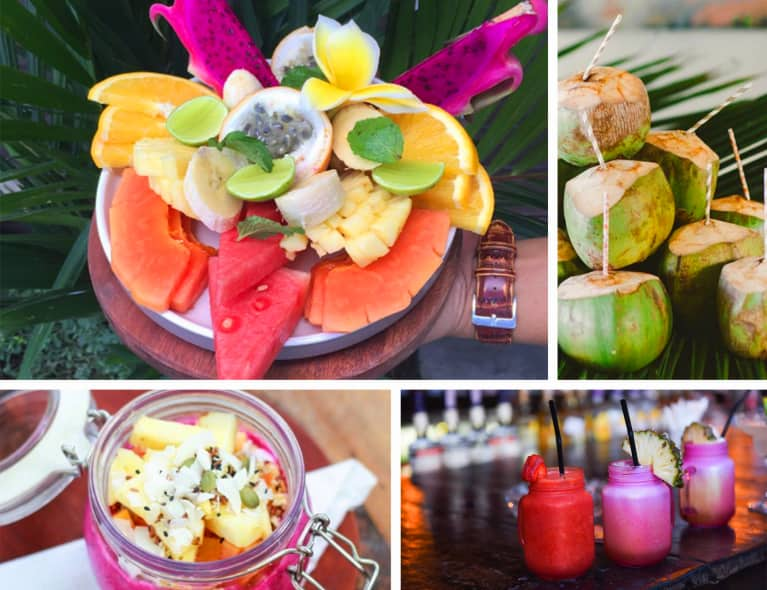 Keep in mind that "Bali belly" is real, so be careful with your drinking water. A lot of the women on my retreat caught tummy bugs, so I only used the tap water for brushing my teeth.
With its expansive healthy offerings including turmeric lattes, halloumi plates, and smoothie bowls, this place made it hard for me to choose just one thing to order for breakfast and lunch every day.
The local mango, pineapple, and watermelon smoothies will leave you revitalized and refreshed. Pro tip: If you aren't into syrups or sugars, ask for these without sugar for a fresh-fruit-only injection. Otherwise, you could find yourself with a really sweet treat.
2. La Laguna Beach restaurant
Gypsy caravans, Indian-inspired cushions, wooden benches, and fairy lights all make for one beautiful Bali dining experience. La Laguna Beach's delicious cocktails and meals mixed with its stunning beachfront location make it the ultimate soul food destination.
With a huge menu, Bettlenut café offers traditional, Western, and even Mexican cuisine sure to cater to every type of diner. Burgers, burritos, and gado gado, oh my!
For those who haven't heard of it before, gado gado is an Indonesian dish that's full of kick. Steamed vegetables like cabbage, carrots, potatoes, and beans are served alongside tempeh, roasted nuts, egg, and the famous gado gado sauce — which is like a peanut satay sauce with a hit of chili. This one is a serious must-try ... I even took on a local cooking class so I could learn to make it at home.
Looking for some more travel inspo? Check out the rest of our Travel Diaries here.