How To Practice Yoga At Home When You Just Can't Make It To Class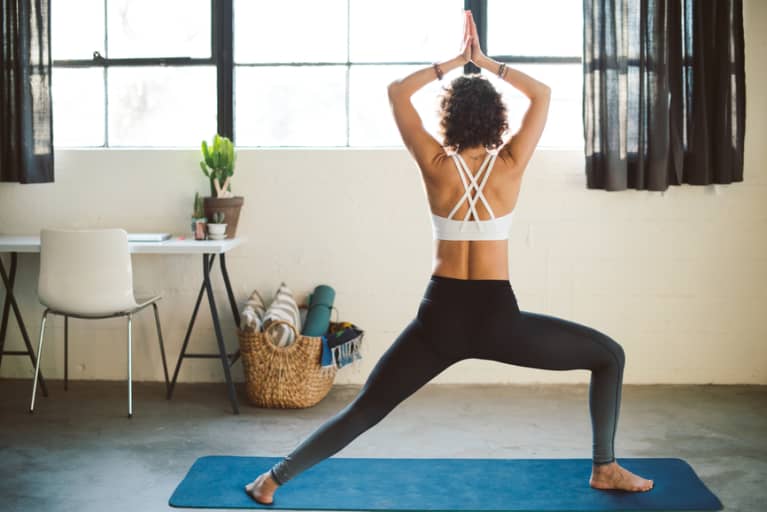 When it comes to "doing" yoga, it's much easier to imagine yourself on the mat in downward dog at your local studio than actually engaging with the in-depth philosophies of the yoga sutras.
There is a type of unlearned bliss that comes with joining a public group asana class, which offers that pleasurable yoga "high" without really having to understand the principles or techniques of teaching. But what happens when your life gets too "busy" and you can't make it to your favorite class?
Does your practice stop then, when you need it the most? If you choose to only allow others to guide you, you may continue to be mystified by the practice. But if you have the courage to take charge of your own practice and bring it home with you, you will discover that you are your own greatest teacher.
There is one curious Niyama that is perhaps one of most important of all the introspective yogic philosophies to understand, and that is Svadhyaya—"self-study." When you are truly on the yogic path, this is the journey to connecting to your own body and mind at times alone or without the physical presence of a teacher in a studio environment.
Even that thought can seem daunting, as each day you are presented with new challenges that make it hard to examine the relationship you are having with yourself. Creating the time and space to tune in in search of self-awareness can be a real struggle.
When life gets hectic, remind yourself that there is a space within you that you can retreat to at any time. The hardest part is making connecting to yourself a priority in your daily schedule.
Here are 5 simple steps to jump-start your home yoga practice.
Find somewhere in your home that you can transform into a sacred space. It doesn't have to be huge. It can even be within your bedroom—it just needs to be large enough for your yoga mat and some extra breathing room. Keep this space clean at all times. If you so desire, add an altar made up of a few items that make you feel calm and grounded.
Choose some of your favorite jams to flow to and create a bell curve of sound from low BPM to high and then back down again.
This can be anything from nature sounds or ambient to techno or hip-hop, whatever you like that has a good beat, tempo, and rhythm that will keep you enjoying the moment. Playlists are a great time-management tool. Start with one hour and lengthen or shorten depending on your daily needs.
Go with what you know. If you have been practicing yoga for a while, you have probably noticed that there is a basic underlying structure of your yoga class. Try to think about the amount of effort you ask your muscles to provide in your warm-up, heat building, peak sequence, and cool-down portions of a class.
What do you already know about your yoga practice in a studio that can translate to your new at-home sanctuary? Most importantly, balance out your sides and don't push your body beyond its limits.
Your yoga practice should feel liberating. It's like one fluid movement meditation in which each posture informs the next. Allow it to feel good in your body and focus on the subtle transitions of how the body moves in and out of each position. If you have a desire to move in a certain way, go for it. Don't ask yourself why—flowing on your own should feel very joyful, instinctual, and even primal.
Remember, the goal of your practice is to reset your energy and detach from any thoughts, feelings, or emotions that aren't serving you. Practice non-attachment to the outcome and trust the process. Be sure to include several restorative postures and ample time to rest to finish your session and allow the body to absorb the full benefits of the practice.
Need some inspiration? Luckily, yogis have your back and have adapted to the universal need for a home practice, making it easy for you to do yoga just about anywhere. There are endless resources of yoga offered online, many offering a monthly subscription so you can always have yoga right at your fingertips.
I recently came on board with an app that I love called Yoga Wake Up. The app allows you to kick off your day with a simple, audio-guided home practice right from your bed. There are going to be days when you feel uninspired or particularly challenged and need a simple boost or the encouragement of a teacher's voice.
With this app, which you can use anywhere without a Wi-Fi connection, you can experience the benefits of yoga easily and effectively in 15 minutes or less.
It's worth pointing out that yoga "asana" is only one of the eight limbs of yoga and is really just a tool to prepare you for deeper forms of meditation. Wouldn't it be amazing to live in a state of yoga—or in union with yourself?
If you are interested in living a yogic life, it's worth investing in a few yoga philosophy texts to really dive into the world of discovering your best self. While many of these translated ancient scriptures were created over 5,000 years ago, there are many significant periods of innovation, practice, and development in the past 50 years that have paved the way for modern yoga. Once you realize your limitless potential, you will never live a day without your practice.
The time is now. The best way to get started is to just do it, dig deep, and enjoy the moments. It's a lifelong journey.