This Woman Has Hiked Thousands Of Miles. Here's What She Eats On The Trail
mbg Contributor
By Leigh Weingus
mbg Contributor
Leigh Weingus is a New York City based freelance journalist writing about health, wellness, feminism, entertainment, personal finance, and more. She received her bachelor's in English and Communication from the University of California, Davis.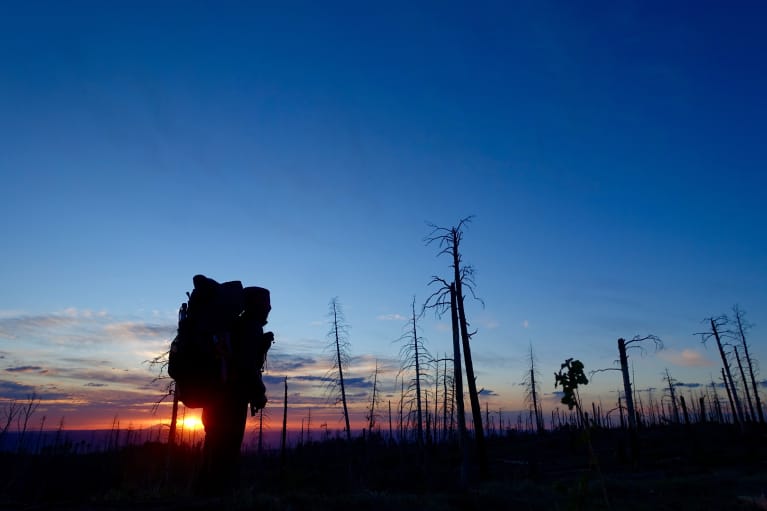 In 2005, Katherine Cook hiked the Pacific Crest Trail.
In case you're not familiar with the PCT, it's 2,650 miles long and generally takes about five months. (Have you read Wild? Or seen the movie? Yep, that's the trail I'm talking about.)
Cook's journey didn't end with that one adventure, though. She biked the Great Divide Mountain Bike Route in 2010, hiked the trail again in 2013, and hiked the Hayduke Trail in 2015, which is 812 miles long and stretches from Utah to Arizona.
For most of us, daily calorie-burning activities include a walk to and from work and the occasional 45-minute spin class. So, what on earth do you eat, how much do you sleep, and what do you spend your time thinking about when walking is your job?
I got in touch with Cook to find out. Here's what she had to say:
1. When it comes to food, nuts are key.
Some people mail themselves food. I'm not one of those people. I tend to buy food as I go, shopping from whatever selection is available at the local grocery store or gas station—I don't tend to make breakfast because it takes too long. Most mornings I pack up just before dawn and am hiking by headlamp in the twilight. I'll eat one or two bars first thing. I like Larabars (cherry pie is my favorite) if I can find them, but sometimes all I've been able to get are granola bars.
As I walk during the day, I'll eat from a small bag of nuts, dried fruit, and sometimes dried cereal kept in a hip pocket of my backpack. I'll also snack on a couple more bars over the course of the afternoon.
For lunch, I typically eat crackers and cheese, sometimes with mustard if I have it. If I can, I'll find whole wheat pasta, which I'll prepare for dinner with olive oil (I carry a small bottle with me) and nutritional yeast. Sometimes I add dried tomatoes and nuts, or a foil packet of tuna and salmon.
Also: I drink lots of water!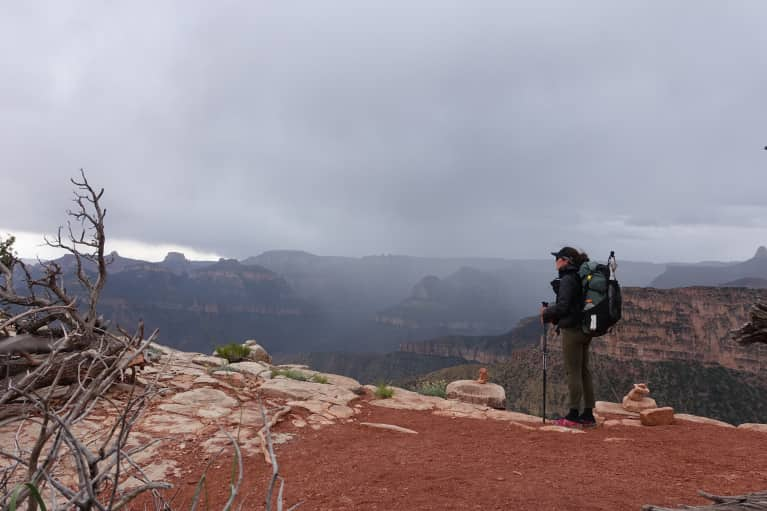 2. She doesn't get much sleep in the summer months.
If I'm hiking near the summer solstice, I don't get a lot of sleep, since I tend to sleep when it's dark. Spring and fall hiking, I can get as much as eight or nine hours a night. In the summer, it's sometimes down to six.
3. Time can move really, really slowly.
One of the more surprising things about long-distance hiking for me is how time passes on the trail. A single day can last a very, very long time when hiking. There are so few distractions—after all, the only thing I'm doing is walking. Every moment must be lived, no matter how banal or mundane. But the richness of all that open time is very satisfying to work with.
4. Some scary sh*t goes down.
I once had an encounter with a mountain lion. I was alone, it was very early in the morning, and I was walking with a limp because of a bad ankle sprain. I surprised the mountain lion on the trail ahead of me and we had a bit of a standoff, during which we did a protracted sort of do-si-do.
It then backed away and left and I continued on, but minutes later, it had come back and was slinking down the trail after me. We had another exchange in which I had to make sure it knew it couldn't eat me, that if we tangled, I would win. I managed to succeed in convincing it to leave! It was a remarkable and gratifying experience.