5 Things You Need To Check For When Picking Your Next Juice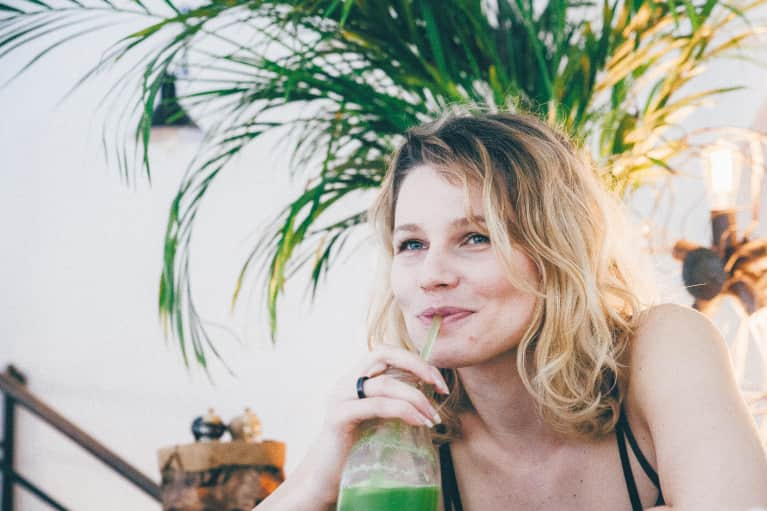 It's no secret that juice is having a major moment. And it's no surprise that people are hopping on the green juice bandwagon, given that drinking a concentrated blend of vegetables makes you feel amazing.
When you supplement your diet with vegetable- and fruit-based juices, you feel more energetic, vibrant, and nourished. But with such a big saturation of the juice market in the past couple of years, it can be hard to determine which juice you should actually choose.
Should you buy bottled or freshly made? What tastes the best? How important is organic juice? Do you need to buy an at-home juicer? What about systems like Juicero?
Below, five simple guidelines to help you choose your next juice.
There's a reason the phrase "cold-pressed" is thrown around a lot in the juice world. Simply put, cold-pressing juice is a great way to preserve all the nutrients of raw produce.
Make sure you look for cold-pressed juices with ingredients that are chosen at peak freshness. Juicero's cold-press juice system, which uses Produce Packs containing freshly chopped, raw produce (never pasteurized), is a great option. Drinking juice made from produce that's picked at its peak guarantees you get the freshest juice without the worry of lost nutritional value.
One of the reasons green juice continues to gain popularity is because it floods your cells with nutrients from the get-go. This can have incredibly restorative results, but if you're loading up on juice that uses conventionally grown vegetables, you might be fueling your body with some unwanted ingredients like pesticides or herbicides.
Seeking out juices made with organic ingredients is an easy way to avoid this. While sometimes a little pricier, it's definitely worth it.
This one should be a no-brainer but is often overlooked—especially in pre-bottled juices.
You want to taste the fresh ingredients that the juice contains; it shouldn't taste dulled, pickled, or straight-up gross. Look for a balanced blend of vegetables (and a touch of fruit) that tastes vibrant and crisp.
The same way that a great summer tomato from the farmers market tastes infinitely better than a watery, GMO one, a good juice filled with high-quality produce will taste seriously incredible—you'll notice the difference.
This point goes back to No. 2, but it should be stressed that farmers are real people who should be treated with respect. An easy way to support farmers is to support companies that are focused on local and sustainably sourced ingredients.
Think about it: Vegetables and fruits tend to be fresher and better quality if they don't have to travel across the country to get to you, so if the produce is local, organic, and sustainable, you've found yourself the perfect trifecta of produce for your juice.
Access and ease in getting your juice is paramount. Let's face it: If it's inconvenient, you're probably not going to make it a regular part of your life, right?
DIY cold-pressing isn't usually that efficient (most juice presses are huge machines that rarely see the outside of an industrial kitchen), so you tend to find bottled versions in most stores and cafes. But the Juicero cold-press juicing system changes that.
There's no need to source your fruits and veggies, chop them up, and feed them into the juicer; all you have to do is place a Produce Pack in the press, push a button, and voila!
In under four minutes you have a glass of some of the best-tasting, highest-quality organic juice you can find…with zero prep required. Even better? No cleanup. (Anyone with an at-home juicer can tell you that's the worst part of the process.)
Ready to drink amazing juice cold-pressed for you? You can experience Juicero by the glass (and see how the Press works!) in select Southern California locations like Le Pain Quotidien or Au Fudge, and in select Northern California locations like Adronico's Market SF or EHS Pilates.
Find out where you can grab a glass of Juicero juice in your hood by visiting Juicero.com.