How Bacteria & Raw Sugar Are Cleaning Up The Denim Industry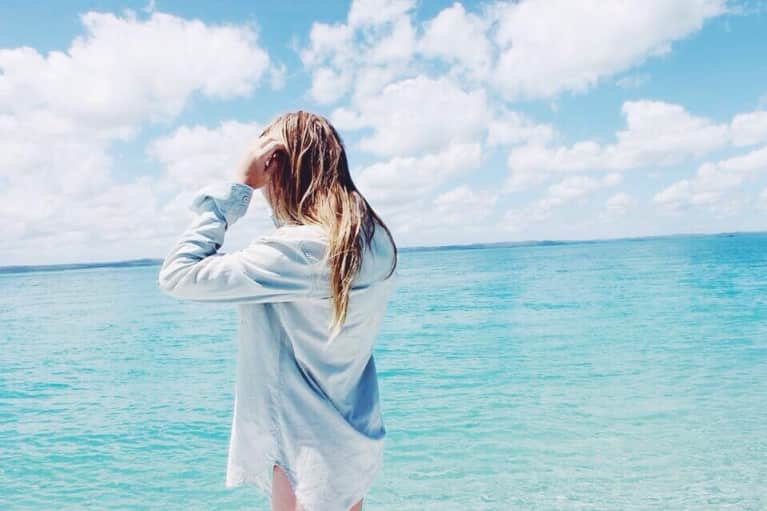 We've come a long way from the original pair of blue jeans — and that's not necessarily a good thing.
Blue jeans used to get their blue from indigo, a flowering plant (and you can still find high-end, indigo-dyed selvedge denim), but that natural process is pricy, and now 90 percent of denim produced in China uses cheap, synthetic dyes made from coal tar, sulfur, and other toxic chemicals. These compounds cause serious health problems in denim factory employees, plus poison and kill off fish when denim wastewater is flushed into waterways.
However, there might be another way. A French startup named Pili has figured out how to make dyes in the lab using only bacteria and sugar as the raw ingredients. According to an article earlier this year in New Scientist, these biohackers feed sugar to a South American strain of Streptomyces bacteria, which then spits out a rich blue pigment. By tweaking the type of sugar, temperature, and time, they've also engineered orange, violet, yellow, and red pigments.
Even better, the bacteria dye process doesn't require a chemical fixative to adhere it to textiles. Pili grows bacteria right on the fabric, which, when finished, is then simply heated or washed to kill the bacteria. This process is toxin-free, and they estimate it produces 10 times less greenhouse gas emissions than typical petroleum-based dyes. If successful, the resulting dye wouldn't be just for jeans or textiles but could also replace toxic pen ink — the Pili founders' original quest.
Across the world, another team is pursuing similar research. A University of California–Berkeley team has successfully isolated the plant enzyme responsible for indigo, called indicat. Their next step is to insert a couple of genes responsible for the production of indicat and its chemical transformation into indigo into a bacteria. If all goes well, researchers envision giant vats of this specially engineered bacteria floating in cheap and abundant glucose, producing indigo for our bluejeans and shibori-dyed linens. Of course, this technically involves genetic engineering — the idea for the indigo bacteria was first developed for the International Genetically Engineered Machine competition, or iGEM.
Even if anything even vaguely related to GMOs makes you squeamish, you'll be happy to know that if these processes could be commercially scaled and made affordable enough to compete with synthetic dyes, it could put a dent in the 40,000 tons of synthetic indigo used annually by the denim industry. And the positive impact on rivers, climate change, and denim workers would be enormous.
That leaves us with only one final question: Would dye made by microbes be considered vegan?
Related reads: