13 Things You Need To Know Today (July 19)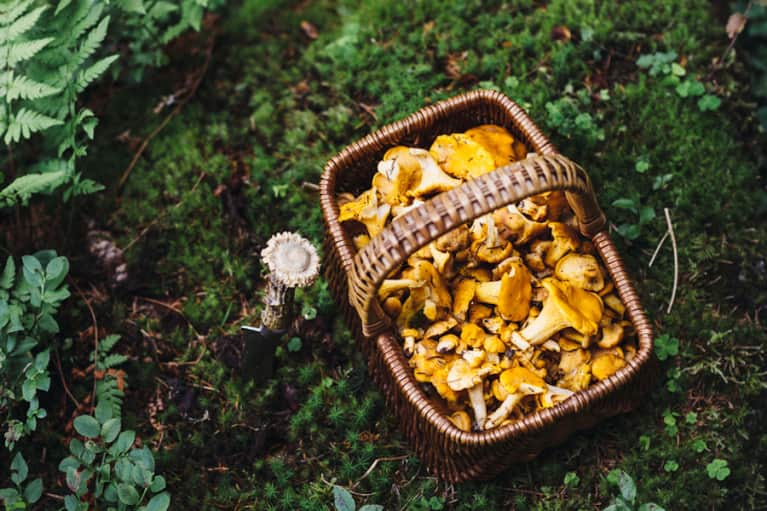 1. Finally, there will be less sugar in your food. Because of mushrooms.
It's no secret that sugar is pretty terrible for us, but it also tastes great. So, how can we eat less sugar without sacrificing flavor? A startup in Colorado may have found an answer. It seems that fungi could act as a "bitter blocker" in certain foods (like chocolate and coffee), taking away the bitterness where sugar usually gets the job done. (Quartz)
2. No, being cold doesn't cause colds.
A recent study seemed to suggest that cold weather makes you more likely to catch a cold. But as a myth-busting doctor explains, that's a big misinterpretation of the study—and most research still shows that this simply isn't true. (NYT)
3. This has to be the most bizarre example of "eco-fashion" out there.
Graduate student Tina Gorjanc is creating a line of "human leather" goods that are made from the skin of fashion designer Alexander McQueen. Creepy, yes...but apparently totally legal. She hopes that the project will illustrate the endless possibilities that lie ahead in the intersection of tech and fashion. "The project explores the ability of the technology to shift the perception of the production system for luxury goods as we know it," she says. (TreeHugger)
4. Be Well is entering the food delivery game.
Fresh off the announcement of a new partnership with Hyatt Hotels, Frank Lipman and his popular wellness company, Be Well, are pairing up with food delivery program Provenance Meals. The brands will collaborate on a five-day detox that includes a mix of plant-based meals and Be Well's signature shakes and supplements. (Provenance Meals)
5. Medical marijuana could help seniors dealing with high health care costs and tons of prescriptions.
Researchers have identified nine areas in which medical marijuana is beneficial—including anxiety, sleep disorders, depression, and pain, and compared the costs for treating these ailments in states that have and have not legalized marijuana. Results say that the country would save $400 million by legalizing marijuana in every state. States where medical marijuana is legal also had a 12 percent lower rate of pain prescriptions than other states. (The Atlantic)
6. People who help strangers almost always share one personality trait.
According to a new study, people who show "prosocial" behavior (meaning, they're inclined to help others) rate high in agreeableness, one of the Big 5 personality traits in personality psychology. (Science Of Us)
7. Happy cows mean healthier milk.
Chemicals commonly associated with happiness were correlated with higher levels of calcium in cows that received these chemicals in a daily infusion. More study on this connection might help us produce healthier milk from cows in the future. (ScienceDaily)
8. An all-quinoa restaurant is coming to New York this fall.
A fast food–like restaurant that already exists in San Francisco and L.A. is headed to New York very soon. You can place your order on a screen, and the restaurant serves only quinoa bowls. Welcome to the future, people. (Grub Street)
9. Yet another reason to be wary of fracking.
A new study out of Pennsylvania found that exposure to fracking compounds can increase the rate of respiratory attacks in asthma patients. (InsideClimate News)
10. Health officials are using emojis to reach teens about sex.
A new campaign by NYC Health & Hospitals is using emoji ads on social media to direct teens to an educational website where they're encouraged to seek care for sexual health. The emojis include peaches and eggplants, along with birds and bees. (NYT)
11. A Western diet might make it harder to block pleasant memories of food.
In a new study, researchers found that a diet high in fats and sugars and low in fiber impaired memory inhibition—that's the useful ability to block out memories that are no longer useful, such as pleasant images of food when you're full. The study raises the question of whether obesity may ultimately be a disease of the brain. (ScienceDaily)
12. Malta is taking progressive action on a dangerous class of chemicals.
The country will be the first in the EU to ban glyphosate—a weed-killing chemical commonly used by agricultural giants like Monsanto. Last year, glyphosate was named a "probable human carcinogen" by the World Health Organization (WHO). The compound is still commonly used in most places (including America). (EcoWatch)
13. Want to know what's in your food? There's an app for that.
The app Sage Project is committed to giving you tons of information on exactly what's in your food. How much fiber is in that strawberry you're eating? Where was it grown? Sage Project is prepared to give you all that info. (NYT)