Make Your Home A Green Oasis With These 7 Genius Design Hacks
Lately, my favorite color has been green. I bought a green car (no, not an electric one ... literally a green-colored car), and when I look around my home, there are pops of green in every corner, hanging from the ceiling, and tucked into shelves.
Displaying plants and objects found in nature can be an affordable way to spruce up a room that needs a little bit of love. Plants remind us to slow down and admire their beauty, water their roots, attend lovingly to their foliage and, if we're so lucky, watch them seasonally bloom. Not to mention, they literally breathe new life into a space.
But how you choose to style these blooms in your home matters too. Here are a few of my favorite ideas for incorporating plants and the outdoors into your space: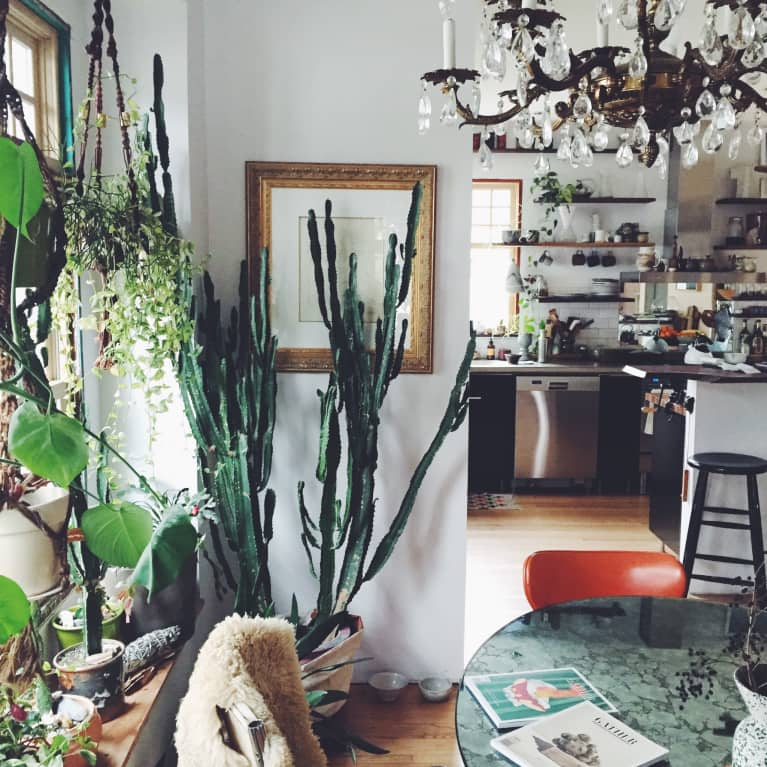 1. Make macramé plant hangers.
OK, so maybe the fact that I own a macramé company makes me a bit biased here, but my favorite way to bring plants into a space is by displaying them in macramé hanging planters. You can make these hangers using cotton rope, jersey, and other materials, and decorate them with ceramic or wooden beads.
2. Experiment with baskets.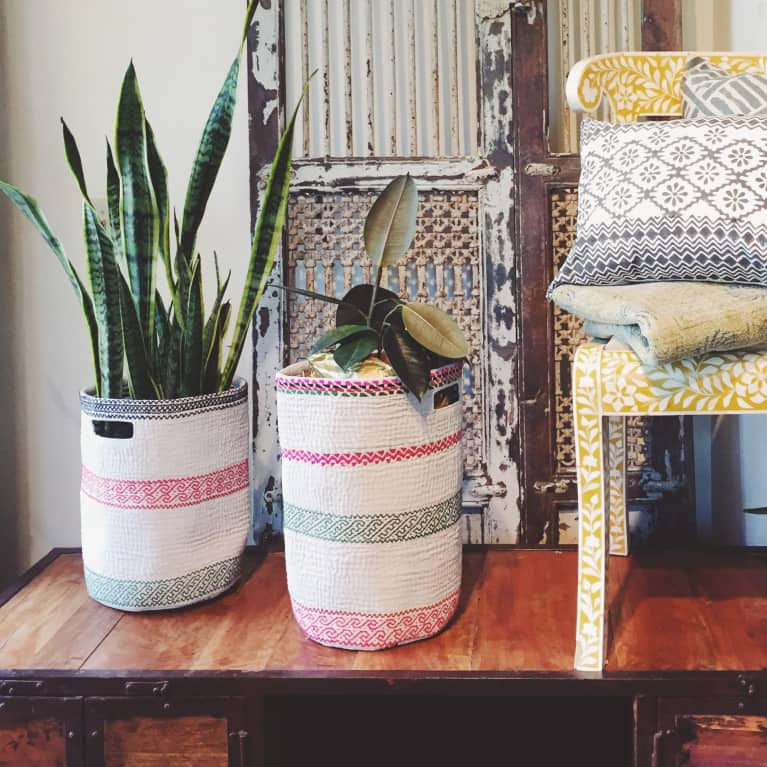 I love setting my plants into baskets. Their woven texture is so satisfying, and they can come in a wonderful variety of patterns and shapes. I like the brightly colored ones but also lean toward neutral tones as well. Baskets are great for a variety of greenery sizes, especially larger plants since big ceramics can be on the expensive side.
I bought a tiny eucalyptus plant at a nursery last year and decided to plant it in the front yard on a whim. I was told that in my town of Portland, Oregon, they might not do very well outdoors, but I was determined.
A season later and the tiny plant is nearly 12 feet tall. To manage its extreme growth, I started pruning it and making wreaths to hang in our bathroom above the shower. The steam encourages the aroma to sing along with me to the radio, and if I close my eyes while showering I can almost imagine that I am in a fancy spa.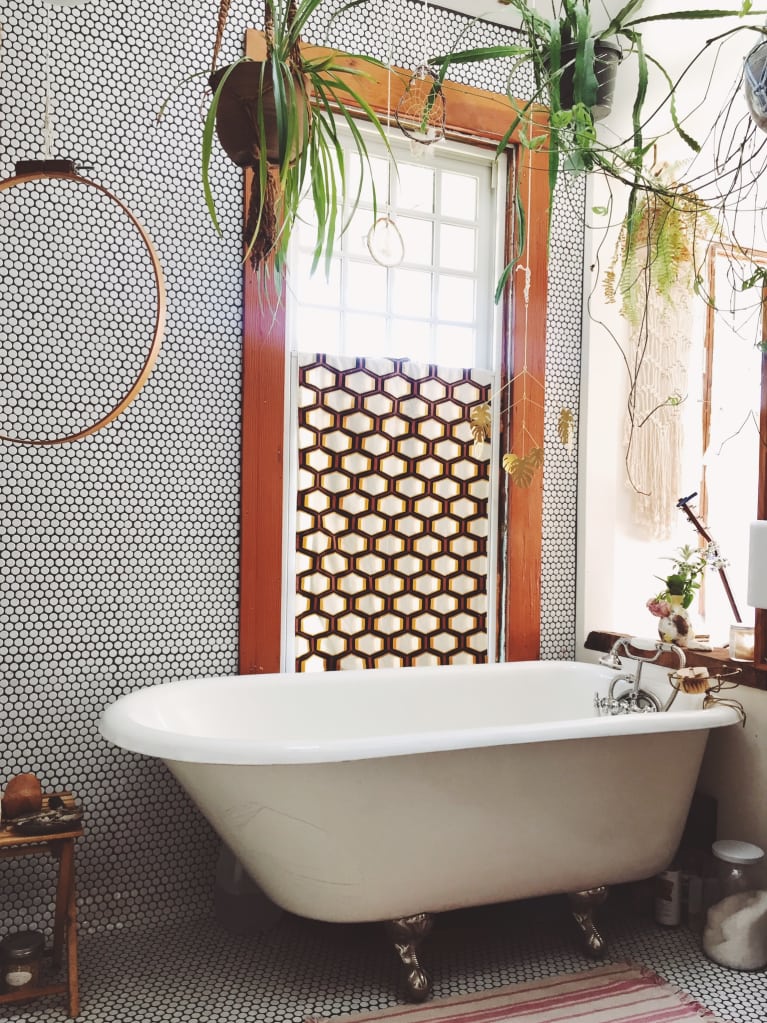 Ferns also do really well in the bathroom; I like to cluster them in groups by the edge of the tub. I think if they don't have other fern buddies, they get sad and perish from loneliness.
4. Collect driftwood and branches.
On your next forest hike, river trip, ocean adventure, or desert ramble, keep your eyes peeled for that special piece of wood that calls out to you and bring it home. (But first, check if this is legal in your area—taking anything from public lands might not be a good idea.) I have filled the back of our little Honda to the brim, to the chagrin of my honey who can no longer see out the rear-view mirror.
Wipe off any sand, dirt, or moss, and you are ready to add some fun style to a space. Lean the wood up in a corner to create visual interest where there was none before, or make it into a light fixture if you're feeling ambitious! You can even suspend the branches from the ceiling and hang more plants from them.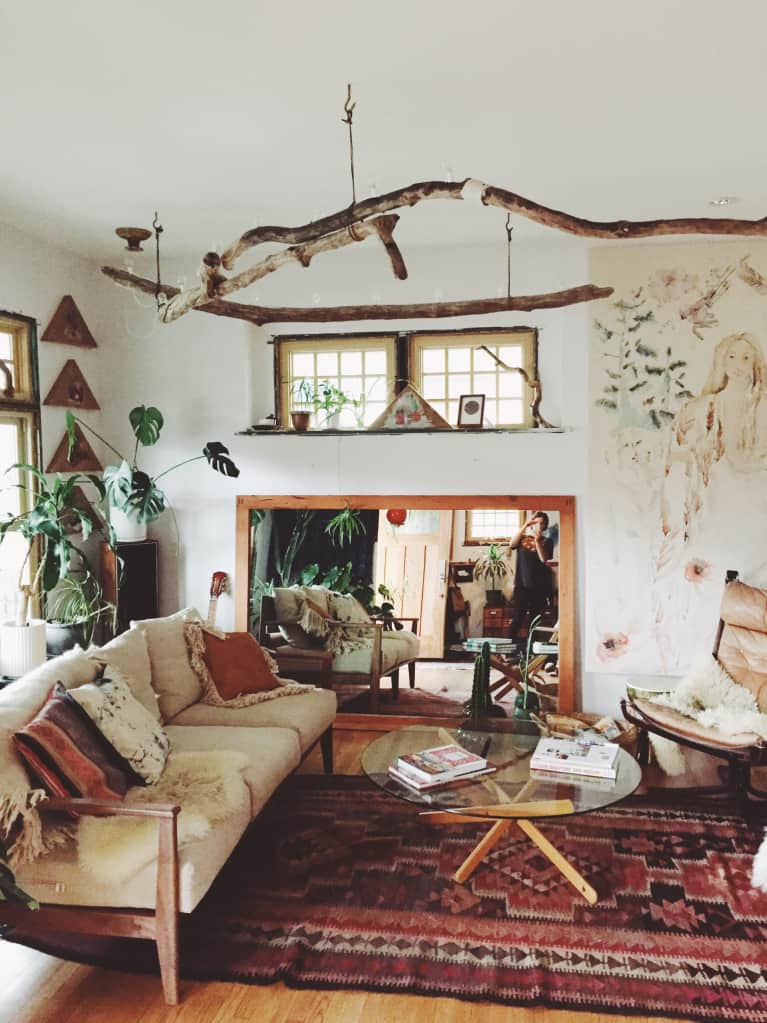 5. Play up unconventional planters.
I love collecting handmade ceramics and antique glassware and filling them with a few plant cuttings. A wandering Jew, philodendron, or spider plant will be happy in just a bit of water for a long time. Their roots magically appear, and you can leave them as they are until you are ready to transplant them into soil.
Mason jars work well for this too—I have a few on the windowsill over my kitchen sink, and I love observing the tangle of roots with the light streaming in the windows in the afternoon.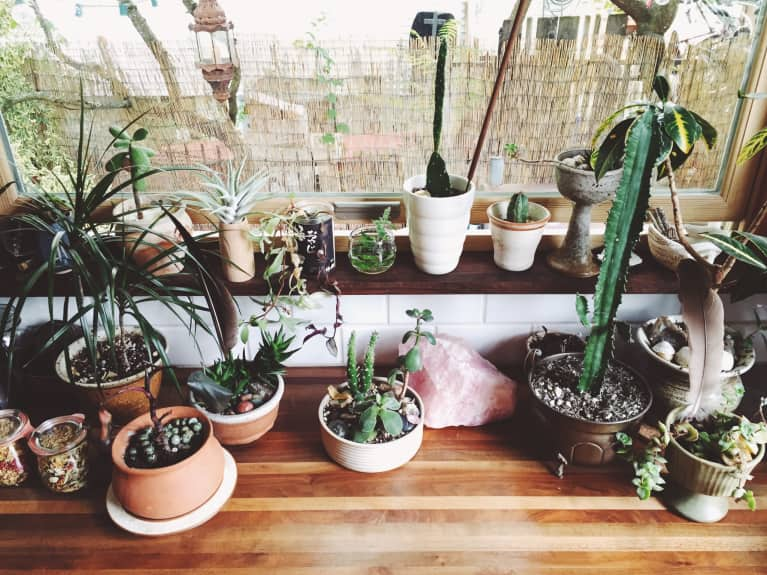 6. Turn to faux greenery.
Not everyone has access to a beach to collect driftwood, or possesses the great light or patience for plants. For the non-green thumb, I suggest bringing "plant" life into your home with faux plants. I'm not really a fan of plastic, but there are other options; this amazing brass "philodendron" mobile by a Portland artist is a great place to start.
7. Host a plant exchange.
Have you ever heard of naked lady parties? Where all your friends bring a bag of clothing they no longer want or that doesn't fit anymore and you dump all the clothing into a pile, strip down to your underwear, and inevitably discover something amazing that is perfect for you?
Well, you can do this with plants, too.
If you have friends who love greenery, and I am sure you do, invite them over, set out some snacks and wine or tea, and ask everyone to bring a few cuttings of their favorite plants to trade! (No nudity or lying in piles, though, please, unless that is your thing.)
Some of my favorite plants of all time have come into my life as little gifts given to me from tiny cuttings and are now full-blown plants with wily characters of their own.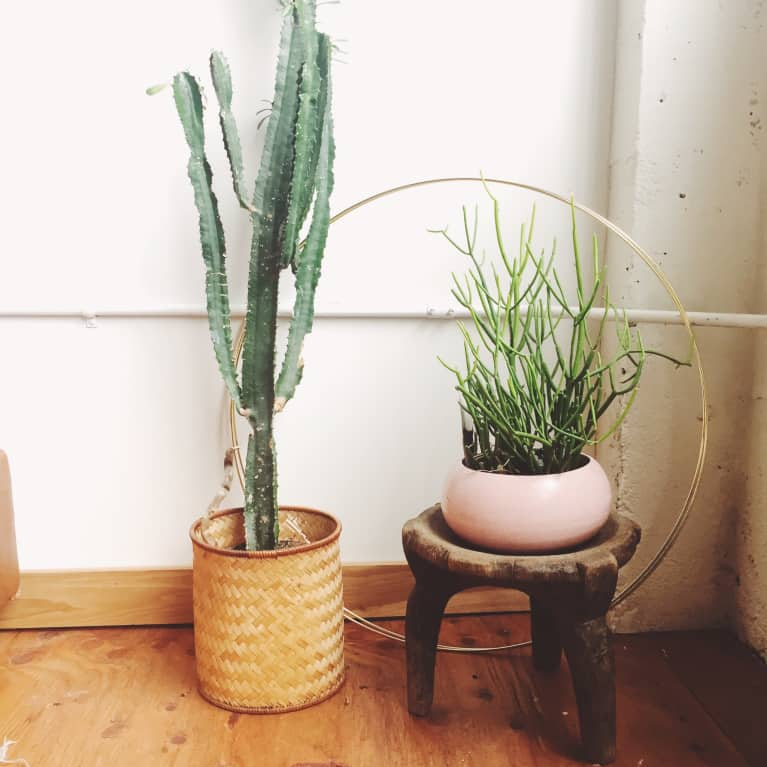 Seek out a small locally owned shop every time you're in the market for a new bloom. In Portland we are lucky to have Solabee, a magical floral and plant store chock-full of inspiration. But find the place in your town and support local!
Low-maintenance plants that have done my not-so-green thumb well include philodendrons, spider plants, snake plant, wandering Jew, and jade tree. Find what works for you and breathe deeply, knowing your home is now an extension of the outdoors.
Related reads: